Soap

on a Rope

The following article was written at the beginning of the 2014-15 Ebola outbreak.

It's out of date now but the arguments are still worth making because we need to be proactive to minimise the spread of future outbreaks.

We can learn from humanities first victory against Cholera when the simple action of removing the handle from a water pump brought the 1854 Cholera epidemic in London under control. http://en.wikipedia.org/wiki/1854_Broad_Street_cholera_outbreak

Ebola spreads in a different way and g

ood

hygiene at all levels is the only way of "removing the handle from the Ebola virus pump."

Our strategy is deigned to help the general public to play their part.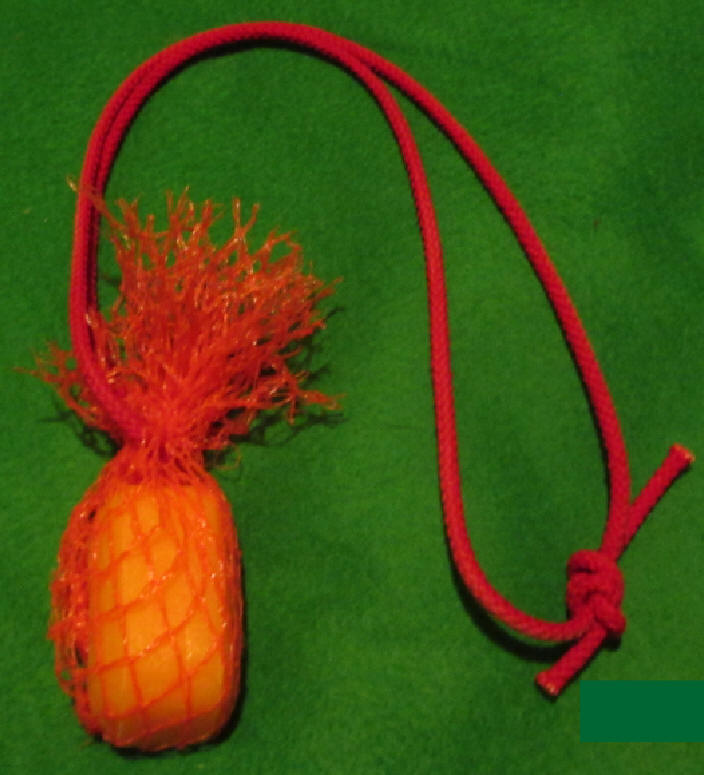 The key points of the strategy
Currently soap is being distributed freely in countries where the population is at high risk of contracting Ebola.

We propose taking this one stage further by making visible possession of a bar of soap essential for social acceptance.

The soap needs to be easy for people to display. So we propose issuing small bars of soap with a length of "rope" and an open mesh bag, as shown above, so that it can be worn, for example, as a necklace or medallion

.

Hopefully people will also fidget with their soap so they more likely to wash their hands before eating or preparing food in order avoid the taste of soap in their mouths.

Medics involved in the fight against Ebola, politicians and others making an appearance in the media would be encouraged to be photographed wearing their soap and fingering it.
Sponsorship of the scheme
Governments and companies like to take credit for what they are contributing. The "rope" used for the medallions and necklaces could take the form of a thin ribbon with say national flags or company logos printed on it.
Current state of development
Bill's MP, Graham Brady has written to the UK Department for International Development (DIFID) about the "Soap on a Rope" concept and it is being evaluated.
How you can help
Time is of the essence. If you can spare the time to write a supporting letter to DIFID, this will help to prevent Mr. Brady's letter languishing in the "Interesting ideas" in tray.
Here is their email address:
enquiry@dfid.gov.uk
Thanks for your support.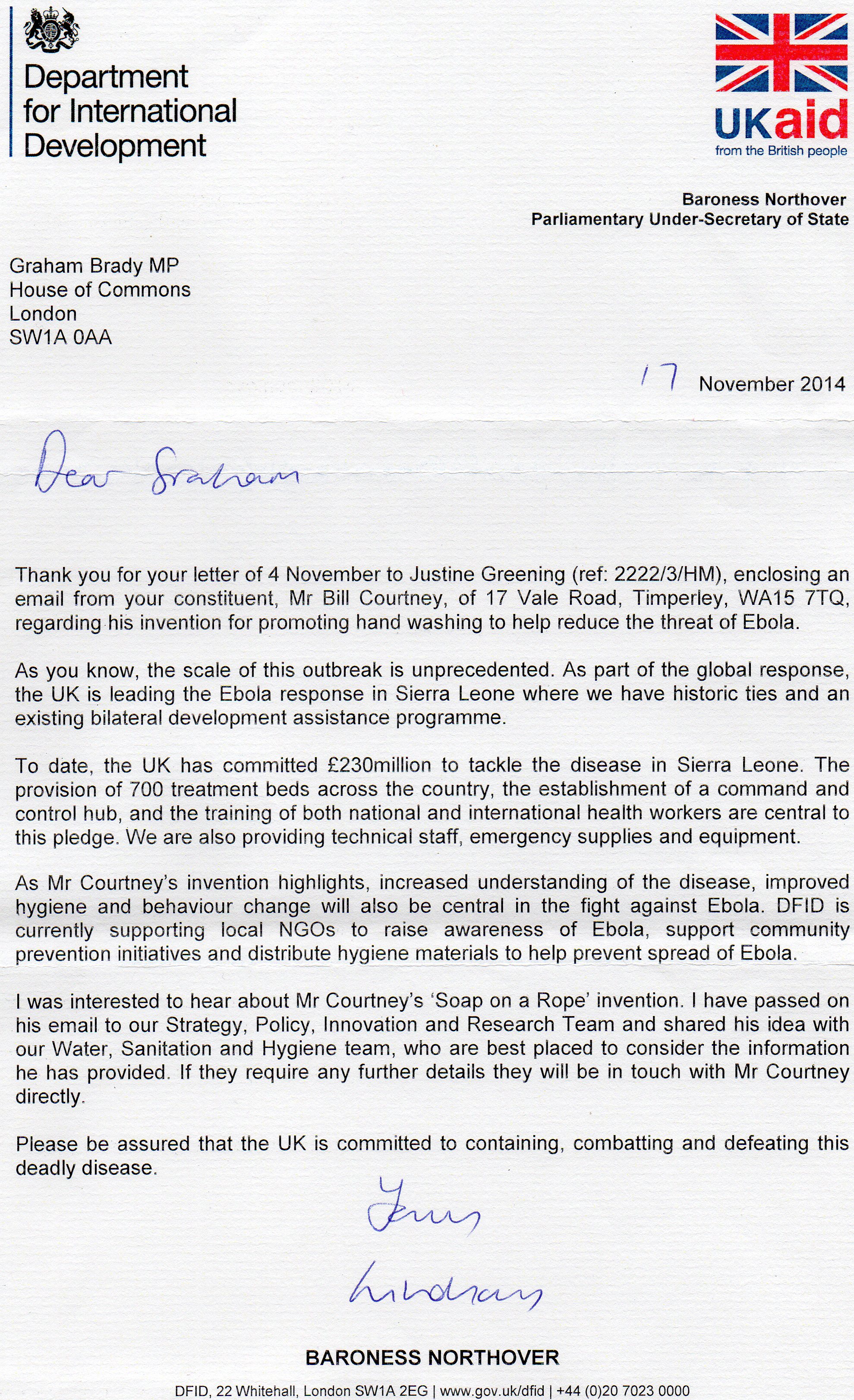 Here is some supporting evidence about hygiene quoted from The Global Public-Private Partnership for Handwashing
.
http://www.globalhandwashing.org/resources/general/handwashing-ebola-factsheet

"Handwashing protection works by washing the infection-causing germs off your hands before they get a chance to infect you, and before you accidentally touch things that could help spread these infection-causing germs to other people," says Dr Layla McCay, Secretariat Director of the Global Public Private Partnership for Handwashing. "Wet your hands with water, lather with soap for 20 seconds, rinse with running water, and shake your hands dry. Remember: infection-causing germs are too small to see with the naked eye, so you should wash your hands after any possible exposure."
Handwashing with soap is an important method for protecting yourself and your community from the spread of Ebola virus. Since there has not yet been enough research on Ebola and handwashing, the following handwashing advice is based on the best available evidence and expertise available at present, and may change as more research is conducted and more evidence becomes available.
- See more at: http://www.globalhandwashing.org/resources/general/handwashing-ebola-factsheet#sthash.TwmV7vVj.dpuf