London arbitration meeting , 27 April 2004.
A copy of the following discussion document was submitted to the Formal Enquiry as Document 19.
It is not referred to in their Report. Instead, the Panel falsely blamed Mr Courtney for the failure of arbitration by claiming that,
An arbitration meeting was scheduled for 27 April 2004: this was cancelled because Mr Courtney refused to attend.
[Gleeson, Duck et. al., Formal Enquiry Report, University of Manchester, January 2010.]
This is the opposite of the truth. Mr Courtney was desperate to attend the meeting in order to clear his professional name.

Here is the discussion document as presented to the Panel. Then at the bottom of this page we present proof that Mr Courtney had bought his train ticket to travel to London for the meeting.
Document 19 begins
PedSALi – Background notes
PedSALi was a British Foresight (University-Business Link) project, to develop a soft, prototype, pedestrian friendly car bumper, to meet EU requirements for new motor vehicles, from 2005 onwards.
The project partners were Dow Automotive, a subsidiary of Dow Chemicals, The Victoria University of Manchester and , the inventor of Shock Absorbing Liquid (SALi) Technology, Bill Courtney trading as Cheshire Innovation.
PedSALi won £224,000 of government (EPSRC) funding for the University to carry out the core SALi research required by Dow engineers, for them to build the prototype bumper.
Cheshire Innovation was awarded £44,000, to assist the University in their research work and carry out other tasks, such as filing international patent applications. (CI only claimed a fraction of the funds, because the project was not completed.)
By April 2004, three years and eight months after the project received Foresight approval, the University had failed to deliver any results to Dow, so Dow were unable to start their agreed work programme.
Cheshire Innovation kept the Department for Transport (DfT) regularly informed about the problems that the project was facing. The DfT proposed a meeting of the project partners in London on April 27th 2004, to try and get the project back on course.
However, after hearing Dow's side of the story and reading the following document, sent to them 23rd April, 04, the DfT cancelled the meeting at 24 hours notice.
PedSALi meeting, Great Minster House, 27 April 2004
How we arrived at the present position; the Cheshire Innovation perspective
1 A brief chronology
August 1986
Bill Courtney, Physics teacher invents Shock Absorbing Liquid (SALi) Technology.
He builds a ballistic pendulum test rig, to compare impact-mitigating properties of SALi with existing elastomeric materials. Concludes that SALi has distinctly superior cushioning properties but requires considerable investment of time and funds, for patent protection, marketing and industry standard research.
December 1995
After ten years building up financial reserves, files first patent application to protect SALi Technology.
June 1996
Patent Office search suggests that SALi is patentable. Bill takes early retirement from teaching, aged 50, to work full time, developing SALi Technology. Financial reserves are supplemented by £7,500 p.a. teachers pension.
September 1996 - Present
(i) Links with the University of Manchester:
1996. Business Link introduce Bill to the University of Manchester. He enrols as an MPhil student.
After completing MPhil studies, works with Manchester Innovation, the commercialisation arm of the University and as a research fellow, with the Manchester University School of engineering.
<![if !supportLineBreakNewLine]>
<![endif]>
(ii) Links with other Universities:
Additional research links have been made with UMIST and Cranfield RMCS. Research at Cranfield, using plastic explosives, indicates that SALi has good blast wave mitigating properties.
Expressions of interest in collaborating on future projects have come from Birmingham, Coventry, Huddersfield, Leicester, Manchester Metropolitan and Reading Universities, the Medical University, Hannover.
2 Current state of the relationship with the University of Manchester
Bill Courtney, trading as Cheshire innovation is in dispute with the University, on several issues:
(i) Smart CrashSALi, University sub-contract: Cheshire innovation, £14.5k, Smart award, £25.5k, funded this School of Engineering sub-contract.
How the project came about: In late 2001, when signs of problems on the PedSALi project were emerging, Manchester Innovation suggested, in a well-intended attempt to move SALi Technology forward, that Bill applied for Smart funding. The plan was, that if Cheshire Innovation had financial control of at least some of the University research, it was less likely to go adrift. The plan backfired.
Since August 2003, the Smart research has gone ahead under protest from Bill. He has made several demands in writing for it to be suspended. These demands have been ignored.
The final report sent to Cheshire innovation January 2004 was deeply flawed, the results were un-publishable and of no commercial benefit. It has been returned to the Vice-Chancellor's Office.
(ii) Inappropriate public release of SALi know-how: The School failed to keep Bill informed that they were concurrently, carrying out a third strand of research work into the crashworthiness applications of SALi. They have ignored Bill's requests for a copy of the research report, for him to check, if it infringes on his rights, relating to SALi know-how.
(iii) Inappropriate commercial secrecy: The School failed to inform Bill that two company directors had held a meeting with a senior member of School staff, with a view to commercially exploiting the results of the third strand of SALi research.
Bill only became aware of issues (ii) and (iii) above, after being approached by a confidential source. At the time of writing, the University Vice-Chancellor has failed to justify the secrecy surrounding issues (ii) and (iii).
3 Suggested lessons to be learned, for future Foresight Projects
By June 2003, Cheshire Innovation had ample evidence that the University of Manchester, School of Engineering did not possess the project management skills, to enable the PedSALi project to achieve its goals.
In contrast, Cheshire Innovation had a good working relationship with UMIST. Bill Courtney was aware that UMIST possessed the professionalism and resources to rescue the PedSALi project. Professor Reid at UMIST was supportive of the research transfer, in order to protect the good name of British academic engineering. However, the University of Manchester opposed the transfer, resulting in the present situation.
Given that the Foresight programme uses public funds to promote technical business innovation, it is recommended that, for future Foresight projects, the academic partner(s), should not hold a veto, to prevent the transfer of EPSRC funding, if the veto is likely to result in project failure.
APPENDIX 1
PedSALi timeline
<![if !vml]>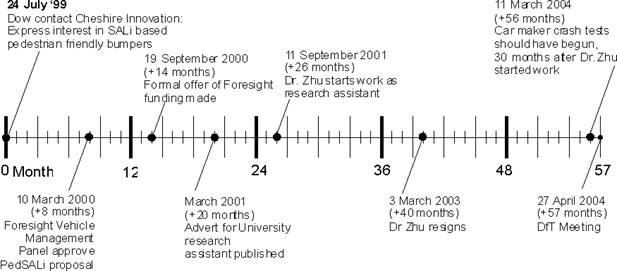 <![endif]>
APPENDIX 2
Commercial opportunities missed, due to lack of good quality research results
Winning Foresight and Smart funding has increased the status of SALi Technology but potential partners remain cautious, until they can see substantive evidence, that SALi Technology is technically and commercially viable.
The following is a selection of serious enquiries that have been received. Most UK enquiries were followed up with Cheshire innovation presentations to senior company personnel.
¨ Autoliv (car safety products), ¨ Mecaplast (automotive), ¨ Textron (automotive), ¨ Lotus Cars, ¨ FBS Engineering (Sports cars) ¨ Fox Racing (Auto), ¨ Plastic Omnium (Auto), ¨ Hill & Smith (Crash barriers), ¨ North West Auto Alliance ¨ AMEC Civil Engineering, ¨ Holz Rubber Company (California, Earthquake protection), ¨ Centurion (industrial hard hat manufacturers), ¨ Helmet Integrated Systems (Crash helmets for motor cyclists, helmets for the uniformed services), ¨ BAE Systems (aircraft, military), ¨ British Airways (packaging), ¨ Martin Baker (Aircraft seats), ¨ Buro-Happold Engineering (Generic engineering applications) ¨ Phoenix Medical Products, ¨ British Institute of Muscoskeletal Medicine, ¨ Silvertown UK (Marine, military), ¨ Jiffy (packaging), ¨ Aquasol (packaging), ¨ GKP Dynamics (Impact cushioning) ¨ Brock USA (Cushioning materials) ¨ Cellbond (Impact protection), ¨ Rexam Drums (Hazardous waste transport), ¨ Old Mission Group (USA, flood protection), ¨ Glasdon UK (blast mitigating rubbish bins), ¨ Defence Diversification Agency, ¨ QinetiQ, ¨ USSBCCOM Warrior Systems (USA government agency), ¨ Horstman Defence Systems ¨ TBA Ballistics (Body armour), ¨ Bacou-Dalloz (Body armour), ¨ Mines Advisory Group (UK based charity, land mine clearance), ¨ Adorno Rogers Technology (USA, wheel chairs, disabled living), ¨ NASA, First Lunar Settlement ¨ Pennel Industries (French, Marine), ¨ Focon Scientific (transport of art works for art galleries), ¨ Texon International (sports shoe component supplier), ¨ Umbro (shin pads etc., for footballers), ¨ Terminator (Rugby kit), ¨ Full90 (USA American Football), ¨ Cad Cam (design cricket helmets), ¨ SOS (ski gloves), ¨ British Mountaineering Council, ¨ Joe Gunn (shooting jackets) ¨ Powerplay (Sports equipment)
¨ Planet Knox (motor cycle clothing), ¨ Branded Leather (motor cycle clothing), ¨ Asprey & Kirk (equestrian helmets & protective clothing), ¨ CRIF-WTCM (Belgian Technology Transfer) ¨ Sassy Hats (NESTA funded, joint project with fashion designer, to create new types of soft, protective headwear).
APPENDIX 3
Key events leading up to the present state of the relationship with the University of Manchester
The following notes are based on entries to the Cheshire Innovation logbooks and other dated sources of written evidence.
27 March 1997, during studies as an MPhil research student, Bill advises his supervisor, (later PedSALi Principal Investigator) on the shortcomings of close tolerance fit piston & cylinder arrangements, for determining SALi core characteristics. They are prone to very large errors, which vary in nature, depending on the viscosity of the matrix liquid.
Low viscosity liquids: high leakage errors, low viscous drag errors.
High viscosity liquids: low leakage errors, high viscous drag errors.
29 October 1999
In response to an invitation from The First Lunar Settlement Research Group at NASA, Langley, Bill hands a draft application for NASA funding, for space exploration applications of SALi, to the Principal Investigator.
Between them, Cheshire Innovation and Manchester Innovation, the commercialisation arm of the University, invest approximately £4,000 on patent protection, related to the bid.
The School of Engineering never submitted the bid.
Long-term consequences for PedSALi: After nearly two years of pressing the School of Engineering to submit the NASA bid, Manchester Innovation came to the conclusion that, due to changes in the fortunes of NASA, the opportunity for NASA funding had been lost.
By late 2001, in a second attempt to motivate the School to work with Cheshire Innovation, Manchester Innovation had lost a further £3,000, filing a patent application relating to crashworthiness applications of SALi.
Manchester Innovation suggested that Cheshire Innovation's best chance to focus minds on appropriate SALi research, was using Smart funding, as a form of financial leverage. At the time, Bill agreed that this was the best way forward.
The 2002 bid for Smart funding was successful, but the plan backfired, with disputes over the Smart sub-contract making collaboration on the PedSALi project more difficult.
12 June 2000
Co-written paper, "Potential Automobile Applications for a Novel Shock Absorbing Solid-Liquid Composite, Part Two" is handed to Principal Investigator, for submitting to The Journal of Automobile Engineering. There is no evidence that the paper was submitted, in spite of frequent reminders from Bill and Manchester Innovation.
17 August 2001
The senior technician, Principal Investigator and Bill agree on the location and broad design for a 6.5 m high PedSALi funded drop rig, which will accelerate a 13.4 kg mass, to the 11.1 m/s impact velocity specified for the European tests.
23 August 2001
First Formal PedSALi quarterly meeting:
Two representatives from Foresight, two from Dow, the Principal Investigator & Bill Courtney attend.
Items from this meeting, which lie at the heart of later disputes between the business and University partners, were:
(i) The Project Plan: In order to meet Dow's needs, it was agreed that Microsoft Project would be used for organising the project plan. However, fifteen months later, in November 2002, the School of Engineering was still unable to access the plan without help from Dow, because they did not possess a copy of the Microsoft Project software. (Software cost to academics=£30.)
(ii) SALi beam experiments: The Minutes record, "In order to separate out the energy absorbing characteristics of the Covelle packaging material and SALi filling, early university experiments will be carried out using external woven fabric covers for the beams."
Suitable fabric covers were later supplied by Bill, but never used. As a consequence, all of the SALi beam experiments carried out since June 2003 were invalid and difficult to analyse, because they included two unknown variables, which influenced each other.
11 September 2001
Bill meets Dr. Zhu at Manchester Airport. Dr. Zhu's spoken English was poor, they had to communicate using written notes.
17 September 2001
Bill visits Fielden Park College, to arrange English Language lessons for Dr. Zhu, as per condition of appointment agreed with the University and Dow. The cost of the part-time course, which is designed to meet the needs of Chinese academics & students, is £1,000.
20 September 2001
At a meeting with Dr. Zhu and Bill, the Principal Investigator informs them that the School of Engineering has had a re-think and will not fund Dr. Zhu's English lessons.
24 September 2001
Bill suggests that copies of the draft auto paper, (Ref. 12 June 2000) which includes guidelines on the optimum SALi mixtures for use in car bumpers, should be given to Dr. Zhu and to Dow Auto, for their comments and information. The Principal Investigator, the second author for the paper, vetoes this.
16 October 2001
A meeting to discuss experiments, to determine the SALi core characteristics is held. Bill repeats his comments of 27th March 1997. He also points out that the law of conservation of momentum will prevent a massive piston from mimicking the impact behaviour of SALi behind a lightweight bumper facia.
28 November 2001
Principal Investigator, Dr. Zhu and Bill invited to Cranfield University RMCS, to discuss potential post-September 11th, anti-terrorist applications for SALi. The Principal Investigator blocked Dr. Zhu's attendance, even though Cranfield confirmed that Dr. Zhu's Chinese nationality was not a security issue.
13 December 2001
Bill discovers that Dr. Zhu is not carrying out PedSALi, 6.5 metre drop rig design work, but has been instructed to design a 1.8 metre drop rig, for a PhD student. Dr. Zhu has no computer in his office and has to work in the student cluster of computers. Bill gets the impression through Dr. Zhu's broken English, that he feels demeaned by this.
7 January 2002
Bill speaks to the Principal Investigator's line manager, the Dynamics (Aero-elasticity) research group team leader, expressing concerns about Dr. Zhu's supervision.
18 January 2002
Bill inspects School of engineering plans for SALi core characteristic experiments and repeats his warnings of 16 October 2001.
18 January - 7 February 2002
Bill's research diary records that on two visits to the University, he has discovered Dr. Zhu sitting still, staring at the wall. On both occasions, the documents on his desk, SALi patent applications, are open at the same page. On a third occasion, he finds Dr. Zhu in the student computer cluster, staring at a computer screen. It is not switched on.
11 February 2002
Bill warns the Principal Investigator that Dr. Zhu could be suffering from depression. He needs his own computer and should be working full-time, towards achieving the PedSALi project goals, not helping PhD research students.
15 February 2002
Following a further visit to the University, to assess Dr. Zhu's situation, Bill emails the Principal Investigator and head of Dynamics group, calling for an urgent meeting, to discuss PedSALi progress and Dr. Zhu's needs.
Later in the day, Dow Automotive's European management representative writes a similar email to University colleagues. He warns that we are slipping behind the competition, in the quest to find a bumper design, which will meet the European pedestrian impact requirements.
22 February 2002
Dr Zhu tells Bill that in the five months he has been working on the PedSALi project, he has never had a meeting with the Head of the Dynamics group.
Bill sends a second email to Dynamics group colleagues, requesting an urgent meeting.
27 February 2002
No response from the Dynamics group has been received.
Bill, as PedSALi lead partner, writes to Professor Wood, Head of the Manchester School of Engineering, requesting a meeting with him, to discuss concerns that the PedSALi project may fail. The Head of School does not reply.
1 March 2002
First meeting with Head of Dynamics Research Group, Principal Investigator and Dr. Zhu is held.
Bill proposes that time on UMIST compression and drop test rigs should be rented, to generate some data, for Dow to work on. The proposal is rejected.
25 March 2002
A planned meeting with Dynamics group colleagues, to draw up a rescue plan, for presentation at the next Formal PedSALi meeting is abandoned, because the Principal Investigator fails to turn up.
15 April 2002
Bill repeats his concerns to Dynamics group colleagues, that Dr. Zhu is exhibiting signs of depression. He needs to feel that he is a valued member of the group, and has his own computer, to help establish his status.
22 April 2002
3rd Formal PedSALi meeting
(i) Vince Gill, Foresight Research Co-ordinator gives a strong warning that School of Engineering attitudes must improve, if the PedSALi project is to succeed.
(ii) Bill offers to work with technicians, to upgrade the 1.8 metre student drop test rig, by adding a shock cord catapult, to allow impact velocities of 11.1 m/s to be achieved. The offer is accepted.
5 September 2002
A few days before the start of the Smart CrashSALi contract, Bill discovers that the contract will cost Cheshire Innovation £6,040 more than the original quote, provided by the School, because VAT has now been added.
27 September 2002
Bill intervened in a vigorous scolding of Dr. Zhu by the senior technician. The technician had just been given a job request for the technical staff to urgently construct an array of load sensors, for the PedSALi project. Due to his poor spoken English, Dr. Zhu, acting on behalf of the Principal Investigator, was unable to respond.
Bill tried to convene a short meeting of the PedSALi research team with the senior technician, to sort out the problem, but was unable to find Dr. Zhu's line manager. Bill's subsequent email requesting a meeting, as soon as possible, was ignored.
Background notes:
(i) The work required an estimated forty hours of technician time. Mild steel was specified for the job, but the senior technician warned that this could warp during machining.
(ii) It was unnecessary to make the sensors in-house, because £7,000 of EPSRC funding had been allocated specifically for their purchase. The senior technician recommended that some of the funding should be used to have the array machined by an outside contractor, using spring steel.
(iii) The array was eventually, grudgingly, built in-house from mild steel. It was warped, when checked with a straight edge. Apart from one test run in December 2002, it has never been used.
(iv) Why the senior technician was angry: The technicians were a man down and needed a grieving period. The technician assigned to the PedSALi project, had died the previous week, from head injuries, sustained in a cycling accident.
13 November 2002
The Dow representative repeats his request, for a Microsoft Project based forecast of University work, for a Dow management meeting, to decide on their future commitment to PedSALi.
No response could be made, because the School of Engineering did not possess a copy of Microsoft Project.
21 November 2002
Bill has lost 28 lb in weight during previous twelve months; he seeks medical help for exhaustion and high blood pressure.
9 December 2002
7th Formal PedSALi meeting
(i) The School of Engineering agrees to withdraw two conference papers, after objections from Dow & Cheshire innovation, that their poor technical quality could damage the good commercial name of the PedSALi project.
(ii) The School agrees to complete the shock cord upgrading of the 1.8 metre drop rig, to allow it to be used for 13.4 kg drop mass, 11.1 m/s impact tests, as specified by the European requirements.
20 December 2002
In following up a complaint from the technicians, Bill discovers that University colleagues have decided to suspend plans to add a shock cord catapult, to accelerate a 13.4 kg mass to 11.1 m/s. Instead, they plan to meet the European impact requirements, by using a 59 kg drop mass, impacting at 5.3 m/s. (Both types of impact provide an impact energy of 825 Joules.)
The technicians complain about the shape and complexity of the new impact head. It has an H shape in horizontal profile, which means that, at its greatest width, it is wider than the clearance between the drop rig uprights. Every time the impact head is changed, the drop rig will need to be dismantled by two technicians.
The technicians consider that adding a catapult to the rig will require less technician time than fabricating a new impact head with inclusive bearings. The materials for building the catapult have been purchased by Bill and are in stock.
Bill disagrees with the justification for using a 59 kg drop mass, which had been reached without consulting Dow or Cheshire Innovation. He argues that since SALi is a pseudo visco-elastic medium, it must be tested at the European test velocity, in order to obtain valid estimates for the contribution of viscous damping.
Dr. Zhu did not have the spoken language skills to join in the debate, which lasted several months.
Winter 2002-3
Dr. Zhu's home, in a cul-de-sac, close to the University, was attacked at least ten times during this period. His telephone and cable television lines were cut. The telephone company pressurised him to pay for the damage. Negotiating with the company was beyond his language skills. Bill had to act on behalf of the Zhu family.
January 14 2003
Dr. Zhu informed Bill that two unopened boxes of Sconapor expanded polystyrene beads, sent by Dow from Germany, have gone missing. These were large boxes, each holding about one cubic metre of Sconapor, so they were difficult to lose by accident. Dr. Zhu and Bill conducted an extensive search of the School of Engineering Building and asked a lot of questions, but the boxes were never found.
January 15 2003
At a meeting with University colleagues, Bill advised that Dow, Foresight and the police should be informed about the suspected sabotage or theft of the Sconapor.
March 6 2003
Pre-formal PedSALi meeting with University colleagues:
The Principal Investigator and the Head of Dynamics Research Group express satisfaction with progress. Bill repeats his doubts about the validity of piston & cylinder experiments.
March 10 2003
8th Formal PedSALi meeting:
The Dow representative reports that his senior managers are concerned at the lack of useful results from the University. Team structures are under review at Dow and commitments to the PedSALi project cannot be honoured if the University fails to play its agreed role.
University personnel advise that the drop rig and other equipment are now performing satisfactorily and that matters should improve in the near future.
2 April 2003
Bill meets University colleagues, to check on progress, following Dow's concerns.
The Principal Investigator and the Head of the Dynamics Group claim that problems with piston & cylinder experiments can be overcome and that good progress is being made.
9 April 2003
Bill comes across Dr. Zhu booking a flight home to China. Dr. Zhu states that he handed in his resignation on 3rd March 2003. He claims to have alerted his line manager in January, that he was considering resignation.
28 April 2003
Peter Cate, Dow and Bill Courtney, Cheshire Innovation write a formal letter to the University, concerning the mismanagement of the University work since the beginning of the project and the misleading reassurances made by University colleagues during March and April. A written response to matters addressed in their letter is requested.
2 May 2003
The drop rig is dismantled and the new 59 kg drop mass installed.
9 May 2003
Schadenfreude email from Dr. Zhu; the 59 kg drop mass is not compatible with accelerometers purchased by his line manager. The accelerometers are not sensitive enough to pick up the fine detail of impacts.
12 May 2003
The drop rig is dismantled and the 59 kg drop mass removed.
It is replaced by a 15 kg drop mass and catapult system.
The new system works.
19 May 2003
Bill writes a formal letter to the University, after discovering that the University solution to the Dr. Zhu resignation problem is to transfer the Smart CrashSALi research assistant to the Foresight PedSALi project.
He points out that:
(i) Bill Courtney is a partner, who has invested his own resources heavily, in both projects. He should have been consulted about the transfer.
(ii) He will lose out financially by the decision, because he will need to invest additional time and funding, training the replacement Smart CrashSALi research assistant.
<![if !supportLineBreakNewLine]>
<![endif]>
6 June 2003
Bill has first formal meeting with Dr. Turner, nominated by the University, to act as a neutral chairman, to intercede between the PedSALi collaboration partners. He informs the chairman verbally and in writing, of his fears that the Foresight PedSALi and Smart CrashSALi projects will both fail unless a new Principal Investigator is appointed.
10 June 2003
Bill signs a five-year mutual confidentiality agreement with Dr. Zhu. He takes Dr. Zhu and family to the airport, for their flight home to China.
13 June 2003
The chairman phones Bill to inform him that a compensatory offer, for the loss of the Smart CrashSALi worker will be made before the 9th Formal PedSALi meeting, 27 June.
27 June 2003
9th Formal PedSALi meeting, some key points:
(i) Bill proposed that the outstanding University PedSALi work should be transferred to UMIST. He has been working with UMIST engineers for several months. He is impressed by their professionalism, team spirit and superior test equipment. The proposal was rejected.
(ii) Bill stated that he did not wish to continue working with the current University project management team, because the stresses were affecting his health and the project was unlikely to achieve its goals, unless new managers were appointed.
(iii) He had to back down for financial reasons, after it was pointed out, that he might have to repay the Foresight grant if he withdrew.
(iv) As a concession to Cheshire Innovation, the University agreed to an engineer from UMIST being appointed, as project consultant.
(v) The University presented a written compensatory offer for the loss of the Smart research worker, "The University will provide the manpower to take the place of Mr Geogiadis on the CrashSALi project (due to finish in October 2003) without any additional cost to Cheshire Innovation and will do everything in its power to minimise the delay."
22 July 2003
Bill agrees a Smart CrashSALi project rescue plan with the Small Business Service, who oversee the Smart project:
(i) The outstanding CrashSALi research work would be split between the University of Manchester and UMIST.
(ii) The UMIST work would be broad based, benefiting both the CrashSALi and PedSALi projects. It takes advantage of the specialist equipment and expertise that UMIST possess, to speed up the PedSALi project, by carrying out the SALi core characterisation experiments required by Dow.
(iii) The offer of the University to provide the manpower to take the place of Mr Georgidis, without any additional cost to Cheshire Innovation, frees up funding for the UMIST work. (Smart paying 63%, Bill paying 37% of UMIST costs.)
31 July 2003
PedSALi Progress Review Meeting
At the end of the meeting, the chairman asked the project consultant from UMIST to leave the room; Bill was instructed to stay behind.
The chairman then berated Bill, for his inability to read "clearly written English." The offer that, "The University will provide the manpower to take the place of Mr Geogiadis on the CrashSALi project (due to finish in October 2003) without any additional cost to Cheshire Innovation and will do everything in its power to minimise the delay." meant that the University would complete the outstanding CrashSALi project work without increasing its fee above that agreed in the original contract. No remission of fees had been intended or offered.
It was also pointed out to Bill, that because he had backed down from his threat to withdraw from the PedSALi project, he had implicitly accepted the conditions offered by the University for the Smart CrashSALi contract, because these had been presented at the meeting.
Bill responded by stating that he had been mislead by the ambiguous wording of the University compensation offer. The background to the offer, given that it was a response to his letter sent 19 May 2003, favoured the Cheshire Innovation/ Small Business Service interpretation. He would not recognise or fund any future work by the University on the CrashSALi project, under the conditions now revealed by the chairman.
The chairman warned that the University could take action if Cheshire Innovation did not honour the contract. He cited a named University Contracts Officer, as backing this threat.
Consequences of this disagreement between the chairman and Bill:
(i) The plan to carry out work at UMIST had to be cancelled and the opportunity to obtain valid SALi core characteristic data was lost.
(ii) Against the express wishes of Cheshire Innovation, the University of Manchester continued to carry out "Smart PedSALi research work" until January 2004, when they claimed to have completed the contract. They have sent Cheshire Innovation invoices for £20,000 (In addition to the £20,000 already paid) and a letter threatening to take (unspecified) action, if Cheshire Innovation does not pay up.
(iii) The ongoing Smart CrashSALi dispute has soured the relationship between Cheshire Innovation and the University. Bill Courtney has been advised (2004) to refrain from all face-to-face meetings with School of Engineering staff, to prevent falling into further contractual obligation traps.
29 September 2003
10th Formal PedSALi meeting
Bill said that the intimidating manner of the chairman at the meeting on 31 July 2003 had been damaging to the PedSALi collaborative spirit.
The chairman denied this, declaring that,
"I was not intimidating. When I give people a real bollocking, they don't know what's hit them for two days."
Bill invited the chairman to step down and be replaced by a neutral person. The chairman refused to step down, but offered a compromise, with the project consultant chairing monthly progress review meetings.
1 December 2003
Bill runs out of funds and has to abandon European and USA patents based on application number WO 02/21013, "Fluid filled impact absorber". He loses approximately £5,000 invested on the application to date.
17 December 2003
A confidential source reveals to Bill, that in addition to the PedSALi and CrashSALi research, a third strand of research into the use of SALi to improve the crashworthiness of motor vehicles has been carried out at by the School of Engineering. The end report on this work has been circulating in the public domain and has attracted commercial interest. At least one person, probably two, after reading a copy of the report, have held discussions with a senior member of School staff, to seek technical guidance, on setting up a business, to exploit the benefits of SALi technology.
Bill considers that the above information, if true, constitutes a breach of confidence between the University and Cheshire Innovation.
January 2004 to present
Bill has taken up key issues referred to above, at University Vice-Chancellor level.
So far, this has not lead to any resolutions of disputes.
A brief summary of the findings made by the Vice-Chancellor is as follows:
(i) Yes, a third strand of SALi research has been carried out, but no breach of confidence issues are involved.
(ii) The Smart sub-contract has been fulfilled. The Vice-Chancellor expects Cheshire Innovation, " … to settle the outstanding invoices without further delay."
(iii) "Generally, a positive response to the technical progress made by the School of Engineering has been received from the other PedSALi partners, including Dow, Foresight and the Department for Transport."
Reference: Hard copy letter from University Vice-Chancellor, Sir Martin Harris, 12 February 2004.
APPENDIX 4
The annotated extract from the Smart submission document presented on the next page, indicates why Cheshire Innovation disputes the University claim, that the Smart sub-contract has been fulfilled.
Note Please see Exhibit 6, which is identical to this Appendix
Smart submission; annotated extract. Entries in blue: tasks completed, Entries in red: task failures.
General aims of the Smart CrashSALi project
To collect sufficient experimental evidence to attract the interest of major industrial partners to join in bids for Foresight or European funding for major projects relating to (a) Improved crashworthiness of motor vehicles, (b) Smart crash protection for railway trains, (c) Low cost impact buffers and vibration isolators.
To provide funding, to assist in protecting our intellectual property.
Specific objectives
1. To provide proof of principle evidence that SALi based impact absorbers can be used to enhance the crashworthiness of motor vehicles and trains. Key experimental data relating to weights of components, volumes of liquids and illustrations, showing how the components deformed under crash conditions, are missing from report.
2. To provide proof of principle evidence that SALi based vibration dampers are a viable alternative to existing spring-dash pot systems. After consulting manufacturers, Cheshire Innovation specified the materials to be used, in accordance with good industrial practice. Corrosive and brittle materials, which deteriorated during vibrations, were used instead.
3. Produce at least three engineering journal and one conference paper based on the research results. Key experimental data, for comparison with results published by other workers, was not supplied. Papers not written.
4. To attract partners, to take at least one SALi based product to the near market state with the aid of Foresight or Framework support. Cheshire Innovation requires good quality experimental evidence, using materials in accordance with industrial practice, before it can approach potential partners, to make further funding bids.
Project timetable
Month

1 Sept. 02

2

3

Nov. 02

4

5

6

7

8

9

10

11

12

13

14

Oct 03

Sub-contracted

Engineering Research

School of

Engineering

Advertise & appoint research assistant

Phase 1 Contaminated liquids, having uncertain viscous properties were used. Essential data, on volumes of liquids ejected, was missing.

Phase 2

Essential data relating to:

1 Weights of components.

2 Volumes of liquid ejected.

3 Shapes of crush tubes, after impact tests.

All missing from the report.

Phase 3

Materials supplied by MAPRA were not used.

Corrosive liquids, which attacked container, used.

Phase 4

Specified, automobile slave cylinder not used.

Corrosive liquids were used.

Cheshire

Innovation

Joint selection & supervision of researcher.

A key aim of the research process was to build up a team spirit, involving Cheshire Innovation, University academic and technical staff, so that we could present a united front, when inviting large industrial players to join us, for further research funding bids. In reality, the opposite has happened. Since about April 03, the relationship has soured. This has damaged both the PedSALi and CrashSALi projects.

Assist researcher in writing of papers.

No papers have been discussed or written. Poor quality data unlikely to attract international interest.

Patent

protection

Revision & UK filing of Pat. App's.

4 & 5.

Chap. II filing Pat. App'. 3.

DONE: Refers to suspension system patent.

Prepare PCT Pat. Application 2 for national phase

DONE:

Suspension system patent.

Revision & PCT Chap. I filing, Pat. Applications.

4 & 5.

UK priority date patent application withdrawn

¬ Abandoned because lack of useful results and creative teamwork meant that a new understanding, to assist CI in writing strong patent claims never emerged.

Chap II filing, Pat. Applications.

4 & 5.

Abandoned.

Partner search & Promotion

Internet

Submit details of CrashSALi programme to Cordis & Eureka databases

DONE

Outline description of CrashSALi on Cheshire Innovation web site.

DONE

Update entries on Cordis & Eureka databases, CI web site.

Not done

< Abandoned,

Due to lack of useful data & inability to file protective patent application.

Update entries on Cordis & Eureka databases, CI web site.

Not done

Conference &

Exhibition

Register for conference with mini-exhibition facilities, submit conference paper outline.

DONE – Exhibition @ Barbican

¬ Registration was withdrawn, after it became clear that the collaboration with the School of Engineering was breaking down & strong patents could not be filed before public exposure.

Write conference paper.

Not done, due to lack of good quality data.

Prepare exhibition materials

Not done

Present conference paper & man exhibition stand.

Not done

M/c Innov.

campaign

Exploratory

marketing research

DONE, very well

In depth market structure exercise.

Identification of potential partners, meetings with them, negotiating collaboration & possibly licensing agreements. Organisation of workshop and open days for industry.

Press releases to engineering magazines.

Not done, due to lack of supporting evidence & patent protection. However, from past experience of working with MIL, I believe they would have done a good job, given the chance.

<![if !supportMisalignedColumns]>
<![endif]>
Document 19 ends
Proof that Mr Courtney had bought his train ticket, to travel to London for the arbitration meeting
This document was presented to The University of Manchester Research Governance Office as Document IC 13.
Document IC 13 begins
The following extracts from Courtney's VISA statements provide evidence that he purchased a train ticket with the intention of attending the London arbitration meeting.
<![if !vml]>

<![endif]>
<![if !vml]>

<![endif]>