1 2016 conference
Similar letters were sent to all university subscribers to the UKRIO
.
Acknowledgements were received, but there were no substantive replies.

Dear Professor *******,
I am writing to ********* University on the assumption that, as a subscriber to the UKRIO, you, or a colleague will be attending the forthcoming UKRIO annual conference to be held on May 5th 2016.
With great regret, I will present you with evidence that the UKRIO is contradicting its own aims and is acting in a manner that will damage the international reputation of European science.
Here is a summary of my evidence:
<![if !supportLists]> 1 <![endif]> For the last 12 years I have been campaigning to expose a serious case of research and financial fraud at Manchester University. This fraud relates to Engineering and Physical Science Research Council (EPSRC) funded research into a "smart" car bumper that would be soft for pedestrian impacts, but stiff for impacts with other vehicles. The fraud included the creation of false research evidence that my patented "smart" car bumper was ineffective. This fraud has placed pedestrians hit by motor vehicles at unnecessary risk of death or life changing injury.
Details of the fraud are published at www.cheshire-innovation.com/sali/pedsali.htm.
<![if !supportLists]> 2 <![endif]> Six years ago a formal enquiry into my complaints was held at Manchester University, with a UKRIO repetitive Dr Pablo Fernandez being one of the members of the enquiry panel. Their report included a number of blatantly false statements that buried the research fraud, but only at the cost of damaging my professional reputation.
Several examples of this libel against me are published on the same webpage, www.cheshire-innovation.com/sali/pedsali.htm. I have provided an extract from this webpage as an appendix below.
This will enable you to test the honesty of my claims.
<![if !supportLists]> 3 <![endif]> I complained to the UKRIO about its involvement, but the CEO, James Parry found an excuse for not investigating. You can read his excuse at http://www.cheshire-innovation.com/UK%20Research%20Integrity%20Office.htm
<![if !supportLists]> 4 <![endif]> In June 2015, the EPSRC wrote to Manchester University requesting that they hold a fresh enquiry into both the original research fraud and the follow up, formal enquiry fraud.
After several weeks of silence, the University wriggled out of a second enquiry by arguing that UKRIO involvement meant the earlier enquiry was beyond reproach.

This should worry you as an honest person, because it means that the UKRIO reputation is being used by Manchester University to hide research fraud. And Dr Pablo Fernandez, as a representative of the UKRIO, is colluding with this.
The documents relating to the Manchester University rejection of the EPSRC request can be found at http://www.cheshire-innovation.com/sali/CrashSALi-Project_files/EPSRC%20update.htm
<![if !supportLists]> 5 <![endif]> The UKRIO acts on behalf of its subscribers, so any misdemeanours by its representatives reflect badly on the reputations of all those who support it.
<![if !supportLists]> 6 <![endif]> The misuse of UKRIO charitable status worried me. So I wrote to The Charity Commission, requesting that they investigate the matter.
The Charity Commission declined to investigate. But using The Freedom of Information Act I discovered a possible reason why: James Parry had sent them an email that threw them off the scent.
Details of this misleading email can be found at http://www.cheshire-innovation.com/sali/Charity%20Commission.htm
A claim that a university or research institution is "complying with UKRIO standards of integrity" exposes them to ridicule, if the UKRIO itself is failing to act with integrity.
I request that you, or your conference attending colleague, act in the best interests of European science and pedestrians in general, by raising a question relating to the above issues at the May 5th meeting.
Why you should act with moral courage
The need for a "smart" car bumper to protect pedestrians is increasing because two developments in technology are causing a rise in pedestrian accidents.
<![if !supportLists]> (i) <![endif]> The "addictive" use of mobile social media means that more pedestrians and drivers are involved in accidents, because they are distracted by operating their mobile devices.
<![if !supportLists]> (ii) <![endif]> Pedestrians have less warning of pending accidents because vehicles are becoming quieter, as battery power becomes more common for city driving.
I suggest that the scope of any enquiry on behalf of the subscribers should include the following:
<![if !supportLists]> · <![endif]> Why the UKRIO became involved in fabricating false evidence to hide research fraud.
<![if !supportLists]> · <![endif]> Why it failed to act when alerted to the problem.
<![if !supportLists]> · <![endif]> Lessons to be learned, to prevent a similar occurrence in the future.
[If it is any help, my own proposals, based on what I have learned, are published at http://www.cheshire-innovation.com/other/science_under_attack.htm ]
A similar email has been sent to all UKRIO subscribers.
Yours sincerely,
Bill Courtney
The letter included an Appendix, where further verifiable evidece was presented.
*******************************
2 2017 conference
Letter to a UKRIO Conference keynote speaker.
Similar letters were sent to other speakers.
Acknowledgements were received, but there were no substantive replies.

Dear Professor ********,
I am writing to you as an advertised keynote speaker for the 2017 UKRIO annual conference.
I regret to inform you that in contrast with the UKRIO's professed role of championing research integrity, it has in reality been complicit in hiding a serious case of British research fraud. This case concerns Manchester University and a member of the UKRIO Advisory Board.
The problem began at Manchester University in 2004, with the UKRIO drifting into it from 2010 onwards.
When the editor of the Journal of Biological Physics and Chemistry (JBPC) heard about my 13 year battle to expose the fraud he invited me to write this up as a case study. This peer reviewed paper was published in the September 2016 edition of the JBPC.
A copy of the paper was sent to the House of Commons Science and Technology Committee in December 2016. The following month, in January 2017, the Committee announced that it was holding an inquiry into research integrity.
I am unable to say whether or not my paper was instrumental in triggering this inquiry.
Unfortunately, as you will be aware, this inquiry was closed down prematurely due to the pending general election.
But the inquiry may be resurrected after the election.
I will be lobbying for this to happen. And my correspondence suggests that I will not be alone in making this call.
Copies of the paper were also sent to the trustees and advisory board for the UKRIO in late 2016, but none of them has bothered to reply.
In spite of this evidence of internal misbehaviour, the UKRIO submission to the Parliamentary Inquiry creates the false impression that all is reasonably well with British research integrity. This position may be elaborated on at the UKRIO Conference.
Additional copies of the paper were sent to the president and other senior members of staff at Manchester University and members of the Manchester University Senate. Again, nobody has bothered to reply.
You can find a full online copy of the paper at
http://www.cheshire-innovation.com/Meta-fraud%20fight/A%20private%20researcher%E2%80%99s%20struggles%20against%20research%20fraud%20JBPC%20%20Vol%2016,%20No.%203.pdf
I hope that you will find the time to read it discuss its significance at the 2017 annual UKRIO Conference.
Now that this case has been described in the scientific journal literature it will not go away.
At some time or other in the future it will be exposed. This is likely to happen within the next few months if the parliamentary inquiry into research integrity is resurrected.
I suggest that it is in the best long term interests of British science for this exposure to take place at the UKRIO Conference.
It will be even more damning for the reputation of British science if informed keynote speakers at the UKRIO Conference choose to remain silent.
(I will be writing to all other keynote speakers where I have access to their email addresses.)
In spite of my distressing experiences as a victim of research fraud, I remain deeply committed to the cause of defending British research standards. This will become obvious to you when part two my paper is published in the June 2017 edition of the JBPC.
Here is a short extract for you to judge its tone.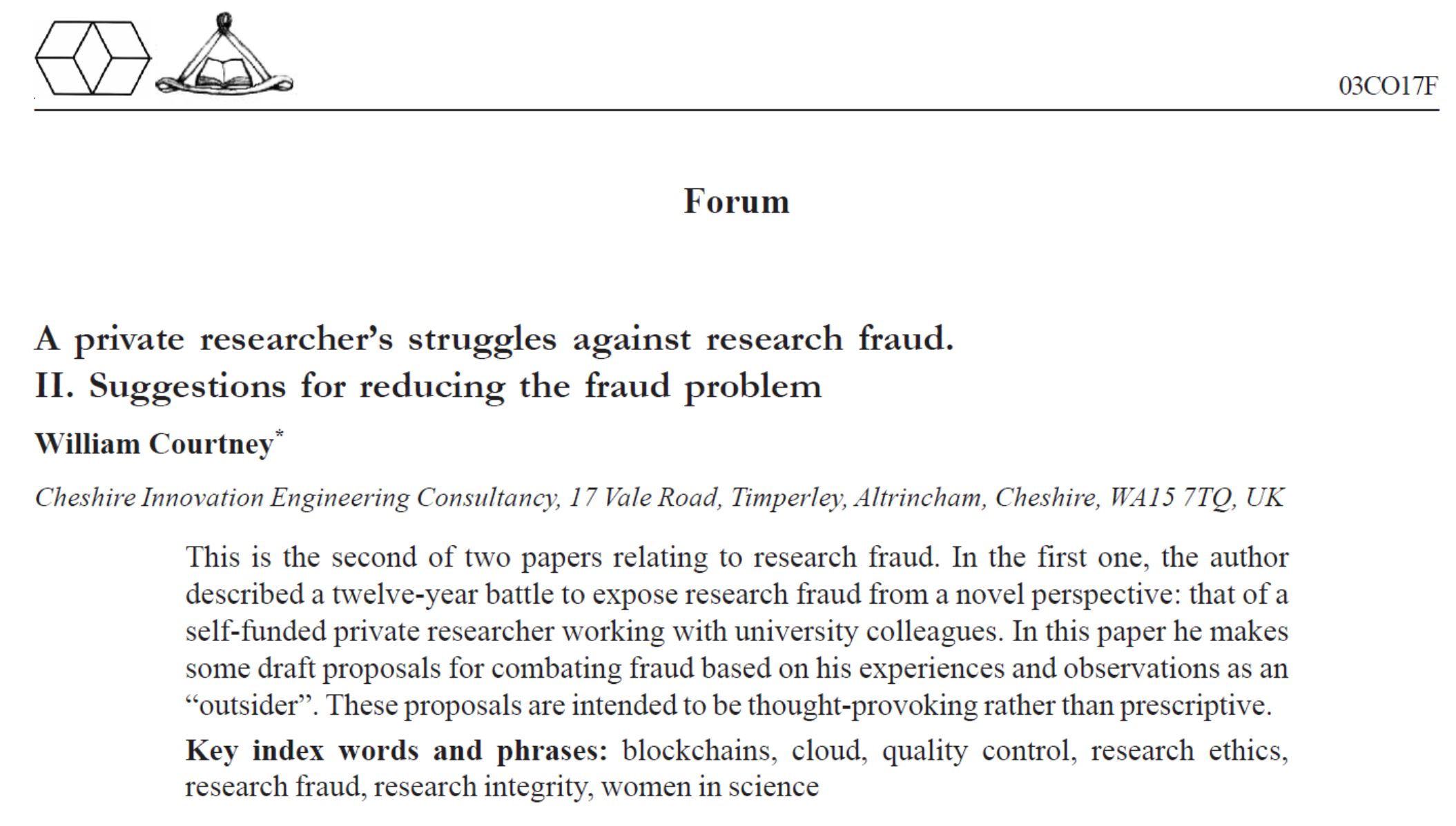 Yours sincerely,
Bill Courtney
Cheshire Innovation / Latent Power Turbines Ltd
<![if !supportLineBreakNewLine]>

<![endif]>
Bill Courtney comments
One of the most seductive arguments in favour of Brexit is that once we are free from Brussels bureaucracy, we Brits can take charge of our own destiny.
This will place our leaders in a stronger position to act in the interests of the British people.
But is British wisdom really superior to the collective wisdom of the 28 EU countries?
Our evidence of a British university establishment cover-up of research failings suggests that the opposite is true. The establishment will use its new freedom to bury uncomfortable truths.
And we Brits will all be the poorer for it.