SALi based impact protection: Project Advice
The following advice is provided to assist researchers at all levels, from school projects to post doctorate research work.
It must not be treated as an offer of involvement in the commercial exploitation of SALi Technology.
You should contact us if you are planning commercial exploitation of our technology.
For school, college and short undergraduate projects we are happy for you to carry out research subject to the notes on professional behaviour at the end of this page. For all other projects, we request that you legitimise your work by signing a research licensing agreement with us. (It's free and simple. Essentially, your institution signs an agreement saying that it will respect Cheshire Innovation's intellectual property rights.)
Elastomeric capsules
Elastomeric beads as used in bean bags, comfort pads and some types of pet bedding are fine for body armour that only take occasional impacts.
Craft shops sell large bags of expanded polystyrene beads at a reasonable price.
Recipes for blending capsules and matrix fluids will be discussed below.
Matrix fluids
Any liquid or gel that does not chemically react with the elastomeric capsules or packaging can be used. Thick fluids are generally preferred because they offer higher viscous damping. Silicone gel wound dressing and flexible mastics are at the extreme end of viscosity.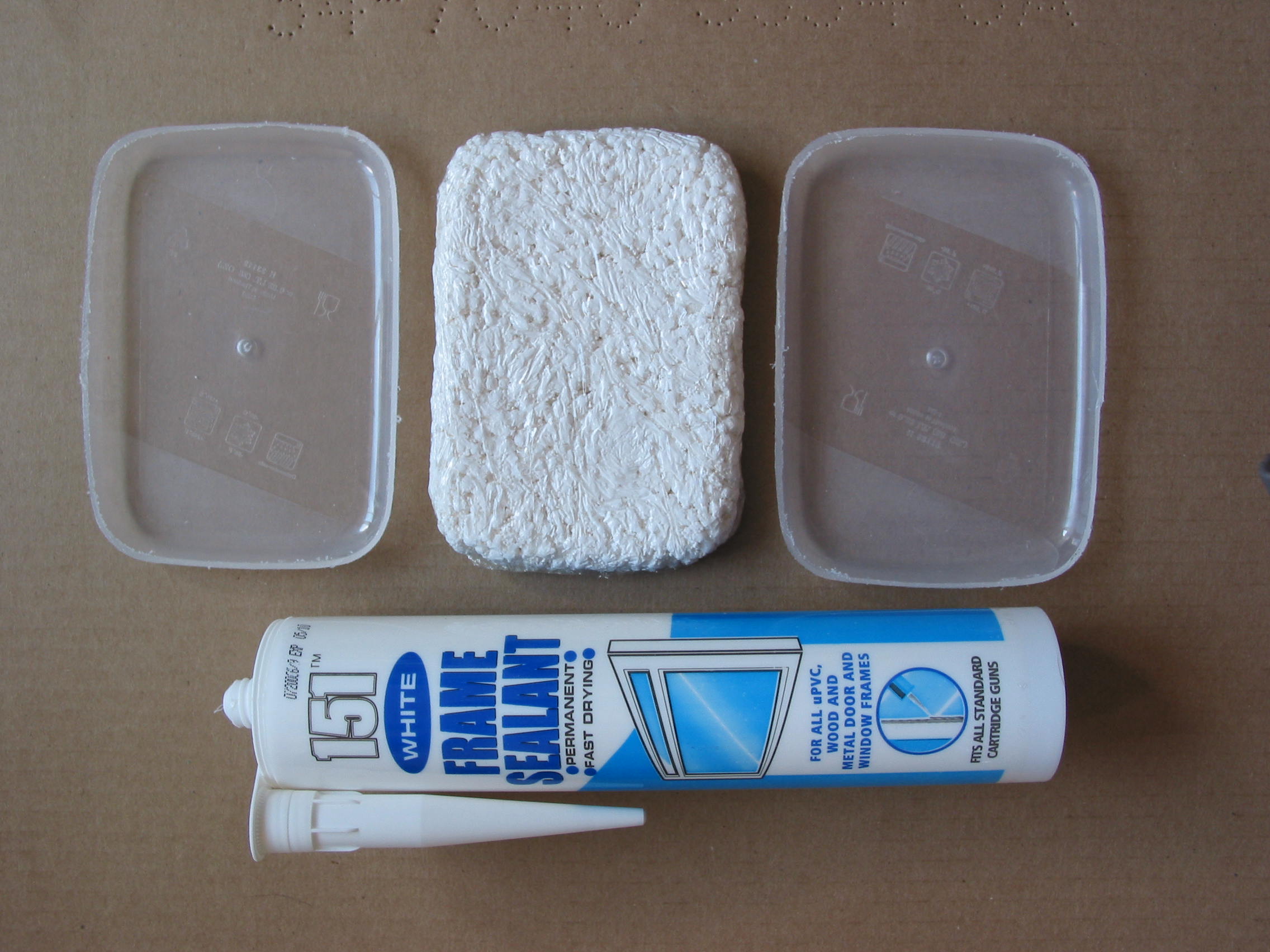 Figure 1. For initial experiments we recommend the use of flexible mastic that cures to superficially resemble a solid. It must retain viscous flow properties after curing in order to allow the capsules to move relative to each other under impact conditions.
The mould was made from the the bases of two plastic boxes and lined with cling-film.
Packaging
Strong, low stretch outer packaging is essential for SALi type impact absorbers to work effectively. Stretchable materials such as cling film or Dow Covelle can be used as an inner packaging for handling convenience.
Here are three alternative packaging suggestions for project work on flexible mastic based SALi.
1.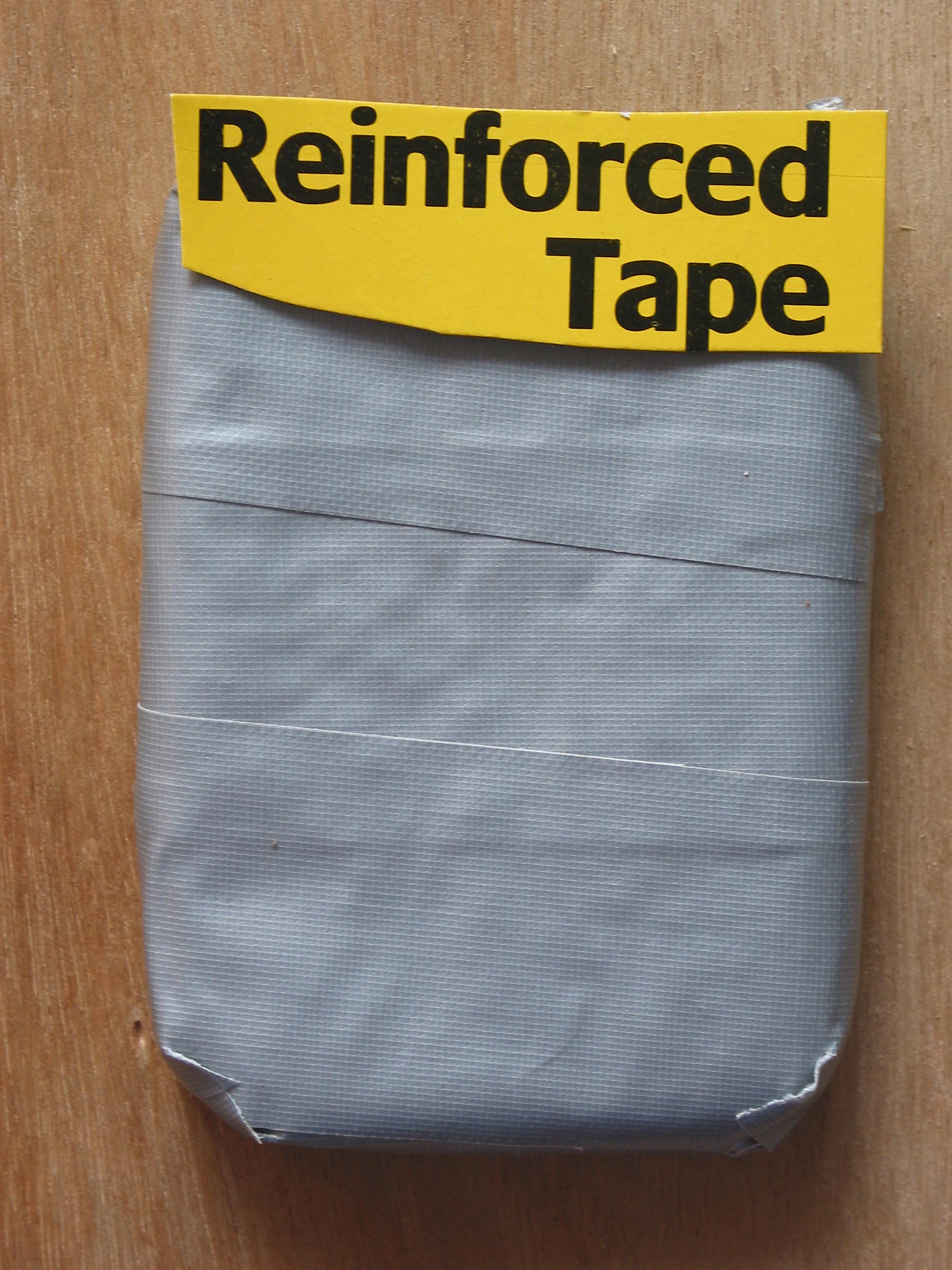 Wrap the SALi materials in cling-foil,
then cover with at least two layers
of strong fabric reinforced tape.
Do not use elastic, high stretch tape for the packaging. This will render the device ineffective.
2. Make two envelopes from stout. low stretch fabric.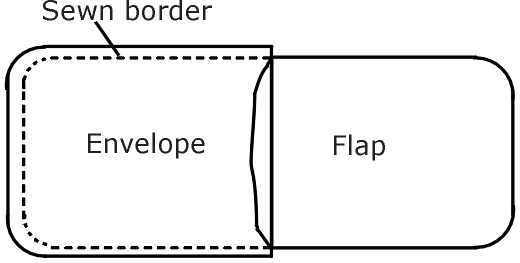 The same envelopes can be used for repeat experiments
1.
The envelopes are turned inside out, so that the sewn border is trapped against the walls during impact.
2.

The flap is folded over the contents and held in place by friction during the impact.
3.

Two envelopes, at right angles must be used.
3. If the SALi based body armour is required to protect the wearer from violent crash impacts, fibreglass matting and complimentary resins can be used for the outer packaging.
Packing fraction
In order to minimise the weight of SALi type impact absorbers, you should aim to add sufficient matrix fluid to just fill the void spaces between the capsules and no more. Theoretically, if all the capsules are spherical and have a uniform size, then a 74% packing fraction is possible. In reality, it will be lower than this. We recommend that for capsules that are approximately spherical and similar in size you start off assuming a 66% packing fraction.
So for every measured 100 ml of capsules, assume that the true volume is 66 ml and blend this with 34 ml of your chosen fluid.
The following table provides guidance on trial blends. Examine your mixture carefully. You may need to add slightly more fluid, to ensure that the void spaces between the capsules are filled.
Parts by volume

Expanded foam beads

Matrix fluid

True parts

Assuming 66% packing

66

34

Measured parts

100

34
If you are able to access a source of polymeric microspheres such as Dualite or EXPANCEL (www.boud.com) then you can reduce the weight of your device, bulking out the matrix fluid by adding the microspheres.
Parts by volume

ďLargeĒ (mm size) expanded foam beads

Polymeric micro spheres

Matrix fluid

True parts

Assuming 66% packing

66

22.5

11.5

Measured parts

100

34

11.5
Determination of packing fraction
Here is a simple technique for determining packing fractions using basic equipment: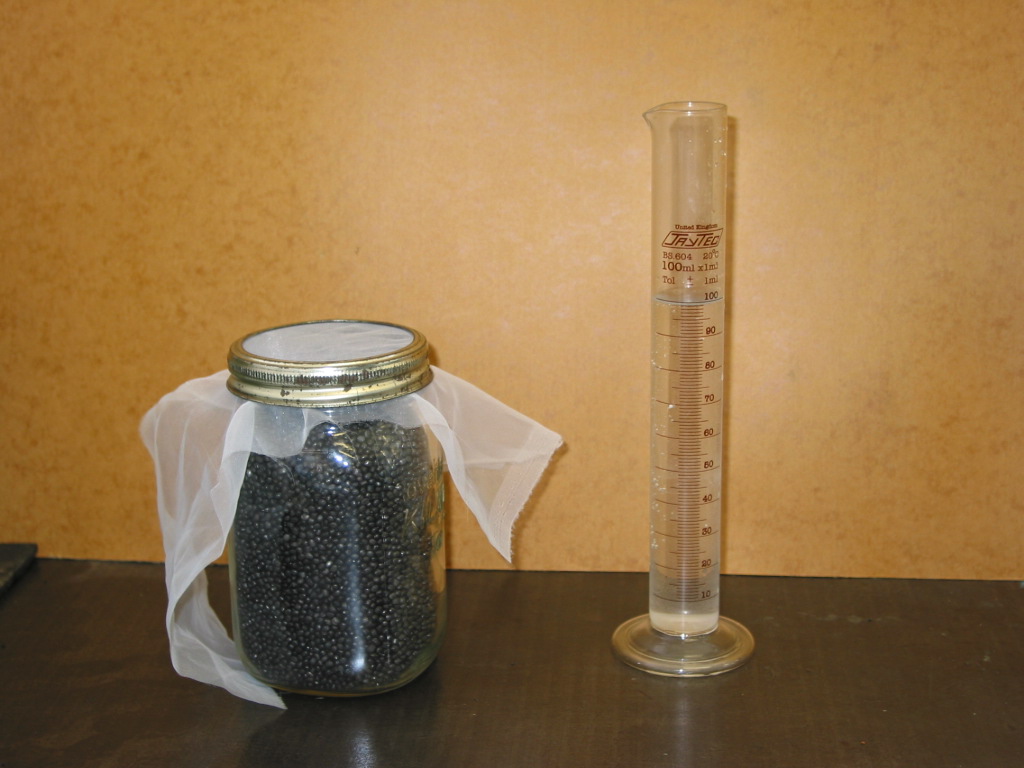 Fill a clear glass jar to the brim with a sample of your bead material.

Cover the mouth of the jar with muslin or similar open mesh fabric.

Secure the fabric cap in place.

The photograph shows how we secured the fabric using a screw on lid with the central section removed.

Slowly add water, noting the volume required to just fill the jar. This tells you the volume required to fill the void space between the beads.

Empty the jar and note the volume of water required to fill the jar to the brim. This tells you the total volume of beads plus void spaces between them.

The difference between the two water volume measurements gives the true volume of the beads.
Prototype suspension units
For SALi type suspension units, you must use a far higher quality of closed cell foam that recovers quickly after the deforming force has been removed. Dice your block of foam into small capsules using a sharp blade or cork boring tool. Suspension units can get quite hot, so you need to choose a matrix fluid that can dissipate the heat. Donít forget that most oils and greases are corrosive to rubber materials. Consider using a hydraulic or brake fluid that is compatible with rubber, but read the instructions on the tin first, because such fluids make excellent paint strippers.
Keeping your work legal and professional Cheshire innovation owns the core intellectual property rights relating to SALi TechnologyTM. This should be acknowledged in your report. It would also be good professional manners for you to send us a copy of your report. (Electronic, preferably less than about 2 MB)
Itís a very long road from successful project work to legal and ethical manufacturing. You will need to negotiate a licensing agreement with Cheshire Innovation before taking this step.
Please write TM in brackets, the first time you use any of our trade names in your report. Thus,
Shock Absorbing Liquid (TM)
Shock Absorbing Liquid (TM)
Shock Absorbing Liquid Technology (TM)
SALi Technology (TM)
SALi Technology (TM)
SALi (TM)
SALi (TM)
The menu of all inventions and innovations on this site is on the right. ->