On this page you will find:
(i) Proof: Manchester University was warned that details of the Formal Enquiry fraud had been published online.
(ii) An acknowledgement of receipt from the University


(i) Two copies of the following letter were sent, email and Royal Mail, Signed For delivery.
CHESHIRE INNOVATIONâ Engineering Consultancy
17 Vale Road, Timperley, Altrincham, Cheshire, WA15 7TQ
Tel/Fax 0161 980 5191,
Web site www.cheshire-innovation.com
31 January 2013
Mrs April Lockyer
Research Governance and Integrity Manager
Research Office, The University of Manchester
Christie Building
Oxford Road
Manchester M13 9PL
Dear Mrs Lockyer,
I refer to your letter to me dated 10th August 2010.
Your refusal on behalf of the University to examine my evidence that the Formal Enquiry Panel had treated me unfairly did not end the matter. A summary of this evidence is now presented on my web site for the general public to judge.
I do not have the financial resources to seek justice through the legal system, but in the fullness of time it is likely that a more influential agency than me will follow the evidence and the truth will be exposed.
In spite of my long standing dispute with the University, I remain a "Manchester man" and wish the University well. The fact that I signed a legally binding 50:50 royalty sharing agreement relating to my SALi based inventions is proof of this good will.
I recognise that the great majority of University staff work to high professional standards and that my problems have been caused by a tiny number of unprofessional University personnel. But my good will to the University is not unconditional; I will not tolerate injustice or fraud.
In the interests of justice I require that the University:
1. Retracts the Formal Enquiry Report that falsely shifts blame for academic misdemeanours from paid present/past University staff to me.

2. Recalls and destroys all copies of the Report that have been sent to third parties.

3. Retracts all statements referring to me either by name or indirectly, that have been made to third parties and rely on the findings of the Formal Enquiry Panel for their support.

4. Identifies and provides me with contact details for third parties in 2 and 3 above.

5. Implements an externally led enquiry into why the Formal Enquiry Panel failed to carry out its duties in an honest and ethical manner.

6. Implements an externally led enquiry into my original complaints as detailed in my letter to Professor Sulston dated 25th October 2008.

7. Retracts the following journal paper "Characterization of the Core Properties of a Shock Absorbing Composite, G. Georgiades, S. O. Oyadiji, X. Q. Zhu, J. R. Wright, and J. T. Turner, Journal of Engineering Materials and Technology, ASME, October 2007, Vol. 129, pages 497-504."

8. Offers me fair compensation for the injustices and financial losses I have suffered as a result of unprofessional behaviour by University staff over the years, especially since I first alerted the VUM Vice-Chancellor to the problems in 2004.
It is in the long term best interests of the University for It to act swiftly, rather than sit back and wait for the problems to be exposed.
I look forward to a prompt and helpful response to this letter.
Yours sincerely,
William A. Courtney
Proof that both copies of the letter were received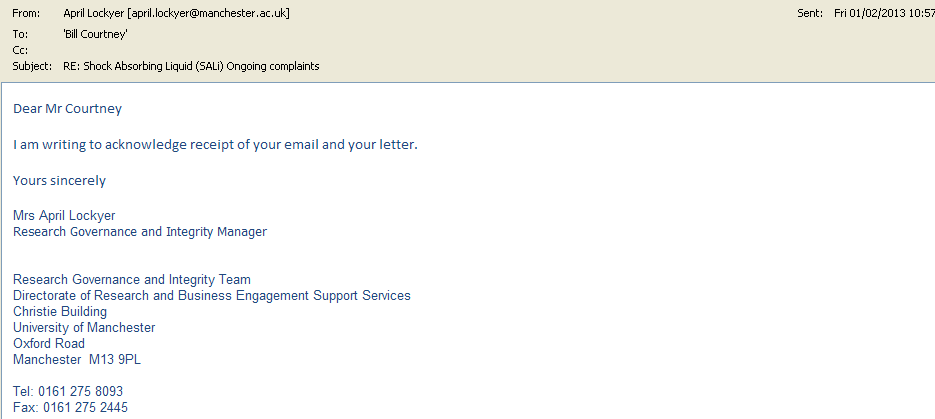 Background information
Here is the University of Manchester policy on good research conduct published online at
http://proxya.net/browse.php?u=%3A%2F%2Fwww.staffnet.manchester.ac.uk%2Fservices%2Frbess%2Fgovernance%2Fconduct%2F&b=28
Good Research Conduct
The University's Seven Principles of Good Research Conduct
1. Honesty and Integrity - Researchers must be honest in respect of their own actions and in their responses to the actions of others.
2. Openness - Researchers should be as open as possible in discussing their work with other researchers and with the public, disseminating their research as widely as possible and publishing it where it will have the greatest impact.
3. Observance of professional guidance and official procedures/guidance and legislation - Researchers should be aware of and adhere to the University's policies and guidelines and any legal and policy requirements which regulate their work and any standard of research practice set out by scientific and learned societies, funding bodies and other professional organisations.
4. Strong research leadership - will be provided by senior members of the University led by the President and Vice Chancellor and the Associate Vice Chancellor for Compliance, Risk and Research Integrity to ensure a culture is embedded that encourages and rewards research integrity.
5. Sound management practice – including effective recruitment practice and management of staff and students, implementing robust systems of project and budget management and robust recording, storage and archiving of research data.
6. Accountability – Researchers should consider the ethical implications of their research and be aware of their responsibilities to society, the environment, their profession, the University and participants involved in their research.
7. A robust approach to dealing with alleged research misconduct – researchers should be aware of the implications of research misconduct and the extreme seriousness with which the University views academic fraud.

The University principles for Good Research Conduct and other relevant information can be found in the Code of Good Research Conduct.