Bill Courtney has over 80 patent applications to his name.
He has degrees in Applied Physics and Engineering. However he is no egg-head. He's lousy at spelling, failed his Eleven Plus exam and studied at a Secondary Modern School.

He started work as a physics teacher in 1969. From 1971 he taught in a further education college where the work was particularly rewarding because of the broad ethnic and gender mix of his students.
Throughout the 1980's it became progressively more difficult to recruit physics students as Britain's industrial base declined.
His serious interest in inventing grew out of a desire to inspire young people to take up careers in applied science and help rebuild a manufacturing base in the UK. He is very concerned by the lack of university research integrity he has witnessed and for the last twelve years has been fighting to expose it.
As an undergraduate student he recognised that engineers were missing a trick about thermodynamics well known to meteorologists. It has taken Bill almost fifty years to convince engineers that by imitating nature they could build far more efficient power generators. He has recently obtained government funding to build a Latent Power Turbine consistent with his theory. Initial research results are in line with predictions but he lacks the specialist turbine design skills required to make the final commercial breakthrough.
A project partner with these skills is urgently needed!
.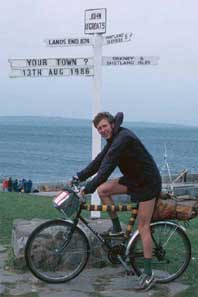 Shock Absorbing Liquid, SALi

Bill figured out the key principles behind SALi Technology in 1986 when he suffered various vibration and impact injuries as a result of cycling off-road from Lands End to John O'Groats.
After saving up for ten years he gave up his teaching job to work full time on SALi Technology.
The inventors dilemma
In the late 1980's, "Joy-riding" was a common form of crime in Britain. It was easy to break into vehicles and start them without car keys, simply by ripping out the ignition key wires and twisting or "hotwiring" them together.
Bill's response was to take an Open University electronics course and then invent an electronic device to prevent hotwiring. He was ahead of the game and won a Sunday Times/Honeywell Innovation Award.
In spite of media coverage and considerable marketing support from The Quentin Bell Organisation, vehicle manufacturers failed to take up the idea, claiming that their customers were not interested in paying for motor vehicle security.
Bill was saving up at the time, with the intention of developing his SALi Technology. He thought that SALi was the safer bet. So he decided to abandon his costly patent protection for the "Joy-ride jammer".
He lost
The year after Bill abandoned his patent protection the automobile industry woke up to the importance of motor vehicle security.
This type of device is now a standard feature on all new cars. They are marketed as "immobilisers."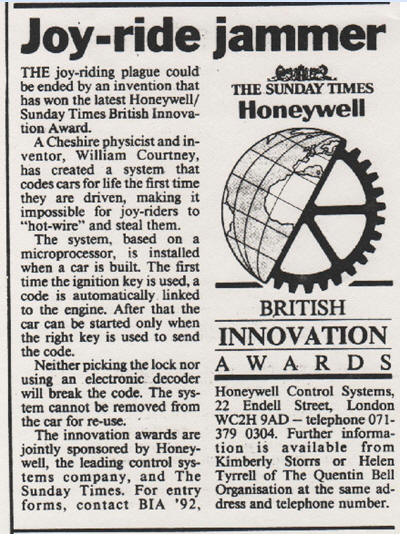 Details of Bill's published patents can be found at http://www.directorypatent.com/assignee/Courtney_William_Alexander_1.htm
l
A request on behalf of one of Bill's associates
If you are, or currently know Jeffery Harry McFarland born 01-December-1942, Yorkshire. Can you get in touch with Bill, via the contact page.