Article summery
Latent Power (LP) Turbines will work well in cool countries, but even better in hot ones. They will produce electricity cheaper than burning fossil fuels and will be more reliable than alternative forms of renewable energy such as solar and wind power. So we can expect their widespread international implementation within a few tears of them becoming available. With some gentle nudging, they could liberate people from extreme poverty in hot countries within 10 years. Then in a further 20 years, all inhabitants of hot countries could be enjoying a similar standard of living to the middle classes in the same countries today.
Cooler countries will benefit indirectly from increased world trade, greater international political stability and the resolution of the economic migration problem.
---
In the UK and other countries with cool climates, LP Turbines will primarily be used for generating electricity by extracting heat from the atmosphere. As a bonus, the cooled atmospheric air can be used to provide free air conditioning during heat waves.
In hot climates these roles will commonly be reversed, with electricity being generated as a by-product of air conditioning systems.
Here is a sketch of what an LP Turbine based air conditioning unit will look like.
Figure 1. This unit could provide air conditioning for a small family home.
[Click for further details.]
LP Turbine based air conditioning units could be mounted on the roof or outside wall of a house. Purchasing and installation will cost approximately the same as buying 3 or 4 washing machines. So, for heavy users of air conditioning, the system will have paid for itself within about two years. Apart from annual maintenance bills and government taxes, there will be no running costs.
LP Turbine based air conditioning will produce several bonuses.
On a warm humid day, cooling a small room space of about 18 Sq metres will generate about 2kW of electricity.
For the same room, cooling the air will release up to Up to 50 litres of fresh water per day as condensation. According to the WHO, this is sufficient to meet the minimum daily requirements of two adults in a hot climate. [https://www.who.int/water_sanitation_health/emergencies/qa/emergencies_qa5/en/]
If current designs of air conditioning units consume more than half of a households electricity demand, then changing to an LP Turbine based system will generate a surplus of electricity. This surplus electricity will give manufacturing industries in hot countries a competitive edge compared with similar businesses in cooler climates.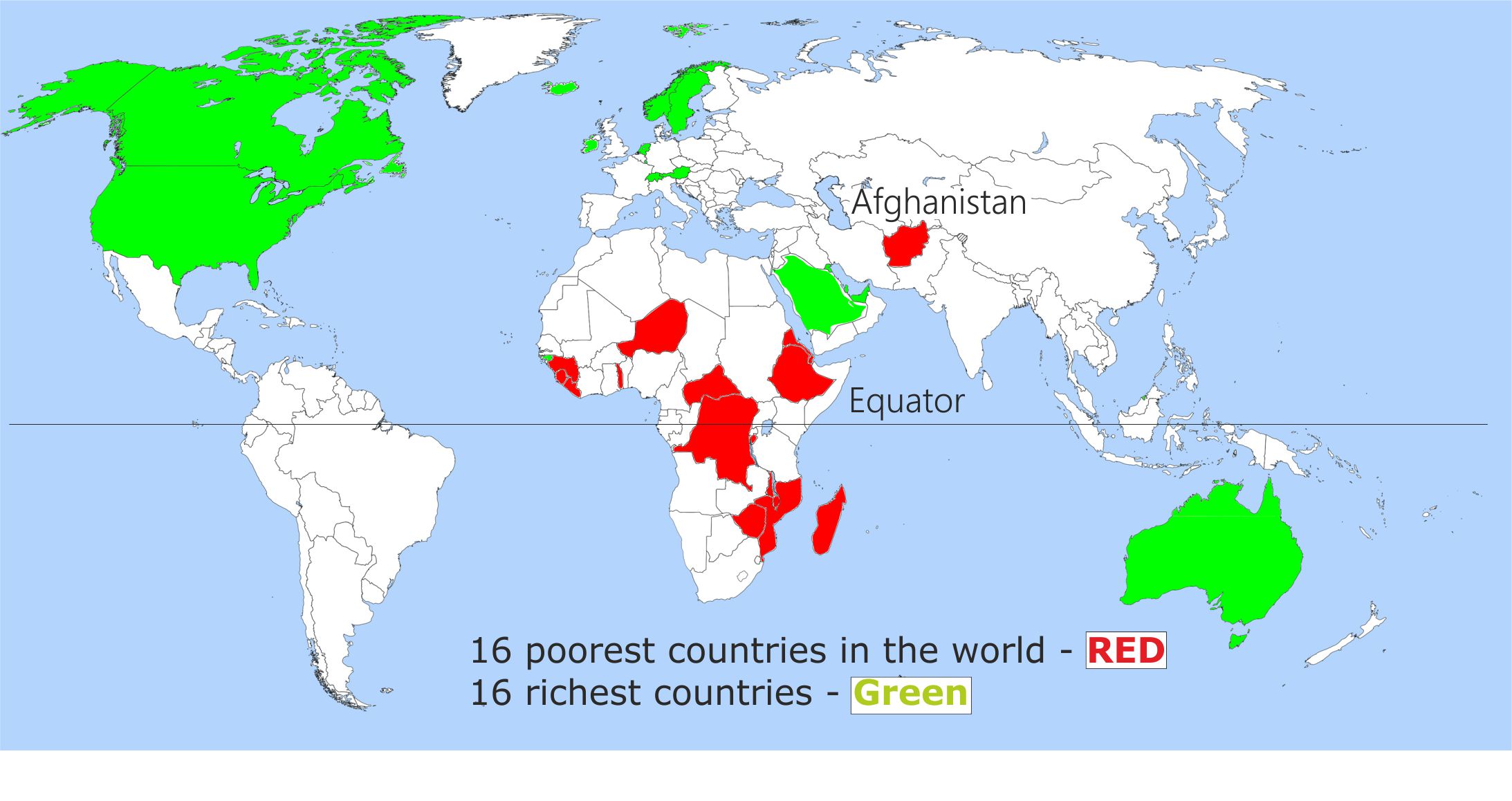 Figure 2. The world's 16 poorest countries are close to the equator. Afghanistan differs from the other poor countries in that it enjoys hot summers but cold winters.
However, Afghanistan's dry continental climate should allow LP Turbines to extract heat from cold air to generate electricity in winter. In addition, LP Turbines could tap into hot water springs and make far more efficient use of Afghanistan's geothermal energy sources that show considerable promise. [http://aeic.af/en/energy_source/3]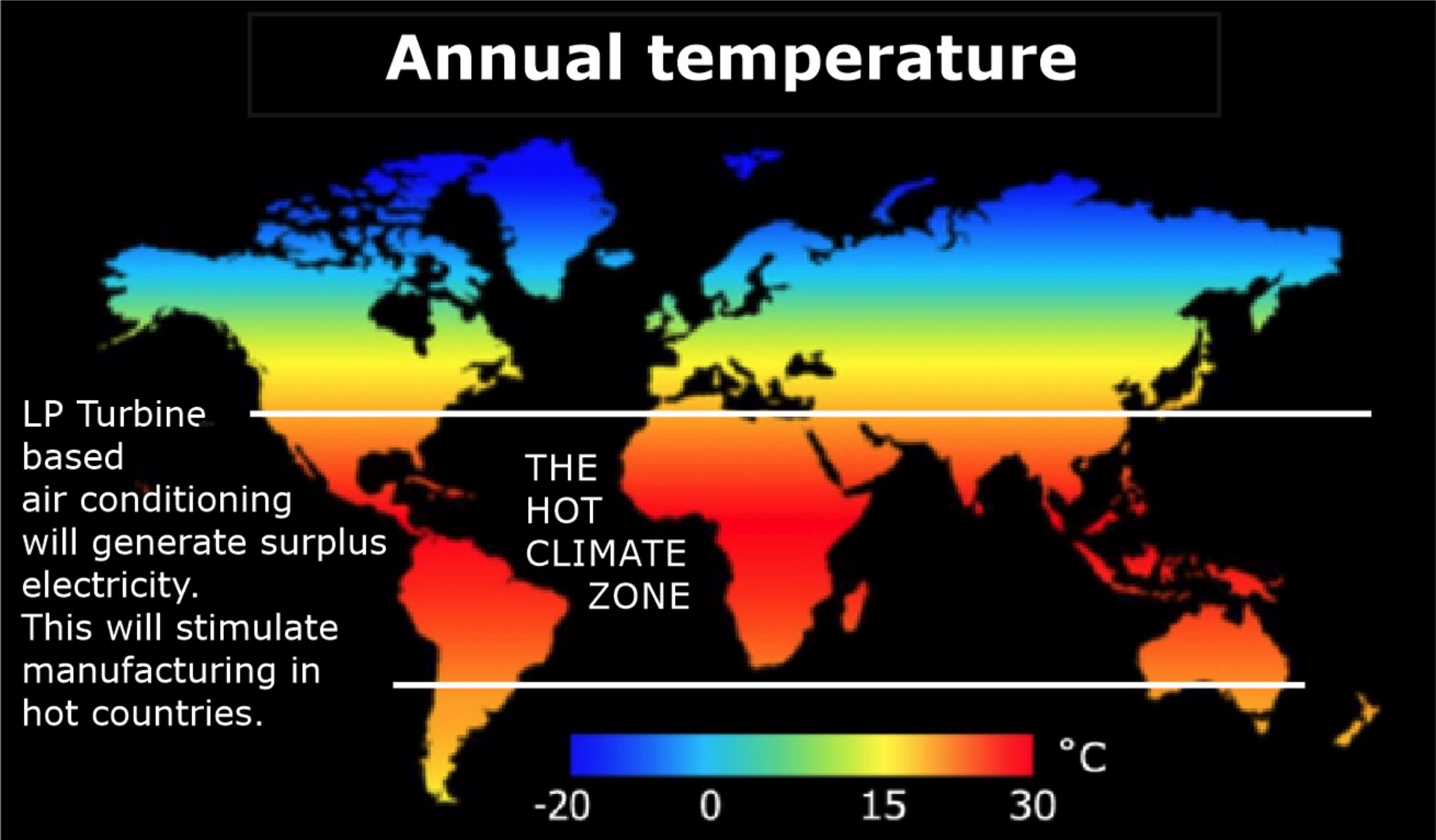 Figure 3. The world's poorest countries are in the hot climate zone. According to conventional economic thinking, this poverty gap is destined to continue. But LP Turbines could close the gap within a generation.
Case Study: Pakistan
Pakistan is ranked at 150 out of 189 countries in the latest United Nations Human Development Index (2019), but 7.2% of homes have air conditioning. Currently, this means that they are electricity consumers. If they switched to air cooling using LP Turbines, the country would benefit from these homes becoming micro electricity generating businesses.
This would trigger a positive feedback process. Some of this 'new' electricity would be used to set up businesses, creating more jobs and wealth. In turn, this would expand the middle classes, many
installing LP Turbine based air conditioning and thus increasing the number of home micro electricity generating businesses.
In addition to middle class homes, all businesses and public premises that currently require electricity for air conditioning or product cooling will become micro power generating stations.
The following graphs illustrate the hot climate advantage.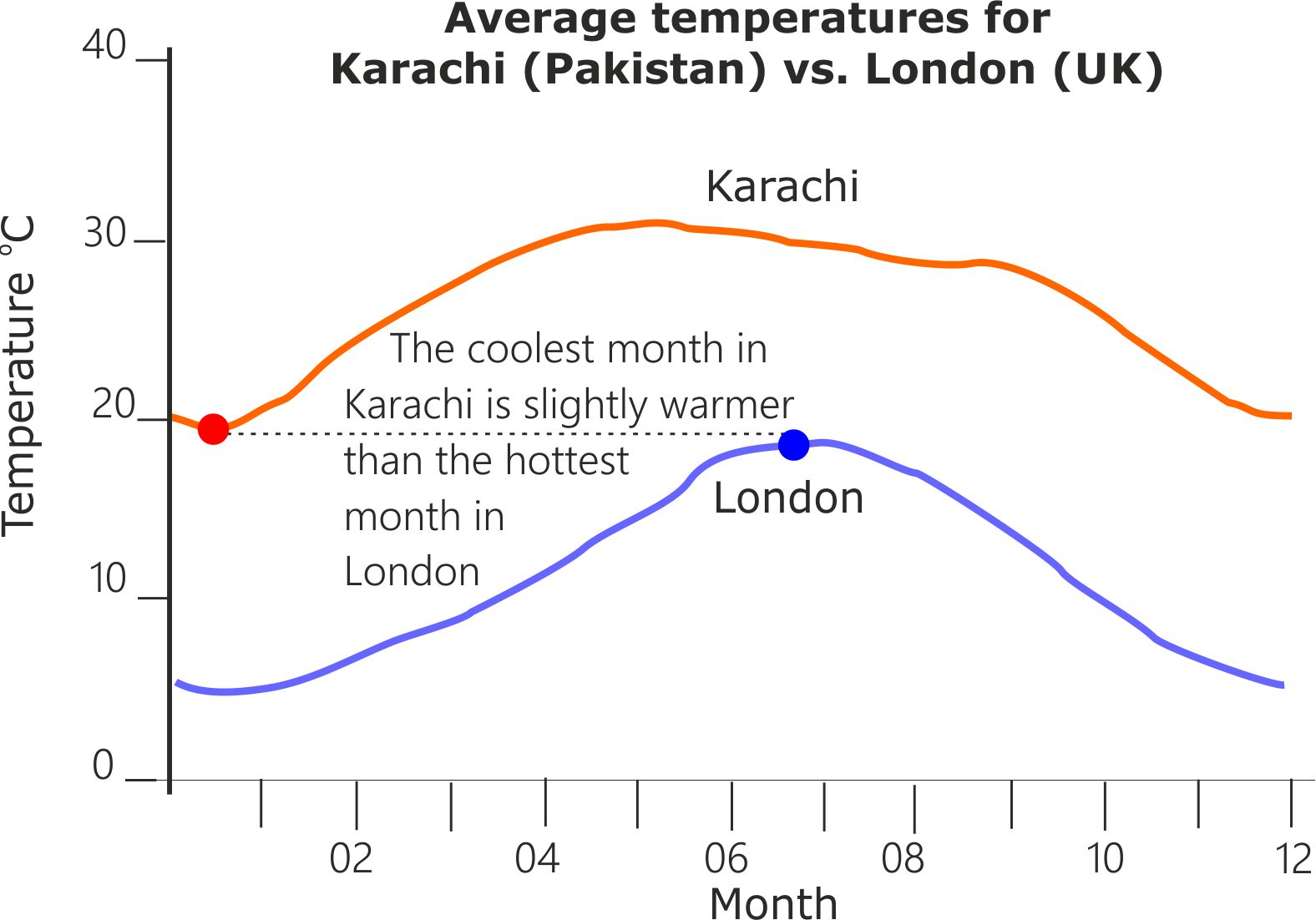 Figure 4. At best, domestic air conditioning systems in Britain's largest city, London would only produce surplus electricity during a few weeks each year. But Pakistan's largest city, Karachi, could generate electricity from air conditioning, throughout the whole year.
Businesses in Karachi (and elsewhere) that install LP Turbines primarily to generate cheap electricity will enjoy an increase in productivity, thanks to the free workplace air conditioning providing more comfortable working conditions.
Research suggests that:
(i) Manufacturing productivity falls by up to 4% per degree Celsius increase above 27oC.
(ii) Absenteeism increases by up to 5% per degree Celsius increase above 27oC.
https://epic.uchicago.edu/news-events/news/hot-temperatures-decrease-worker-productivity-economic-output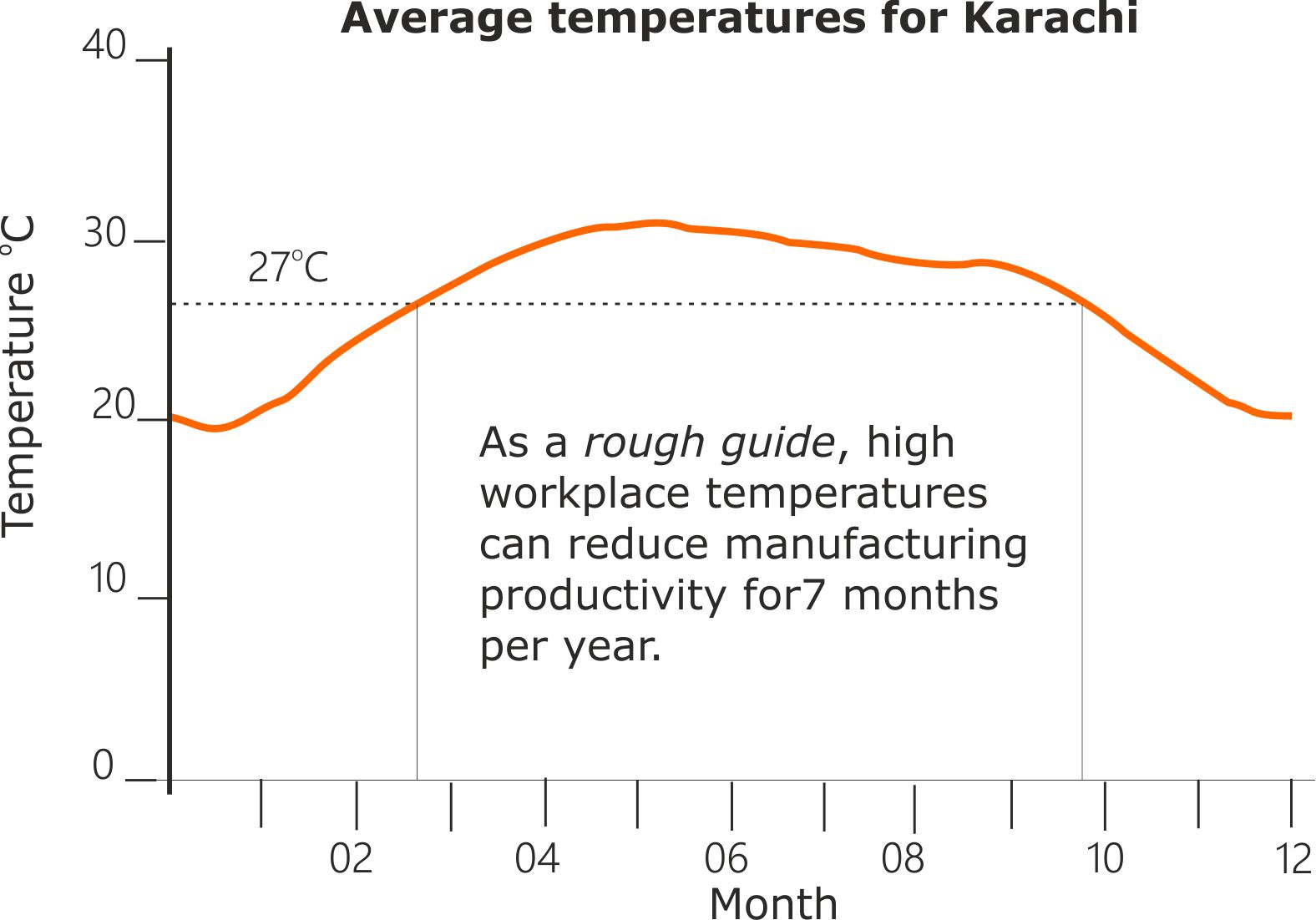 Figure 5. The research suggests that manufacturing productivity falls and absentee rates increase at temperatures above 27oC. Global warming will only exacerbate these problems.
[Temperatures in Pakistan are predicted to rise by about 4oC by 2100 https://eu.usatoday.com/story/news/world/2018/07/24/pakistan-one-worlds-leading-victims-global-warming/809509002/ ]
The research also suggests that workplace air conditioning can overcome the productivity problem but not the absence rates. Home air conditioning may be the solution here, because workers will start the day after a refreshing night's sleep and some cool home time.
LP Turbines will help to fight electricity/water theft and corruption
The theft of electricity and water from the public supplies combined with civil servant corruption traps developing countries into a cycle of poverty that sometimes seems impossible to escape.
Theft discourages investment in the utilities and leads to power and water shortages. Public sector corruption results in businesses being hampered by the lack of vital information and the legal documents required for trading.
Businesses that have total control over their power supplies, some control over water and are part of a growing enterprise community will be in a good position to cope with the debilitating effects of public sector corruption. Businesses that create jobs and contribute taxes will also become influential drivers of reform.
LP Turbine based businesses also offer a new career option for those who currently see life as a corrupt civil servant as their best route to getting rich quickly. Greater prosperity will also allow civil servants to be paid higher wages, discouraging their involvement in petty corruption. These pay increases could be part funded by savings in government building air conditioning bills.
The motivation for civil servant honesty could be enhanced by pay increases taking the form of assessed 'Integrity Bonuses.'
Better pay will allow middle management civil servants to buy their own LP Turbine based air conditioning systems and become part of the micro-electricity generating culture.
Providing a financially attractive alternative to corruption in will weaken the traditional belief that public sector corruption is just an inevitable fact of life.
Fly the Turbine!
LP Turbines will be mounted on the outer walls or roofs of buildings and this visible evidence could be promoted by governments as being even more patriotic than flying the national flag.
Data storage in the cloud
Storing data remotely for access by smartphones consumes large amounts of electricity, mainly for keeping the store systems cool. These costs are currently higher in hot countries because of the greater quantities of waste heat that need to be disposed of. However LP Turbine cooled units will convert this cost into an asset, thanks to the electricity they generate whencooling.
The glasshouse revolution
LP Turbines will stimulate a rapid expansion in the growing of food crops under glass.
For details see section 1.6 on this linked page.
A comparison with LP Turbine growth in the developed countries
In the advanced countries, a top-down transfer to an LP Turbine based economy is preferable because of the massive upheaval to existing power supply systems. (See the Appendix on this linked page for a top-down strategy) But in the developing nations a bottom up approach with the middle classes purchasing LP Turbines for home use has the advantage that each micro-power generating station is born without being handicapped by theft or corruption.
By 2050, the majority of households in hot climates could become micro electricity generating businesses, while enjoying the benefits of full air conditioning plus basic water security. Variations on the basic LP Turbine design could be used to provide total water security.
Thus overcoming the water shortage crisis predicted by the UN. [https://www.theguardian.com/environment/2018/mar/19/water-shortages-could-affect-5bn-people-by-2050-un-report-warns]
Maximising the economic value of surplus electricity
Asset management companies manage funds on behalf of others. This role could be adapted to managing surplus electricity, directing it to start-up companies and heavy electricity users. Surplus electricity management businesses would need good local knowledge, connecting adjacent micro electricity power stations with local businesses. Successful ventures would help to build a strong community spirit.
LP Turbines will contribute to the collapse of globalisation
The globalisation of business during the present century relies on the developing countries manufacturing goods using low cost labour. But the prosperity in hot countries created by LP Turbines will (thankfully) dry up this pool of cheap labour. A worldwide increase in prosperity will also lead to lead to a rapid expansion of international tourism. A downside of this trend will be that infectious diseases such as the Corona virus will spread more rapidly, making businesses that have international supply chains more vulnerable to catastrophic falls in production.
Do you want to help launch an LP Turbine based green revolution?
LP Turbine development is an open source project.
In order to help fight climate change, Latent Power Turbines Ltd has decided to abandon the profit motive and dedicate its invention to humanity.
With help, we will set up a charity that grants licences allowing any business or university worldwide to exploit our intellectual property for free. This means that there will be no licensing fees and businesses can keep all the profits they make without paying us a penny.
The only condition is that during the early years, when the basic design is still being refined, al licence holders agree to freely share any design improvements they make.
The principal shareholder and LP Turbine inventor, Bill Courtney has developed eyesight problems, so he will require assistance in setting up and running the charity.
The first step in the revolution is to create public awareness of LP Turbines and our free offer. In particular, we need open minded energy experts to become familiar with LP Turbine technology. With this in mind, Bill is keen to give seminars to academics and research groups, so they can debate his designs.
Please play your part in creating public awareness by spreading knowledge of LP Turbines and our offer using social media.
(It's a lot less painful than alternative ways of playing your part in the fight against climate change, such as gluing yourself to the road.)
Thank you
Reducing the economic refugee problem
There are two entirely different ways of looking at the current economic refugee problem that blights humanity.
Many voters in Europe, the USA and other developed regions see economic refugees as a threat that must be defended against. But these refugees are also a valuable human resource. They are energetic people who are prepared to endure hardship, humiliation and the loss of their life savings in order to find a better life in the advanced countries.
LP Turbines provide a solution to keep everyone happy.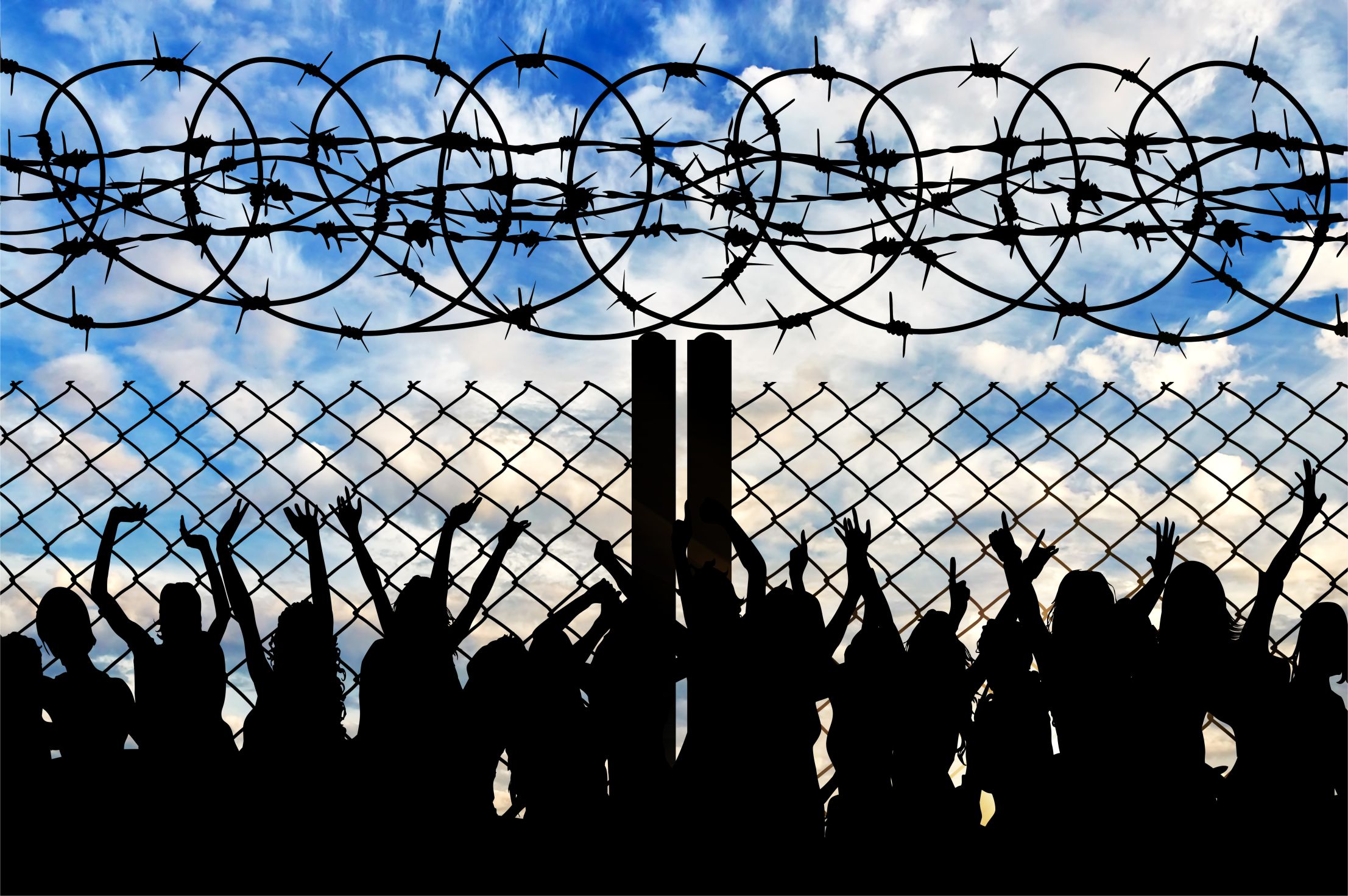 Instead of building fences and walls to keep refugees out, the advanced countries could support these enterprising people by helping them to set up LP Turbine powered businesses in their home countries. To do this we need to identify the financial tipping point at which bold economic refugees choose to become bold entrepreneurs in their home countries instead.
As a rough guide, illegal migration into Europe from the Middle East costs at least $3,000 per head.
[https://www.voanews.com/middle-east/syria-europe-price-they-pay]
By helping to put systems in place that reduce the down payment cost of buying an LP Turbine plus the basic electrical equipment required to launch a business to below $3,000, migrating to the advanced countries will lose its attraction.
LP Turbine based businesses that make the early entrepreneurs rich will encourage others to follow their example.
Conclusion
In a world economy based on existing fossil, nuclear and renewable energy supplies, the developing countries will eventually catch up on the prosperity of the advanced countries. But a choice will have to be made between a rapid catch-up based on polluting fossil fuels, or a slow catch-up based on renewable energy.
The rapid adoption of LP Turbines for air conditioning will remove this moral dilemma and even give countries with hot climates an economic advantage because each air conditioning unit will also act as a micro power station, delivering cheap clean electricity to support business.
These businesses will create jobs, spending power and taxes to pay for education , healthcare, sanitation and other public services.