Testimony relating to fraudulent research at Manchester University
********************************
Article summary
We explain the problems that a member of the public has experienced to trying to obtain a copy of Bil's testimony from Manchester University.
We also supply a copy of the testimony
********************************
THE PROBLEM
Difficulties have been experienced in obtaining fraud related documents from the University of Manchester
using The Freedom of Information (FoI) Act
When a concerned member of the public requested a copy of Mr Courtney's testimony as sent to all members of the Institute for Science, Ethics and Innovation, the University Records Manager wrote back,
"None of them holds or recalls a document which can be identified as a "testimony" from Mr Courtney." (22/03/2013)
It is difficult to believe that none of the twenty members of the Institute could recall being sent a copy of a testimony exposing unethical behaviour within their own University.
In fact each member had received two copies of the testimony. The original testimony sent 16/08/2010 and an updated version sent 04/07/2011.

A full list of recipients is provided at the bottom of this page.
But getting the updated version of the testimony through to the Institute members was tricky because the Institute blocked emails coming from Bill's address.
He got round this by using anom-de-plume, changing his email prefix from "billcourtney" to "SaveBritishScience".
This meant that each Institute member ended up receiving two copies of the testimony, even though they had had taken evasive action to avoid receiving the second copy.
Two years later when the Institute denied all knowledge of the testimony Bill decided to send all 20 members an additional third copy. (But he gave them the benefit of the doubt by using his true email address instead of a nom-de-plume.)
He also sent copies to the following so that they acted as witnesses.
The University Records Manager
The University President and Vice Chancellor
Professor Helen Gleeson
Professor Peter Duck
April Lockyer, University Research Integrity Officer


He also copied in Retraction Watch www.retractionwatch.wordpress.com
This meant that influential senior members of staff at Manchester University had received a copy of Bill's testimony.
But unsurprisingly'
(i) Nobody from the President down has ever made any response to Bill.
(ii) The so called "Institute for Science, Ethics and Innovation" was still blocking Bill's emails, so all copies of the testimony sent to the Institute bounced back.
Click here to see the proof of bounce-back for yourself.
Here is a copy of the testimony that the President of the University "did see" but members of her Ethics Institute did not.
Testimony begins
Dear Witnesses,
I would be grateful if you would add the following updated testimony to your permanent files, so that the truth about unethical research management is not entirely lost from the public records.
As for the earlier version, this testimony is being sent to all listed members of the University of Manchester Institute for Science, Ethics and Innovation.
Thank you,
Bill Courtney
4 July 2011
TESTIMONY made by BILL COURTNEY
T/A CHESHIRE INNOVATIONâ
17 Vale Road, Timperley, Altrincham, Cheshire, WA15 7TQ
Tel/Fax 0161 980 5191, Mobile: 07913561887
E-mail This email address is being protected from spambots. You need JavaScript enabled to view it.
Web site www.cheshire-innovation.com
Overview
This testimony exposes a research cover-up that jeopardises the international reputation of British science.
The research relates to crash protection mechanisms (SALi Technology). So the cover-up may be causing unnecessary deaths and crippling injuries in violent impact accidents.
This risk will remain until the cover-up has been admitted to the Engineering & Physical Sciences Research Council and funding has been released for the flawed research to be done correctly.
The recent discovery of fresh evidence that SALi Technology is being developed outside the U.K. prompted the need for a revised testimony.
In 1986, I invented SALi TechnologyTM, a mechanism for protecting people from violent impacts, such as those experienced in motoring accidents. After saving up for ten years, I worked with the Victoria University of Manchester (VUM), first as a mature MPhil student, then as a Research Fellow. The term "worked with" is appropriate because I voluntarily signed a legal agreement transferring 50% of future royalties from the commercial exploitation of SALi Technology to the University.
This was potentially lucrative for the University. For example, the PedSALi project with the auto division of Dow Chemicals offered the prospect of bringing about $(US) 1 million to VUM each year.
SALi Technology won international media attention and my promotional efforts brought £252 k funding for the PedSALi and CrashSALi projects at VUM.
I held joint stewardship for PedSALi (£212 k) and sole stewardship for CrashSALi (£40 k).
I was also awarded £45 k to work with the University on PedSALi, but only claimed £35 k.
The aim of the PedSALi project was to design a soft, SALi based car bumper, to reduce pedestrian impact injuries. (www.cheshire-innovation.com/sali/pedsali.htm)
My MPhil research supervisor and later research colleague appeared to be jealous of my media and pending financial success. This would explain why the University research was mismanaged. Invalid SALi formulations were used, so poor research results were obtained. This caused heated disputes because I refused to collude with University colleagues, in order to allow them to claim full public funding for bad research.
PedSALi – How all the taxpayers' money was claimed
(For details of why public funds were wasted visit www.cheshire-innovation.com/sali/pedsali.htm)
My University colleagues obtained full funding for the PedSALi project by suggesting to the funding body that I had behaved unprofessionally and by publishing misleading papers which suggested SALi Technology was ineffective.
Research fraud As a trustee, I warned the funding body, the Engineering and Physical Science Research Council (EPSERC), that misleading research had been done. This information was not passed on to the referees, so their assessment was based solely on inaccurate information supplied by the University. The fraudulent research was assessed as "tending to internationally leading."
(See "EPSRC ignore lead partner's warnings", attached.)
Financial fraud The EPSRC paid the University for (i) claimed trips to Dow Chemicals UK headquarters, to present results to Dow engineers and (ii) for an industrial event, to present the results to European automobile manufacturers. Neither of these activities took place.


These activities were supposed to be key milestones, indicating cooperative activity and the successful outcomes of the PedSALi project. The fact that they did not take place is clear evidence that the project failed. But, claiming for them creates the illusion that these activities took place.
(I was also granted funding to participate in these activities, but did not claim.)
CrashSALi - How I protected some of the taxpayers' money
The University researchers used the wrong materials; giving a false impression that SALi based devices were ineffective. Instead of repeating the work correctly, they insisted on being paid. For details visit
www.cheshire-innovation.com/sali/CrashSALi-Project.htm
In spite of pursuing me for debt recovery, the University failed to obtain full payment for the misleading CrashSALi project because I refused demands made by the University solicitors, Eversheds.
The University has denied me access to their Eversheds correspondence which will indicate whether or not I am listed as a bad debtor, as a result of its failed legal "persuasion."
Good SALi research
In contrast to the misleading Manchester research, good quality research at Cardiff [1], Cranfield [military, unpublished] and Nanjing [2, 3] Universities show that SALi is effective when valid SALi formulations are used.
But we Brits are currently unable to develop SALi in the UK because the Cardiff and Cranfield research was limited work done on "shoestring" budgets.
Why did the promising Cardiff research wind down?
Based on (i) encouraging "shoestring" research results and (ii) an assumption that a formal enquiry would expose the Manchester research fraud, Cardiff worked with me to apply for EPSRC funding to do the car bumper research correctly. Unfortunately, the enquiry outcome further tarnished my name and the Cardiff funding bid failed.
This testimony is necessary, because in order to cover up the research and financial fraud, a tiny number of people within Manchester University have maintained the stories that SALi does not work and that I have acted unprofessionally.
The formal investigation
After five years of lobbying by myself, assisted by my MP, Graham Brady, the post amalgamation University of Manchester agreed to carry out a formal investigation into my complaints.
But, the investigation failed to meet two internationally recognised standards of justice:
(i) Failure to share evidence Although I insisted on the University party being given complete copies of my evidence and statements, I was kept completely ignorant of any of the evidence or statements submitted by the University party. Consequently, I was unable to defend myself against false statements made against me. On reading the Panel's report is was clear that many false statements had been made, both about me and Dow Chemicals.
(ii) Failure to use witness evidence in a balanced manner According to the Report, two key witnesses that I had named to the VUM Vice-Chancellor, were not interviewed. These were Dr Michelle Cooper (pre amalgamation, at MIL, the business arm of the University) and Professor Steve Reid (Engineering, UMIST). The MIL business meeting Minutes verify that Dr Cooper minimised the involvement of my research supervisor, Dr Oyadiji, because his attitude was unhelpful. If called, I believe that Dr Cooper would have confirmed that the intimidating use of Eversheds breached the CrashSALi and profit sharing agreements, and probably breached company law.
Professor Reid is on record has having questioned the competence of the VUM SALi research supervision. In 2003, he offered to manage the PedSALi research, to head off the looming PedSALi failure. The records show that Professor Reid's offer was supported by Dow Chemicals and Courtney but blocked by Dr Turner on behalf of Manchester University.
Dr Turner In 2003, the University had provided Dr Turner as an "independent" chairman with referee powers to help resolve the research disputes between Dr Oyadiji and Professor Wright on one side and Dow Chemicals and myself on the other. But Dow and I subsequently discovered that he was a one of Dr Oyadiji's closest research colleagues. No Dow representative attended meetings after this discovery.
I called for Turners resignation as Chairman but he remained because I was outvoted by Oyadiji and Wright.
I provided the Enquiry Panel with proof that Dr Turner's appointment was biased.
However, Dr Turner is still recorded as an "independent" witness in their Report.
Dr Turner co-authored the misleading PedSALi research papers. These were published under written protest from me because they breached the PedSALi contract and deceived the international research community. Consequently, in order to protect his professional reputation, Dr Turner had a strong personal interest in testifying against me.
Dow Chemicals In an e-mail to me, Dr Toccalino a Dow representative claims to have submitted written evidence to the Enquiry, but the Report states that the Panel received no evidence from Dow.

Please check my claims. For proof that Dr Turner was a biased University appointment see the Testimony Appendix below.
Also, see (i) "Evidence from Dow" folder on the CD ROM for the Toccalino email, (ii) attached Information Commission letter, Section 5, p. 17. (iii) the footnote on page 2 of the Formal Enquiry Report, (CD-ROM).
The "benefits" of failing to maintain international standards of justice
The Report succeeded in "clearing" all University employees of any wrongdoing, but only at the expense of creating new false statements about my own integrity and professional competence. The Report also failed to resolve my bad debt status caused by the use of Eversheds.
The most implausible "story" about my engineering incompetence is outlined in the attached letter to Professor Sulston, the Chairman of the Institute for Science, Ethics and Innovation.
How I responded to the Report:
I had no faith in the integrity of the Research Governance Office because they had failed to respect the basic rules of justice. Instead, I decided to submit a complaint to the Information Commission. A copy of my complaint letter is attached.
The Commission apologetically returned my documents explaining that they had limited funding and could not take on such a complex case.
I continued the quest to clear my name by submitting the same evidence to the University of Manchester, Institute for Science, Ethics and Innovation.
A copy of my letter to Professor Sulston at the Institute is attached.
The Institute passed my complaints back to the Research Governance Office at the University.
As you can see from the attached letter, [Titled Research Governance Office August 2010] my very detailed complaints were rejected on the grounds that they were not submitted within ten days.
This ten day time limit was unfair because
(i) I am partially sighted, and the complexity of the case meant that I was unable to make a substantive reply within ten days. (The University was provided with a medical certificate verifying my partial sight.)
(ii) The University had also failed to meet its deadlines. The relevant University Code of Practice recommended that the full University complaint response process should normally have been completed in three months. In reality, it was completed in fourteen months.
This convenient excuse places the reputation of British science in jeopardy because,
The British public has a strong sense of "fair play". It will not be impressed by the University breaching its own research governance guidelines, but insisting on others keeping them.


The first duty of any Research Governance Office is to defend research integrity.
The excuse that fresh evidence of unethical conduct could not be investigated because it was not submitted within ten days of being discovered undermines the concept of research integrity. This Manchester indifference to research integrity disgraces British science.
It threatens future international collaborations involving British Universities.


Sacrificing my professional integrity to boost the University research ratings is pointless. Beating the Oxbridge/London "golden triangle" competition will not impress the public, if research integrity has to be abandoned and fraud tolerated.
The award of the 2010 Nobel Prize for Physics to Professors Geim and Novoselov was long expected and well deserved. However, the reputation of the Prize will be damaged if their parent University is seen as having "fixed" an embarrassing formal enquiry outcome during the preceding months. This manipulation could haunt British science, making it difficult for deserving British based scientists to win Nobel Prizes in the future. (The Formal Enquiry Panel was chaired by the Head of the Physics Department at the University. The appointment of a chairperson with a vested interest echoes the earlier biased appointment of Dr Turner.)


In the internet age, the power of the anti-science lobby is growing. Climate change deniers, creationists, MMR vaccine opponents' et al, will skilfully exploit any hint that British scientists cannot be trusted, and are incapable of policing their own profession.
I presented the Enquiry Panel with clear evidence of financial fraud but they dismissed it. The Panel claimed that because the EPSRC had paid for the PedSALi research in full, it had been successful. Therefore the imaginative financial claims were permissible.
This relaxed attitude to research fraud will bring public funding for the Research Councils and the TSB into question.


To date I have unearthed two examples of Chinese state sponsored research taking SALi Technology forward. What is particularly puzzling is that both groups cite my unpublished VUM Masters Degree thesis in their references. So, if either of these projects leads to commercial products being developed, awkward questions could be asked about how unpublished British intellectual property ended up in China.
First Chinese project: at Nanjing University: SALi based vibration isolators (for possible use in transport suspension units) are being tested and "outstanding" results obtained [2, 3]. www.cheshire-innovation.com/sali/CrashSALi-Project.htm
[I supplied the Panel with evidence that (i) my thesis had been plagiarised and (ii) that Dr Oyadiji had visited Nanjing University in 2002 and had collaborated with the Nanjing researchers. The Formal Enquiry Report omits all reference to the Chinese work on SALi.]
Second Chinese project at the State Laboratory of Electrical Insulation & Power Equipment: this relates to the reduction of vibrations caused by industrial size electricity transmission equipment. [4.] Note: Gaining access to this State Laboratory research has been difficult. I cannot be certain of the true extent to which SALi Technology has been plagiarised.


A recent description of a military helmet (dev.nsta.org/evwebs/30n/Pages/Headsup-2.htm) suggests that the Americans

may be

developing SALi Technology. The helmet includes a lightweight shock absorbing liquid that stiffens under impact. It is retained inside low stretch aramid packaging. i.e., it meets the specifications for SALi Technology.
In 2003 NESTA pledged funding to support the British development of SALi based protective helmets, pending the successful outcome of the PedSALi project. www.cheshire-innovation.com/Sassy-Hats.htm
Earlier, in 2001, Helmet Integrated Systems Ltd had approached me and suggested funding SALi research at VUM relating specifically to military helmets. But HISL lost interest after Dr Oyadiji delayed sending them our research proposal.
If the American helmet is SALi based, then the British public will be very angry that opportunities to protect our troops from traumatic head injury have been squandered.
Checking my testimony
Here are three levels of my evidence that you, the witness, can check.
QUICK OVERVIEW: See the attached letter to Professor Sulston.
FURTHER DETAILS: Read the following sections of the attached letter to the Information Commissioner.
(i) Section 10, page 18
(ii) Section 13, page 28. (This section is fairly technical.)
(iii) Section 14, page 30


THE COMPLETE (i) Read my letter to the Information Commissioner.
EVIDENCE (ii) I can email copies of Exhibits IC1-IC27 referred to in the letter.
(iv) If you wish to see all of the evidence presented to the Commissioner
and the Institute I can post you the documents on a CD ROM.
(v) For details of the PedSALi research fraud, as submitted to Manchester
University, 7th March 2007, see page 26, Document C1/ C Docs folder
/Nobel folder/CD ROM.
(vi) For details of the financial fraud, as submitted to the Panel, see
Document A1/ A Docs folder /Nobel folder/CD ROM.
How you can help
I am deeply troubled by the false records about me that are held by the University of Manchester. After seven years of struggle, I am almost losing hope that I will ever clear my name.*
Please save this testimony on your computer, so that the truth is not entirely destroyed.
Share this testimony with trusted colleagues,

but

, please do not convert my testimony into an anonymous chain letter.
Thank you,

*At an early stage in the struggle, my MP, Graham Brady, wrote to the (then) Minister for Science, Lord Sainsbury.
Lord Sainsbury ruled that he could not intervene and that the issues had to be resolved directly, between myself and the University of Manchester.
Quis custodiet ipsos custodes? (Who will police the police?)
REFERENCES – Valid publications relating to SALi
[1] Pedestrian Protection using a Shock Absorbing Liquid (SALi) based Bumper System,
Huw Davies et al, Cardiff University School of Engineering, ESV Conference, Stuttgart, June 2009, Paper Number 09-002.
This paper was based on good quality but "shoestring" research carried out by undergraduate students.
[2] Performance characteristics of a SALiM isolator, H. d. Teng, Q. Chen, Nanjing University, Proceedings of the World Congress on Engineering, London, July 2009.
[3] Study on vibration isolation properties of solid and liquid mixture, H. d. Teng, Q. Chen, Nanjing University, Journal of Sound and Vibration, (2009) doi.10.1016/j.jsv.2009.04.036
[4] Study on an Audible Noise Reduction Measure for Filter Capacitors Based on Compressible Space Absorber Wu Peng et al, State Key Lab. of Electr. Insulation & Power Equip., Xi'an Jiaotong Univ., Xi'an, China, Power Delivery, IEEE Transactions, vol. 26, Issue 1, January 2011, pages 438 445.
Britain vs. China
The research described in papers 2, 3 and 4 was financed by the Chinese government. In contrast, Dr Davies at Cardiff University was unable to build on his work because he was refused public funding.
Cardiff vs. Manchester
Well supervised undergraduates at Cardiff have done more useful SALi research in six months, than badly supervised post -doctorate researchers at Manchester in four man-years.
A second difference is that the British taxpayer paid for the unproductive Manchester research. Consequently, Cardiff was unable to claim funding, to do the more detailed work correctly.
APPENDIX
Evidence from the University of Manchester web site that:
(i) The appointment of Dr Turner was biased
and
(ii) in spite of complaints by Bill Courtney to the Formal Enquiry Panel, his role as lead partner of the PedSALi project is still being airbrushed out.
The evidence
The following list of grants was copied from the University grants page for Dr Oyadiji, 4 July 2011 http://www.mace.manchester.ac.uk/aboutus/staff/academic/profile/grants/index.html?staffId=236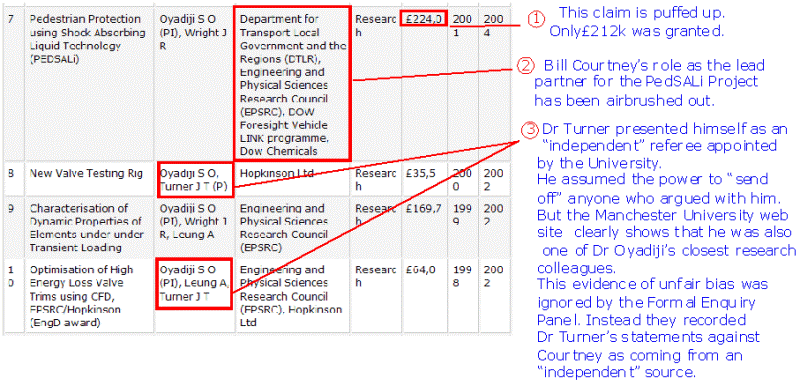 Supporting references, as supplied to the Formal Enquiry Panel
(i) Proof of Dr Turner's claim that he had the power to "send off" anyone who disagreed with him.
[Page 2, Exhibit 8/ Exhibits Folder/ Nobel Folder/ CD ROM.]

(ii) Evidence that Dow lost trust in the University following the appointment of Dr Turner and false statements being made about their employees.
[Section 5, page 29/Exhibit C1/ C Dos/ Nobel Folder/ CD ROM.]

(iii) Copy of a letter from the Department for Transport, appointing Courtney as lead partner for the PedSALi project. [Exhibit A2/ A Dos /Nobel Folder/ CD ROM.]
Testimony ends
Who received this testimony?
Here is the list of recipients of the original testimony, including all listed members of the Institute for Science, Ethics and Innovation.
This is the list of recipients of the updated testimony, including all listed members of the Institute for Science, Ethics and Innovation.

The second testimony bounced back from all 'Ethics Institute addresses. So it was resent, with Bill changing his name to SaveBritishScience. This time none of the emails bounced back.
The Law on compliance
When responding to the FoI request, the members of the 'Ethics Institute ignored their statutory obligations by denying any knowledge of the testimony.
This took place in the aftermath of the University of East Anglia "Climategate" affair.
http://www.theguardian.com/environment/2010/jan/27/uea-hacked-climate-emails-foi
So Manchester University cannot claim ignorance of its FoI Act obligations.
Bill copied the University Vice-Chancellor into his March 2013 correspondence with the member of the public that had made the futile FoI request.
This meant that the V-C received a copy of the testimony and was aware her staff were failing to comply with the law.
Bill also copied Retraction Watch www.retractionwatch.com into the correspondence.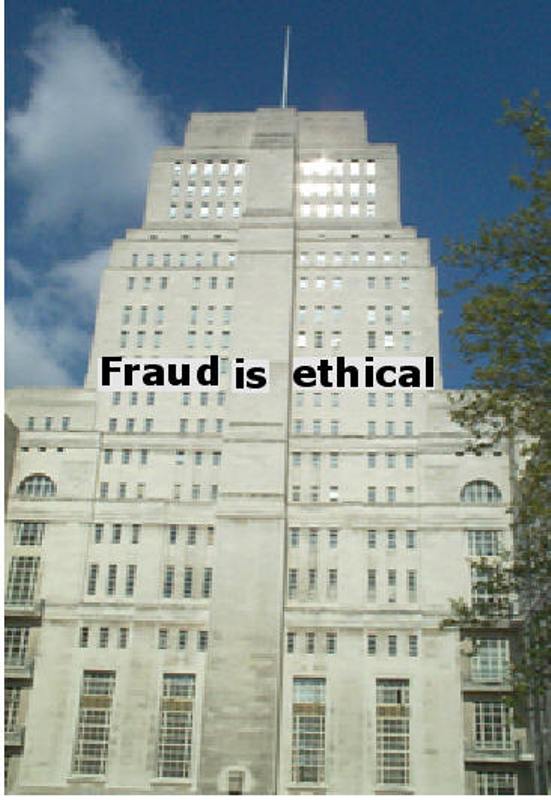 George Orwell's Ministry of Truth
(1984, adapted)