We can identify two broad (and often overlapping) groups; economic migrants and those fleeing persecution.
1 Economic migrants
People attempting to migrate illegally to the advanced countries have to take big risks and spend many months without income while they are on the move. They also need sufficient funds to keep themselves alive and cover overheads such as paying people smugglers. [For example, the current price per head for an English Channel crossing in a dingy is around €2,500.]
Far from being spongers who want to live off other people, these are individuals with energy and middle class ambitions who want to make a better life for themselves and their families.
The key to keeping these people off the migration routes is to offer them a better deal back home.
Latent Power (LP) Turbines could play an important role here. We discuss this option on our 'Eliminating extreme poverty within ten years' webpage.
Our aim should be to make it more cost effective for aspiring migrants to purchase an LP Turbine plus the associated work tools required to make a living, than to make a new life abroad.
An important feature of LP Turbines is that they can provide reliable power 24 hours a day without being connected to a national grid. In tropical climates they also produce basic amounts of drinking water plus free indoor air cooling. This independence of supply should appeal to donor countries and charities fighting developing world poverty because they can bypass corrupt, bribery addicted central governments and deal directly with local job creating entrepreneurs.
An important feature of LP Turbines discussed on our 'Eliminating extreme poverty within ten years' webpage is that LP Turbines produce positive feedback effects in tropical countries. These will allow the developing countries to catch up with the advanced nations fairly quickly.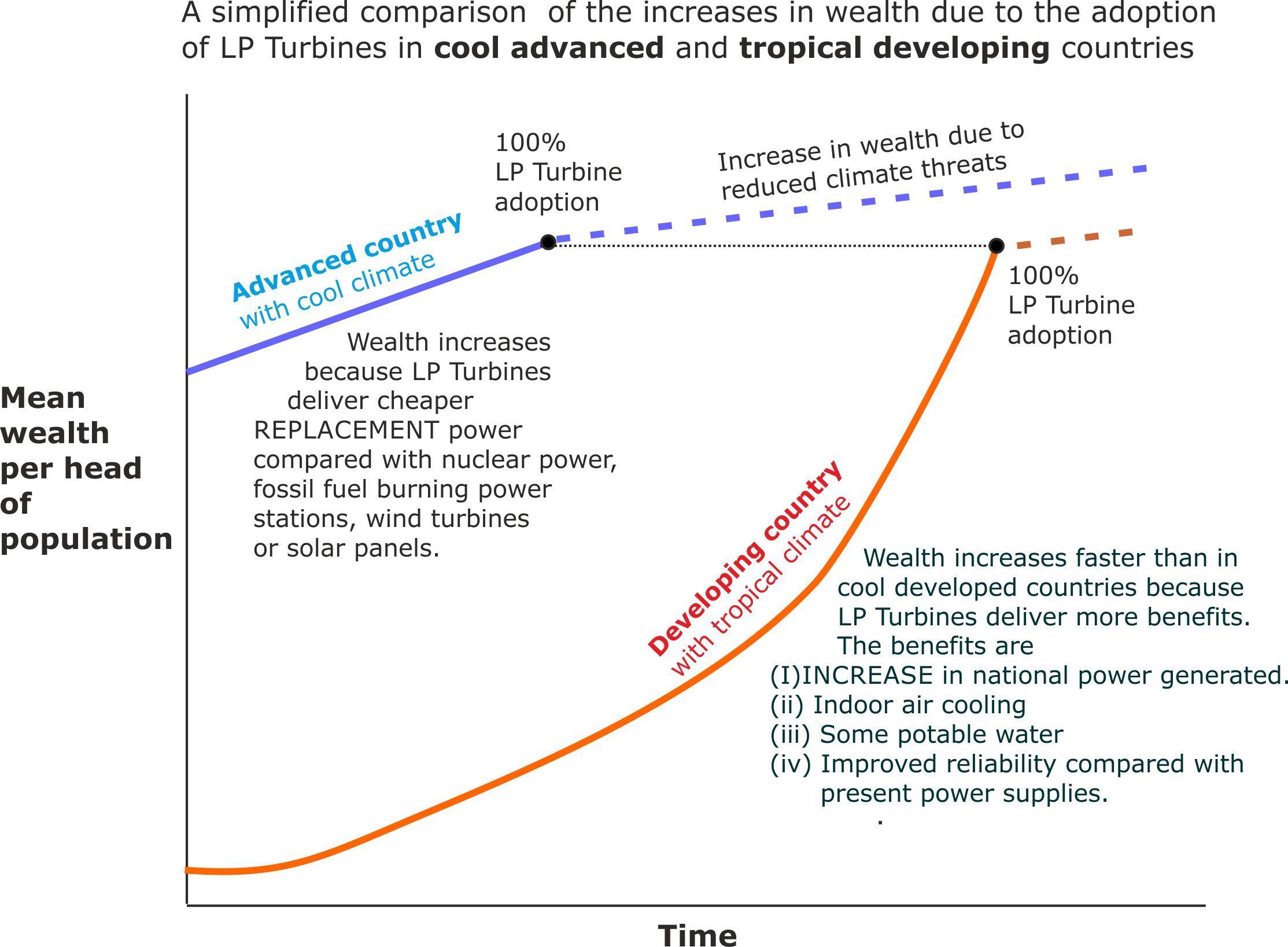 Figure 1. People living in the developing countries will rapidly (say, within 2 generations) catch up with the standard of living of people in the developed world.
In order to reverse the flow of economic migrants, the actions taken by the advanced countries could include
(i) Using their overseas aid funds to support LP Turbine based enterprises in developing countries.
(ii) Offering a range of repatriation packages to those migrants who have already left home, so that they have better prospects if they return home and become LP Turbine powered entrepreneurs.
2 Refugees fleeing persecution
The compassionate treatment of refugees fleeing persecution could be the key to solving two apparently intractable problems.
(i) The advanced countries frequently fail in their efforts in improve lives in post-conflict developing countries.
For example, different coalitions of Western allies have succeeded in overthrowing oppressive regimes in Afghanistan, Iraq, Libya and elsewhere. But have found it impossible to build on their military victories by establishing peaceful regimes that respect human rights.
(ii) Short sighted politicians are playing on their supporters evolutionary fears of strangers at a time when demographic changes are making immigrants vital.
The populations of the advanced countries are aging and young immigrants will be needed to keep their economies productive. But, there is hostility to immigration from many of the people who will become dependent on migrants for health and social care in the future.
Helping refugees in exile to play their part in building a better homeland
Instead of giving a small fraction of 'lucky' refugees permanent homes in the advanced countries, we should offer temporary residence to all who need shelter. In return, all of the refugees would agree to return home if required, when peace comes.
They would be encouraged to see their temporary stay as an opportunity to build up their strength and hope again, so that when they return home, they can play an important role in rebuilding their countries.
Using refugees to tactfully solve demographic problems
The advanced countries are facing a demographic (population balance) crisis because people are living longer, but the young are having fewer children. This is starting to cause problems, finding sufficient working age people to look after the old and keep the economy moving. Robotics and AI will provide part of the solution, but migrants will still be needed to do much of the work.
Only allowing migrants in when they are urgently needed is not a practical option because by then, LP Turbines and other technologies will have greatly increased the job prospects at home. We can avoid this problem before it emerges by taking out the 'insurance policy' of admitting migrants now, so that they are readily available when we need them.
Preparing exiles for their role in homeland rebuilding:
A more detailed discussion
The homeland rebuilding strategy must be owned by those in exile with communications technology being used to involve those left behind in the conflict zone. But the host countries must also have a say, to ensure that human rights are central to the redevelopment plans.
Suggestions for inclusion in a contract with refugees
(i).Refugees would be welcomed by the host country on the assumption that they will return to their home countries when it is safe to do so. They would sign a legally binding contract making this their default status. But they would not be precluded from applying for host country nationality at a future date.
(ii) The refugees should be housed in largely self sufficient new communities inside the host countries. This will cost money, but will minimise the upheaval that have to be accepted by the indigenous population.
Members of these new communities would enjoy the same rights, freedom of movement and benefits as they would if dispersed among the native population.
(iii) Some exiles will find themselves having to build new lives in close proximity with their former enemies. This should be treated as an opportunity for reconciliation, rather than as a problem to be avoided. [Based on his experience of teaching Somali refugees, Bill Courtney notes that former enemies can become good friends when they are far removed from the conflict zone.]
(iv) The refugees would be given help in developing human rights centred education programmes for their communities and have the right to elect their own representatives to the nearest town council.
Creating a new communal life for refugees
Initially, the facilities would be extremely basic, comparable with that of a well organised refugee camp. But the refugees would be given sufficient raw materials and tools to help them convert these soulless sites into settlements that reflect their homeland tastes and culture.
As far as possible, each settlement would be self sufficient in terms of social services, foster care, basic health care, education, policing etc.
The refugees would provide most of the people that deliver these services, but their operation would have to comply with local regulations and be externally moderated. For example, the community police station would come under the remit of the local police authority and community police officers would undergo standard police training before gaining any policing powers.
Police officers who are part of the immigrant community would be in the best position to identify young people who are becoming radicalised. Likewise, immigrant health workers under NHS supervision would be in the best position to treat disturbed patients who could be a threat to others.
Members of the refugee community taking on teaching and other important public service roles may well be under-qualified by local standards, but their benchmark for accreditation and pay level should bear in mind the unique knowledge that they bring to their work, based on their own refugee experiences.
Affluent refugees would be encouraged to invest funds in businesses linked to the settlements. Volunteers from the indigenous business community could provide local resource and regulatory advice.
An international sales portal website similar to the Amazon model would allow settlement based businesses to sell to customers worldwide. This would enable well wishers to purchase goods that supported the creation of jobs in the settlements. When peace comes and the business owners' return home, their established online sales markets would allow the relocated businesses to get off to a flying start.
Encouraging entrepreneurship has benefits for the indigenous community too. Experience teaches us that refugees are often resourceful people who bring innovative ideas to the host community. [Refugee Innovation - Refugee Studies Centre]
Glasshouses or vertical farms linked to LP Turbines would provide some employment and contribute to food self sufficiency. The crops grown would include plants used in the homeland cuisine.
Choosing locations for the new settlements
The mindset of everyone involved in planning and administering these settlements should be focused on establishing new, open access communities in harmony with their neighbours, not creating isolated settlements, where the refugees can be ignored.
The aim should be to create vibrant new communities that are approved of by the indigenous local community. Commerce that promotes integration such as restaurants, street cafes, bakeries, markets and cultural courses covering languages, cooking, dancing etc. should be encouraged. Indigenous people should also have entitlement to residence in the new settlements, provided that refugee accommodation needs are not compromised. Likewise, refugees should have the legal right to move to residences outside the settlements.
In a Latent Power Turbines era, large out-of-town, fossil fuel burning power stations will be replaced by distributed power generation, with each building generating approximately the amount of energy it needs.
This will free up the existing power station sites for redevelopment as new settlements. These sites are already fitted with sufficient services for use by a small pioneer community. They are situated just off main roads and are commonly serviced by a railway for delivering fossil fuel.
Vertical farming: a speculative suggestion
One option for settlements located on retired power station sites might be to convert the cooling towers into vertical farms. Initially, they would produce food for the refugee community. But long after the refugees have gone home, the farms could continue to be productive and contribute to the local economy.
Cooling tower walls are only about 180 mm (7 inches) thick. So, steel building frames would need to be erected inside the towers, to support the farm floors.
Once the framework is in place, the farm could be expanded upwards, a floor at a time.
Maintaining hope in a homeland based future
Internet meeting software such as Zoom would allow the Diaspora of refugees to stay in contact with each other and (hopefully) with members of their community back home.
The internet connections and computer hardware could also be used to provide a cost effective education resource. Under the supervision of internet savvy members of their community, refugees could be given a decent level of education without putting pressure on schools and colleges in the adjacent indigenous communities. Language laboratories, for learning the host countries native tongue would be an asset for refugees of all ages.
Illegal immigrants fleeing persecution who have already gone underground within the host country should be offered the chance to join a settlement under the same temporary residence conditions.
Democracy in exile
Most refugees are fleeing from countries where democracy is weak.
Their time in the host country should be used to educate them in Western democratic ways so that they can return home as champions of the democratic system.
(i) Residents committees would be democratically elected with secret ballots and gender equality.
(ii) Universities could work with the communities providing homeland economic data and other planning resources. This would enable aspiring politicians and civil servants in exile to develop human rights centred policies and manifestos, for when they return home.
(iii) A virtual parliament in exile could be established with "parliamentary debates" taking place via video links between different settlements. In many cases this would allow previously hostile tribes or religious groups to engage in constructive debate with each other for the first time.
(iv) University academics and other experts in the host countries could work with interested people in the refugee communities, producing mock national development plans and trade agreements with future, peacetime trading partners. These would bring hope of a better future to people in exile and could be used as the first drafts for reconstruction funding bids.
People remaining in the home country must have joint ownership of these plans. So, as far as possible, using social media and conferencing software, they would play a full part in these exercises.
Preparing these plans in advance would be helpful for The World Bank and other potential investors in the post-conflict country.
One advantage of preparing mock development plans is that no money changes hands so they are less likely to be tainted by corruption.