Introduction
The seeds of modern Western values were born in ancient Athens in480 BC.
Western culture - Wikipedia Likewise, the sometimes competing values originating in Islamic Sharia law also have a long history, going back to 622.
So it should come as no surprise that the Western values which have evolved in Europe over 2,500 years could not be imposed in Afghanistan, Iraq and Libya in the last 20 years.
Military invasions and the deposing of dictators have clearly not worked but the Western interpretation of human rights is still worth striving for. So, some radically different thinking is required.
On this page we offer a novel proposal which has its origins in the tragic death of football players in a plane crash over fifty years ago.
The new thinking on building a more equal world
Latent Power Turbines could provide the material part of the answer by creating economies that thrive while meeting most of their energy, water and basic food needs within their national territory.
But more is needed if we value dignity, equality and freedom. However, devout people whose lives have been governed by religious laws for centuries should not be pressured into Western ways of thinking before they understand what it entails.
First the mindsets of the majority, from national leaders down to the general public must favour basic human rights and honest government. Only then can durable democratic institutions take root.
This in turn requires a peaceful world where people and ideas are free to cross national boundaries.
Perhaps the following football story provides a clue as to how we should proceed.
Bill Courtney writes
I'm a Manchester man with a strong regional loyalty.
Back in the 1960's, at the height of the Cold War, when mutual suspicions were high, I was travelling on the cheap through Yugoslavia. Hitch hiking was not very successful because the communist Yugoslavs were not keen on doing favours for their capitalist enemies.
So, for a few Dinar, I purchased a lift in a car. The driver was a big tough looking man, who was travelling from Belgrade to Zagreb. He made it clear that he was a patriotic Yugoslav who followed the Communist Party line. Giving me a lift was purely a financial transaction and he disliked me because I came from the capitalist West.
Shortly after leaving Belgrade, he attempted to take advantage of my vulnerability by demanding a further payment. The situation looked ugly, but I found a way out because the car sported a Red Star Belgrade football team banner.
With genuine emotion, I recited a litany of footballers' names known by every Manchester school boy of my youth. "Roger Byrne, Eddie Colman, Tommy Taylor, Liam Whelan, David Pegg, Mark Jones, Geoff Bent".
Then I said, "Manchester United, Red Star Belgrade, Munich." The words chilled me.
Fortunately, they also chilled my intimidating driver.
He stopped his car abruptly.
With wet eyes, he hugged me. He bought me a good lunch and proudly showed me photographs of his family, with the kids in football gear. I responded by buying treats for his children.
Then we drove on and the extra payment was forgotten about.
The footballers I had named were all 1958 Manchester United "Busby Babes". They had died in an air crash at Munich Airport, after playing against Red Star Belgrade.
A nasty and possibly violent outcome involving strangers had been avoided because a thread of common humanity had been shared.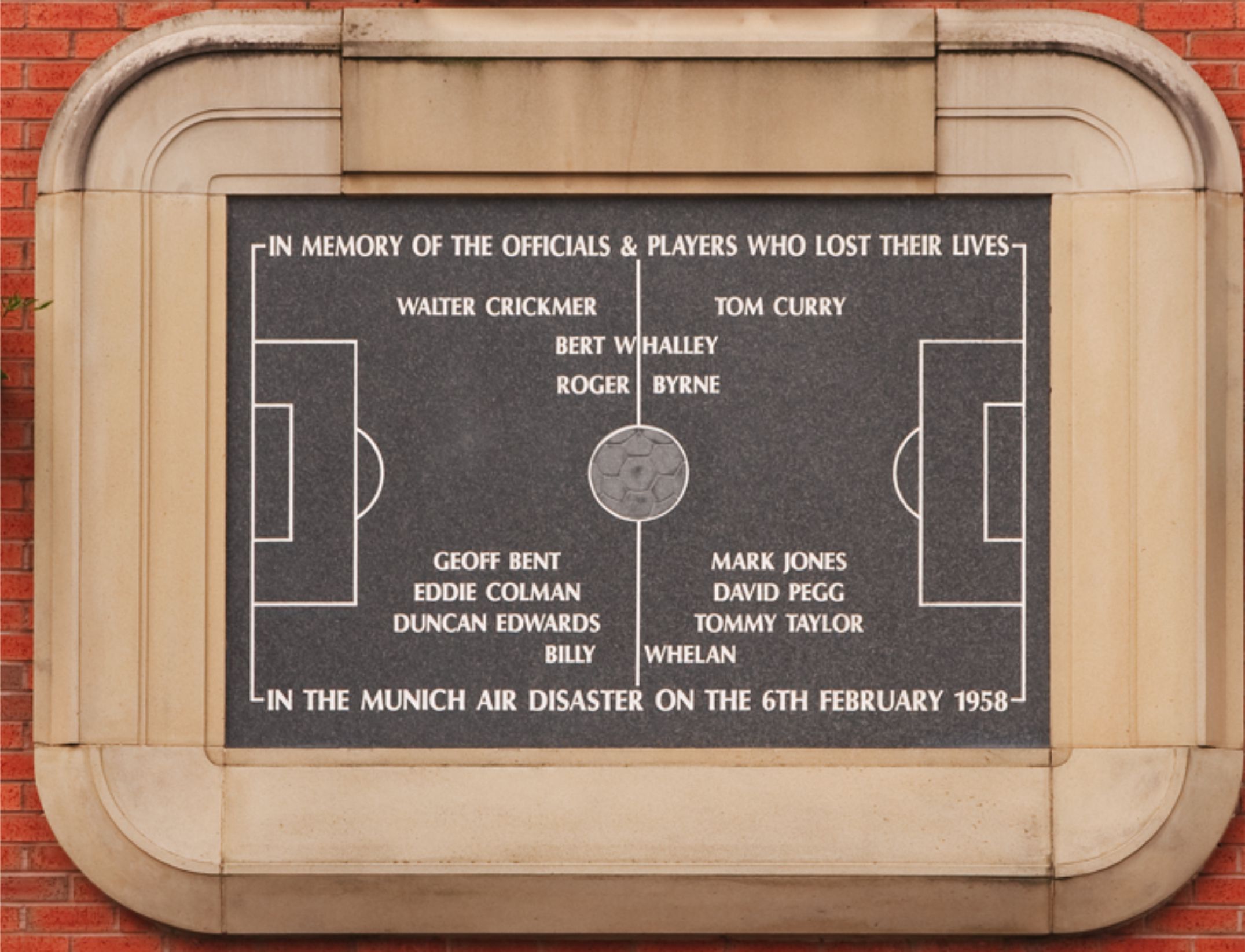 The football lesson: If we can identify a thread of shared human experience, hostile strangers can rapidly reach a consensus and become tolerably friendly.
If the leaders of the world's nations were given the opportunity to get to know each other as human beings with common interests outside politics, many would ha a 'Road to Zagreb' experience with some totally unexpected friendships being formed.
Building on the spirit that ensures peace in Europe
The European Union is uniquely placed to become the spiritual home for the present proposal because of the historical reason for its foundation. That is, the recognition that European cooperation is the antithesis of European military conflict.
The present proposal follows this line of thinking by taking a similar idea to the family level of national leaders.
Sadly, in the 2016 Brexit campaign, nationalist British politicians persuaded the British people to eat the dove of peace instead of cherishing it. Consequently, Britain has barred itself from influencing this new form of international diplomacy.
Each year, political leaders and a small number of close family members from all of the United Nations countries, plus emerging nations such as Palestine, would be invited to spend a few days away from the media at a secure location somewhere in the EU. There would be no formal meeting agendas, with the emphasis being on socialising and relaxed leisure.
The big idea being proposed here is to start building international relations at a human sized individual level, rather than sitting on the opposite sides of an impersonal negotiating table.
To provide non-political 'ice breakers', celebrities from the worlds of sport and entertainment could be invited. - The politicians' families could suggest celebrity guests.
In this leisurely family setting, away from the world's eyes, politicians could get to know each other as ordinary human beings.
Two 'dress rehearsal' events; one restricted to EU countries, the other to delegates from G20 countries, would provide valuable learning experiences for the organisers.
If Strasbourg became the location for this annual event it could solve a delicate political problem, allowing the city to take on a new role in exchange for agreeing to all EU parliamentary sessions being transferred to Brussels.
(The climate in Strasbourg is not brilliant. We offer a suggestion for overcoming its holiday limitations in an appendix below.)
The ancient Greek tradition of honouring safe passage to the Olympic Games would be imitated, allowing all political leaders to attend.
This proposal would allow the EU to play a key role in promoting world peace while simultaneously respecting the current European populist desire for stronger national identities.
Key features:
(i) Many wars are the result of isolated political leaders misreading each other's intentions. Perhaps the two Gulf Wars, the Kosovo Conflict and the present civil war in Syria could have been avoided if the political leaders of the day had been in regular social contact with their international political colleagues.
(ii) The informal contact pool would extend to include the partners and children of politicians.
(iii) In order to be a welcoming host, the EU would have to adopt a minimalist foreign policy approach. On the other hand, the diplomatic powers of its member states would be amplified because they would have plenty of opportunities to act as 'Go betweens', bringing disputing states together in follow-up meetings. [For example, meeting between representatives of India and Pakistan, Israel and Iran, North and South Korea etc.]
Provisionally, this proposal will be named, 'The European World Peace Initiative.'
Maximising the benefits for the EU
During the rest of the year, international conferences and exhibitions could be held at the same venue.
With some imaginative marketing and planning, Strasbourg would become the international business exhibition, partnership and deal making hub of the world.
The world's nations would be encouraged to set up consulates in the city. This would be a powerful asset for business leaders and others forging international agreements in Strasbourg.
European language translation and negotiating expertise would be on hand.
The development of family friendly leisure activities in the city would allow business conference delegates to combine work with family holidays.
Conference delegate's children would gain a unique educational experience, mixing with children from other nations.
Three "What if?" case studies
Bill Courtney has been advocating this new approach to international diplomacy since Britain joined the European Community in 1973.
Here are three benefits that might have been gained if 'the football lesson' had been learned back in 1973.
1 Afghanistan
It is unlikely that a puritanical 1990s Taliban government would have been keen to attend a big social event for politician's families, but the reassuring presence of other Muslim leaders from the region could have tempted them.
A series of quiet face-to-face meetings with the Taliban leaders 25 years ago might have prevented the 9/11 attack on America. And by now, many years of informal meetings with regional leaders could have led to a more open Afghanistan society.
But there is still hope. If The European World Peace Initiative materialises in the near future, it would provide a unique way of reaching out to the Taliban.
2 Syria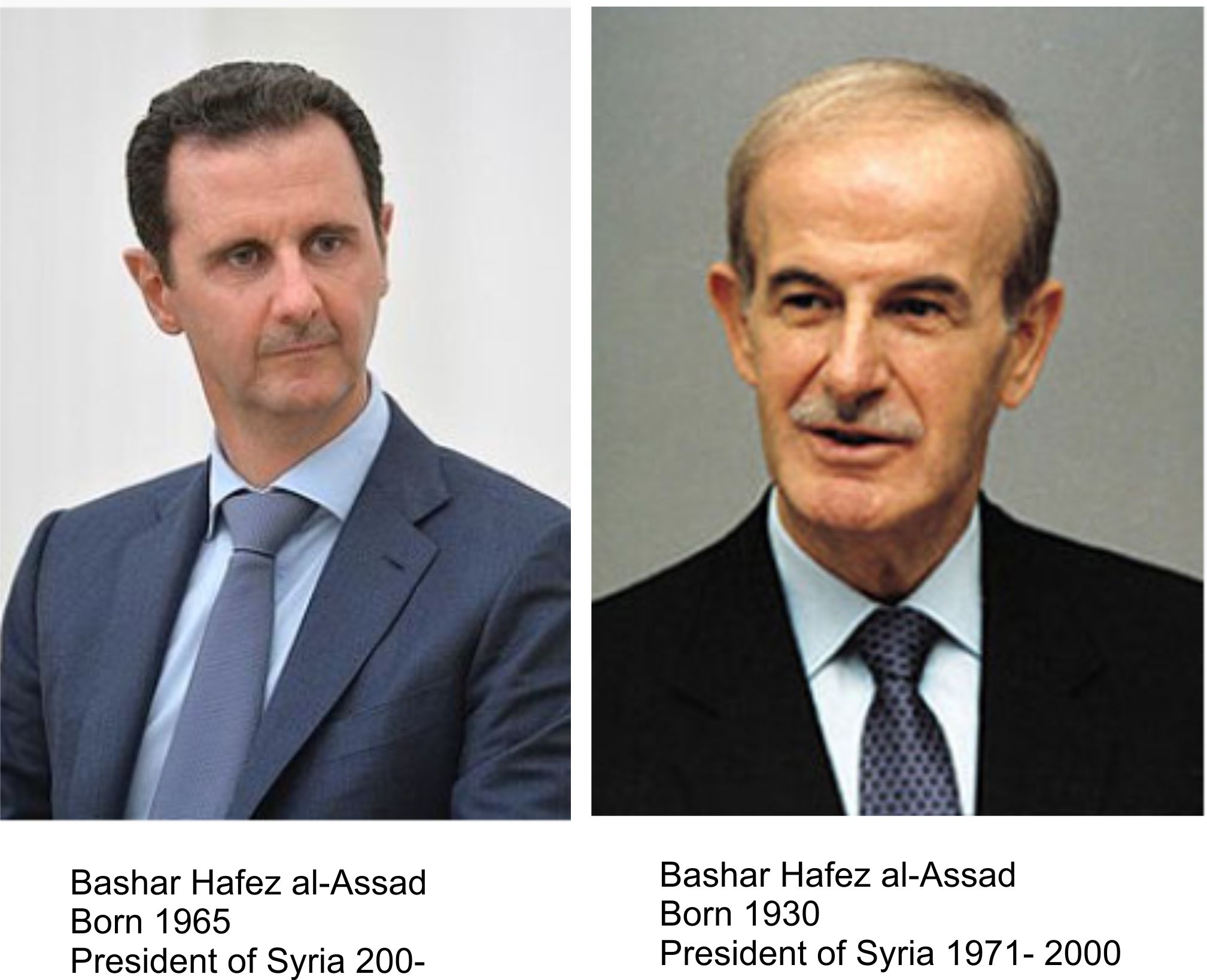 President Bashar Hafez al-Assad and his father would have been on 'friendly' terms with influential moderate politicians and their families since 1973. This would have made negotiating a Syrian peace treaty a lot easier. In fact, the civil war would probably have never happened in the first place.
3 North Korea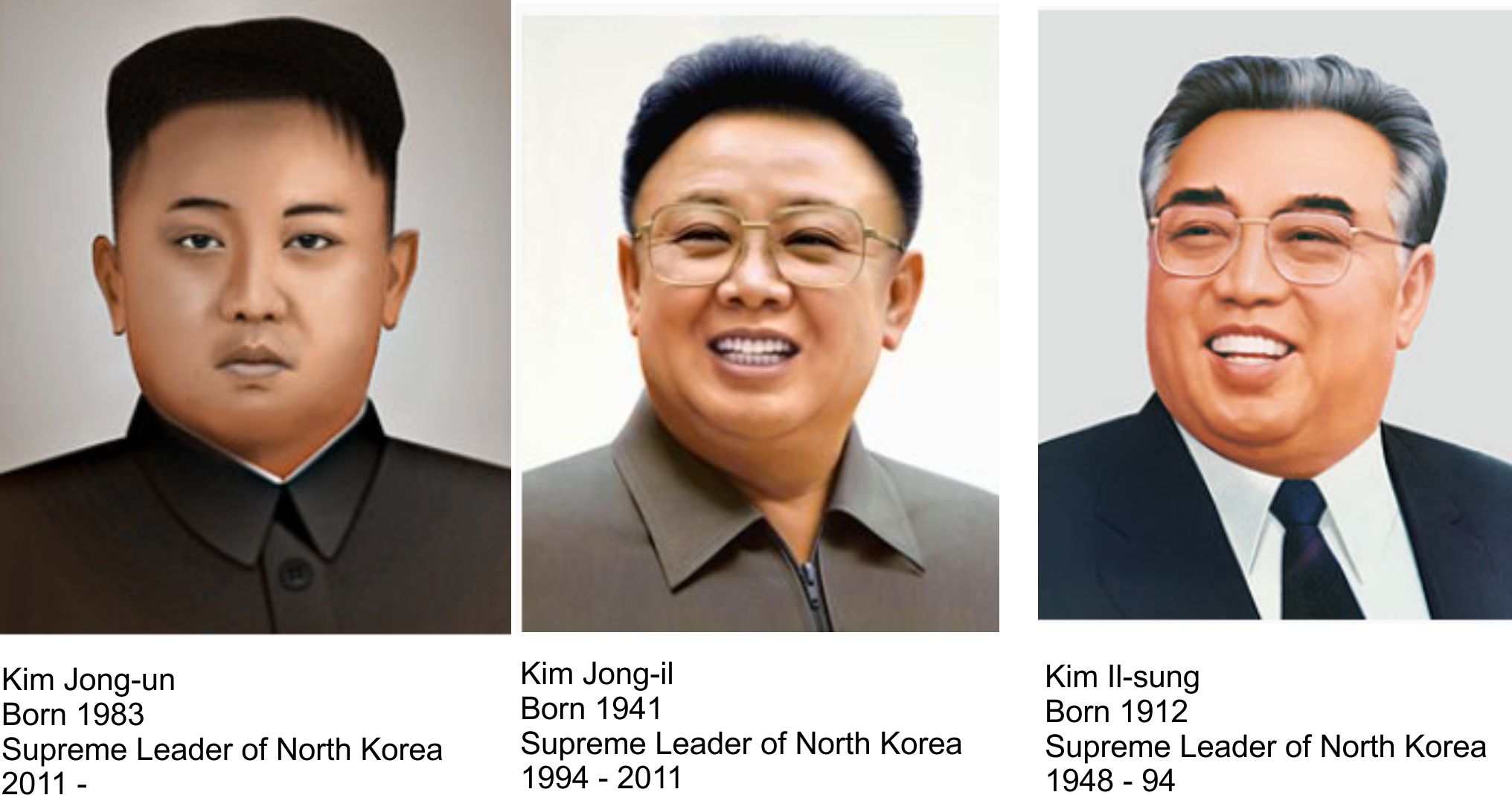 Three generations of North Korean leaders would have come under a moderating European influence. The families of North and South Korean leaders would have been able to meet up, away from their propaganda machines, for the last 43 years. The business opportunities offered by the Strasbourg trading hub would create further bonds of trust with the outside world.
How Britain could have leveraged its international influence since 1973
Britain is currently outside the EU, but it is likely that a future generation of less nationalistic politicians and voters will take Britain back in again.
A unique feature of the proposed gatherings is that they are primarily family events with politicians being outnumbered by their partners and children.
Living in peace and harmony is a big theme in popular music. So, since 1973, many of Britain's rich array of rock stars would have been eager to make a contribution by playing at gatherings and reaching out indirectly to politicians via their children.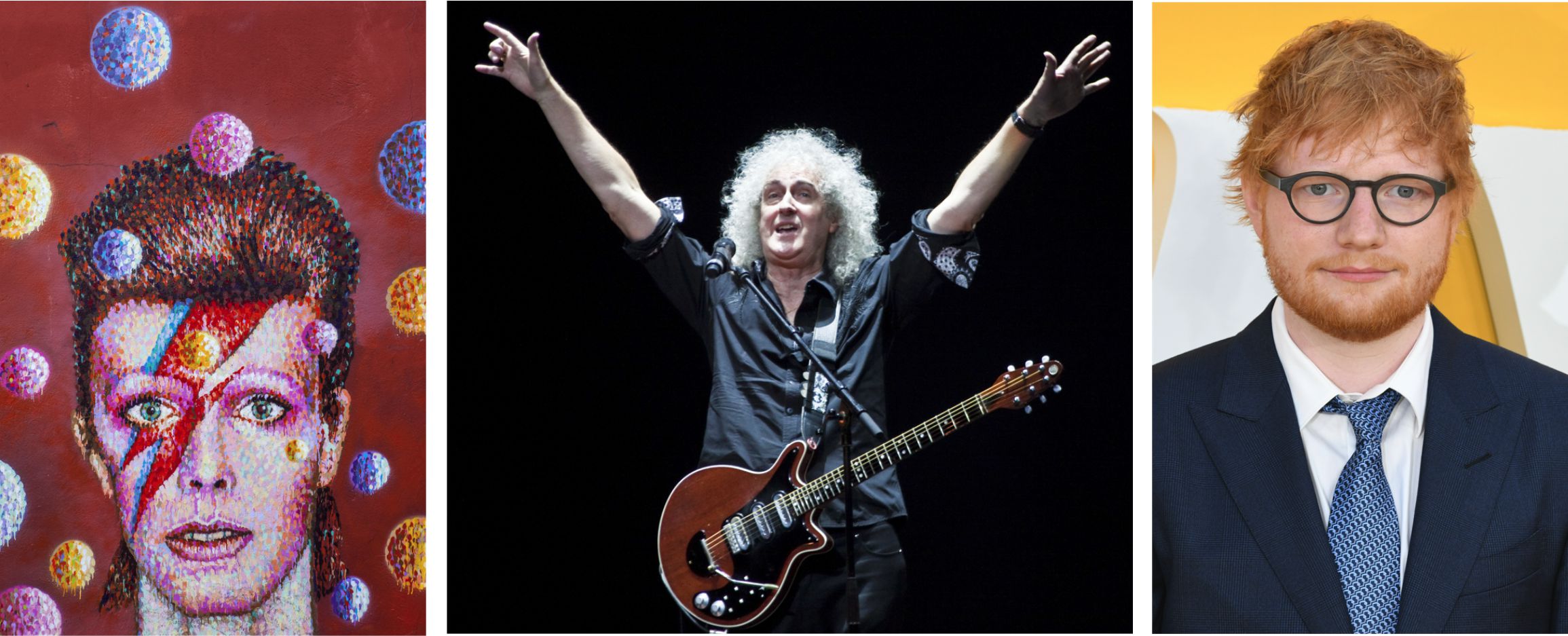 Appendix
(i) How Latent Power Turbinescould insulate guests from the whims of the Strasbourg climate.
Latent Power Turbines could be used to cool a winter activity leisure dome and warm an adjacent summer activities dome.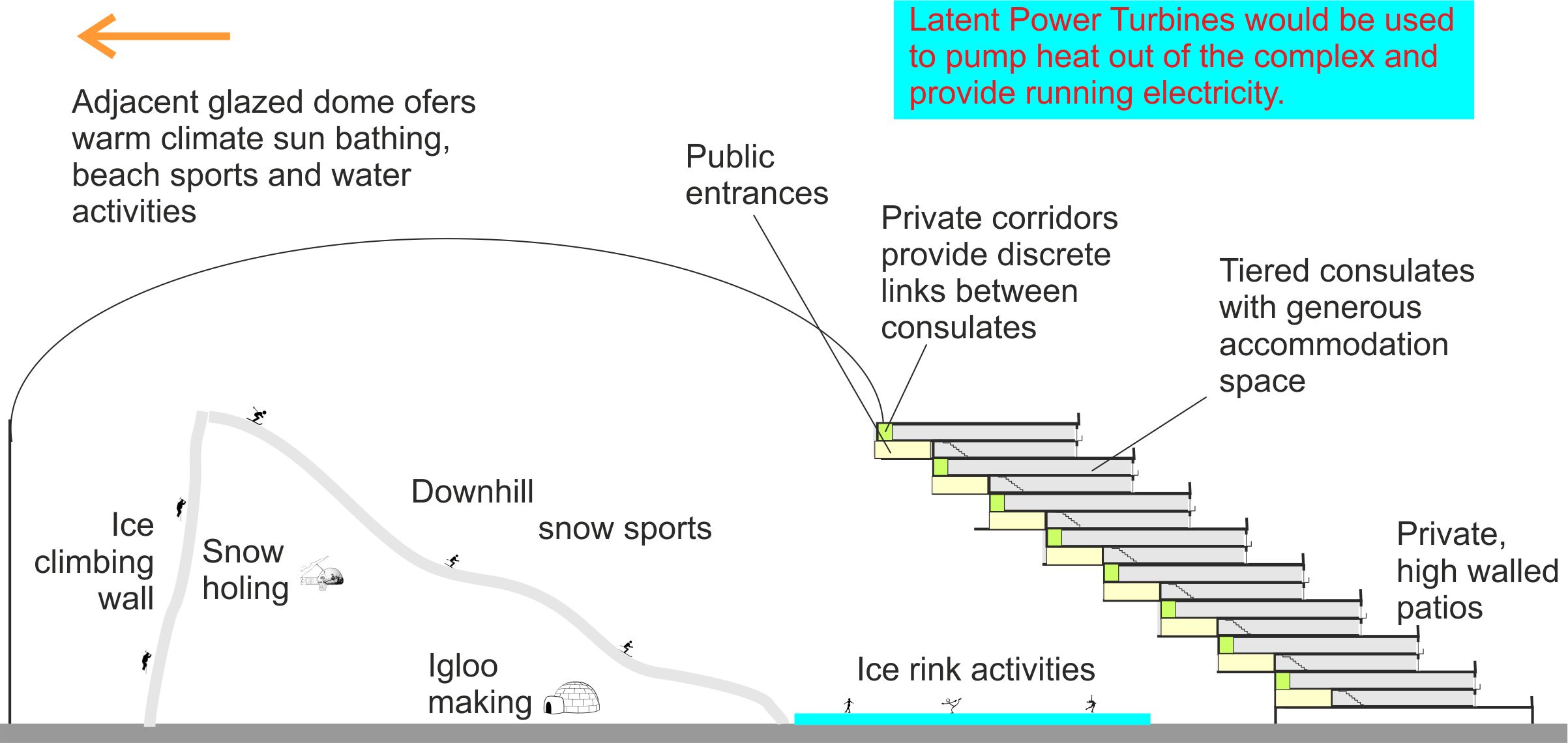 The guest facilities could incorporate winter and summer leisure domes.
(ii) The complex could include a world exhibition hall where all nations would have floor space to convey aspects of their nation they wished to share.
The exhibition hall would be open all year, creating a tourist attraction.
Extending the concept
If the business model is profitable, it could be extended to include an ocean cruise liner option for state use on alternate years.
Each nation would be allocated permanent consular rooms and visitor accommodation on board the liner. This would allow the ship to earn its keep by acting as a unique floating centre for international business and professional conferences.
It could also act as a short stay international school for young people.
A name for the vessel?
Pangaea. from the ancient Greek for "Entire Earth".
Pangaea is the name of a theoretical super-continent that geologists assume existed 250 million years ago, before continental drift ripped it apart to form today's continents.
(ii) Once the protocols for informal gatherings of politicians and their families have been established, independent gathering could be set up on regional lines. For example, for all African nations or African nations in the Horn of Africa. (There are some very good African bands!)