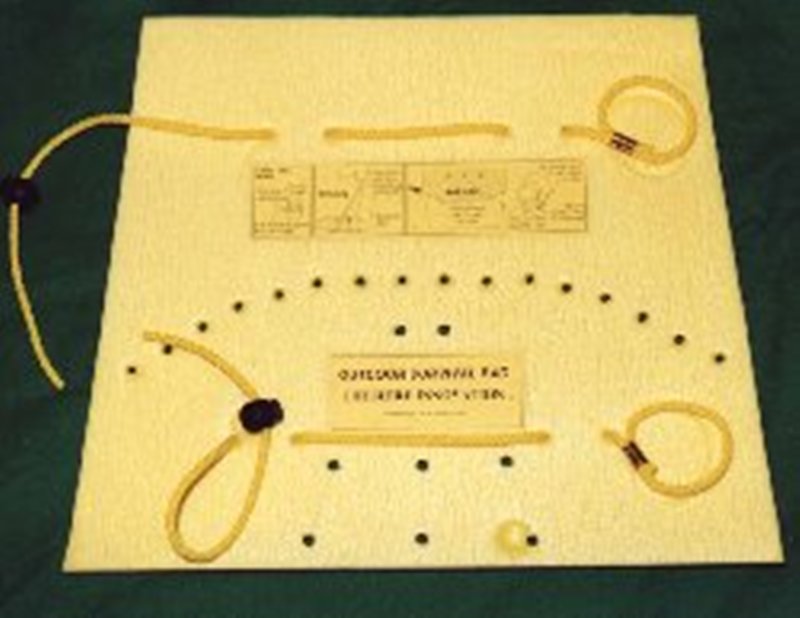 The Survival Pad. First aid instructions are printed on the pad.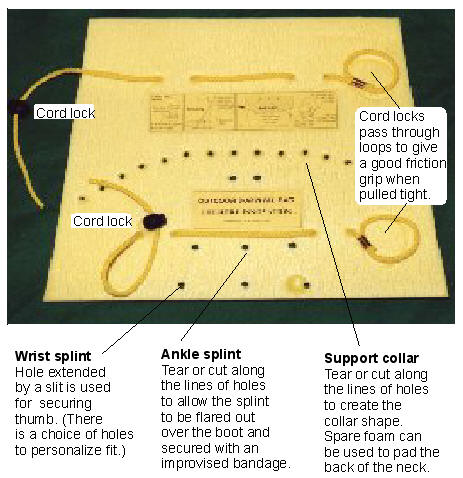 The pad earns its place in your rucksack by providing extra thermal insulation for your thermos flask and as a sit mat during your rest breaks.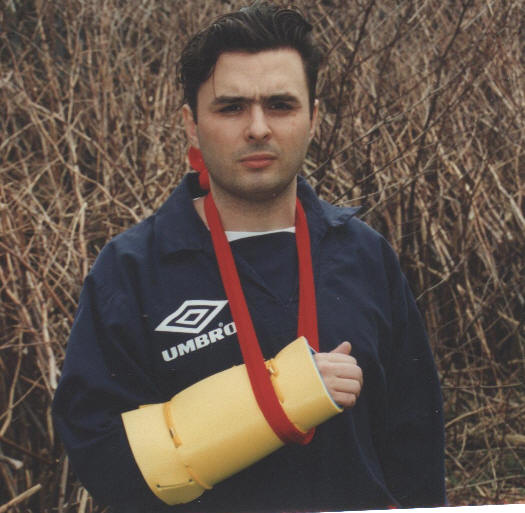 Application as a cushioned and semi-rigid arm sling.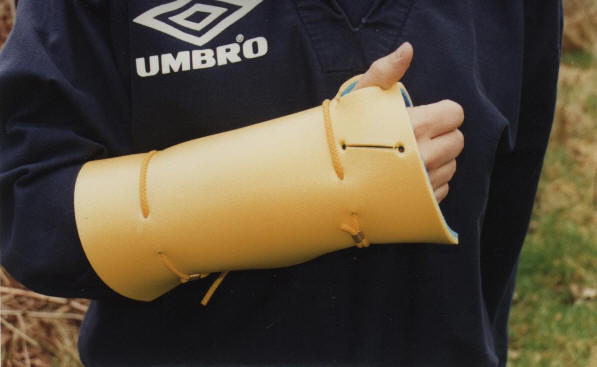 Wrist splint. Hole plus slit feature allows the thumb to protrude. This gives some dexterity during self rescue and prevents the splint sliding around.
Unplanned field testing
Bill Courtney splinted himself using his good hand and teeth to tighten the cord locks after fracturing his wrist while walking on wet limestone rocks in the Yorkshire Dales. The protruding thumb gave him sufficient dexterity to drive to a hospital A&E unit.
First aid experts please note
The lock cord system gives a surprising secure fit that does not work loose. Security is achieved because the locks becomes slightly embedded in the foam when the cords are pulled tight.
Unlike an inflatable splint it is very difficult to over tighten a Survival Pad because the over-pressure on the compressed foam causes the cord lock to slacken.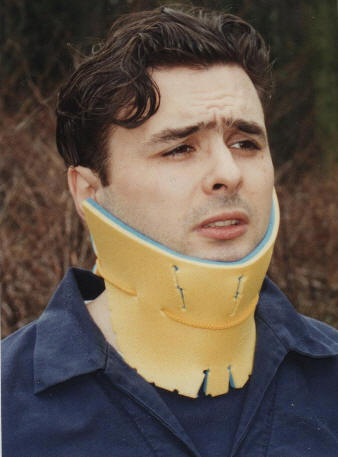 Support collar for an injured neck.
Guide holes allow the pad to be torn in two for use as a neck brace.
Royalties
Following his Yorkshire Dales accident, the inventor Bill courtney became increasing aware of his vulnerability as a solo hill walker. Any royalties earned from the licensing of this design will be donated to Mountain Rescue, England and Wales.
2 Shelter And Survival (SAS) Bag
The SAS bag is designed to increase levels of comfort and safety in two of Britain's most popular leisure activities, hill walking and mountaineering. It comes in two versions, a basic shelter bag and a higher specification group leader bag.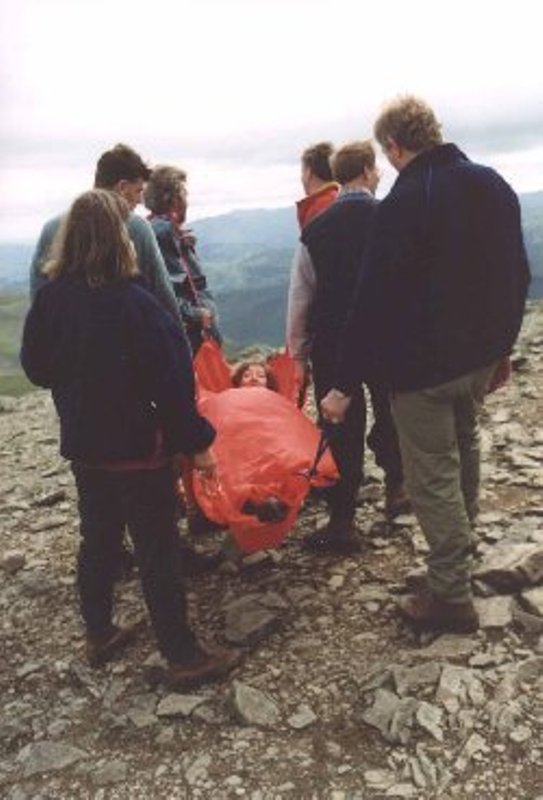 The SAS Bag being used as a stretcher.
The Basic SAS Bag
This bag provides an instant wind and rain proof shelter for one or two adults. Novel design features allow it to be donned or removed in a high wind. Two bags can be snapped together to create a small group shelter. The SAS Bag can also be used as a poncho and as a bivvy bag.
The Group Leader SAS Bag
If you are an outdoor leader, who needs the full survival kit, you could be looking for this higher specification shelter bag, which you can also use as a stretcher, hammock, basha, fly sheet tent, snow trench cover and ground sheet. You can join as many leader bags together as you wish.
Prototype SAS bags were made using waterproof nylon. Commercial products are likely to be made from high strength, light weight, Cuben Fiber.
3 The SAS Marine Rescue Line
Basically, this is a soft, floating package, attached to a rescue line, which you can throw to a drowning casualty. The floating package has excellent throwing properties allowing it to be thrown a good distance, even against the wind. It can support a 14 stone casualty in the water. The floating package is a bag with side grab handles. Inside the bag there's a Survival Pad and an SAS Bag, allowing you to treat the casualty, post rescue for injuries and hypothermia. This rescue aid has been submitted to tests by the Royal Life Saving Society.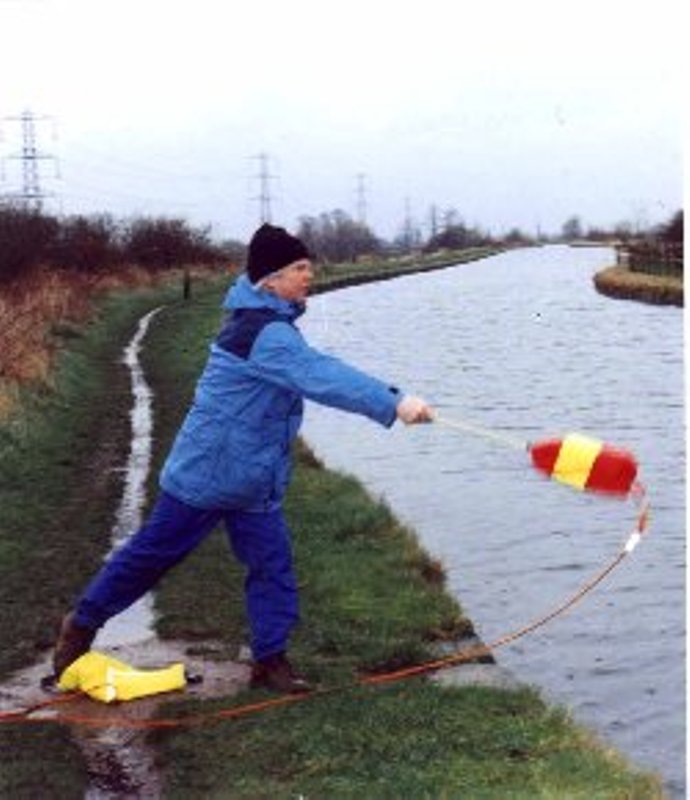 The Marine Rescue Line being thrown.
Patent Numbers 227432 and 2293537 + design copyright, protect the outdoor theme inventions. Details of improved SAS Bag designs available, subject to signing of confidentiality agreement.