Back to the future - An opportunity for Britain
During the Victorian era, horse drawn machinery worked moderate sized fields bordered by hedges and trees.
Compared with today's big field farming, Victorian agriculture was good for the environment but inefficient and very man-power intensive. There was a rich diversity of wildlife and the land was more resilient to flash floods and draughts. But food production was low.
Robot tractors could be the new horses!
A new generation of driverless or robot tractors is being created in the developed world.
Their agricultural rational is to protect our food supplies in an era of aging farmers and a drift of young people into the towns.
This innovation is being led by the USA with other countries such as Japan and Finland also being enthusiastic innovators.
We Brits are doing good research into their applications, for example see http://www.dailymail.co.uk/sciencetech/article-4921762/Driverless-tractors-drones-grow-crops-Shropshire.html
But the British research has to rely on imported machines.
However, it does not need to be this way. By thinking beyond the basic necessity of producing food, British businesses can create original products for this market.
Our goals are to use robot technology to gain the environmental benefits of Victorian farming, without sacrificing the productivity of modern farming. We also want to squeeze more value out of the countryside, making it more welcoming for visitors while creating new jobs for rural communities.
Here are three proposals for achieving these goals.
1. We suggest British manufacturing companies should specialise in the use of small robot-tractors adapted for working in fields similar in size to those worked in the mid Victorian era.
This poses different engineering problems to using robot-tractors in large fields. By specialising, we Brits would be in a strong position to create novel, patentable designs.

2. One snag with employing several small tractors instead of one large one is that they consume more fuel, adding to running costs and contributing to global warming.
In order to overcome this problem, we could take the lead in developing hydrogen powered farm machinery, with the hydrogen being manufactured cheaply using Latent Power Turbines.

3. The British defence industry could diversify by adapting their remote controlled weapons and drone technology to farming. To minimise commercial risks, companies would need to form partnerships with existing agricultural equipment manufacturers.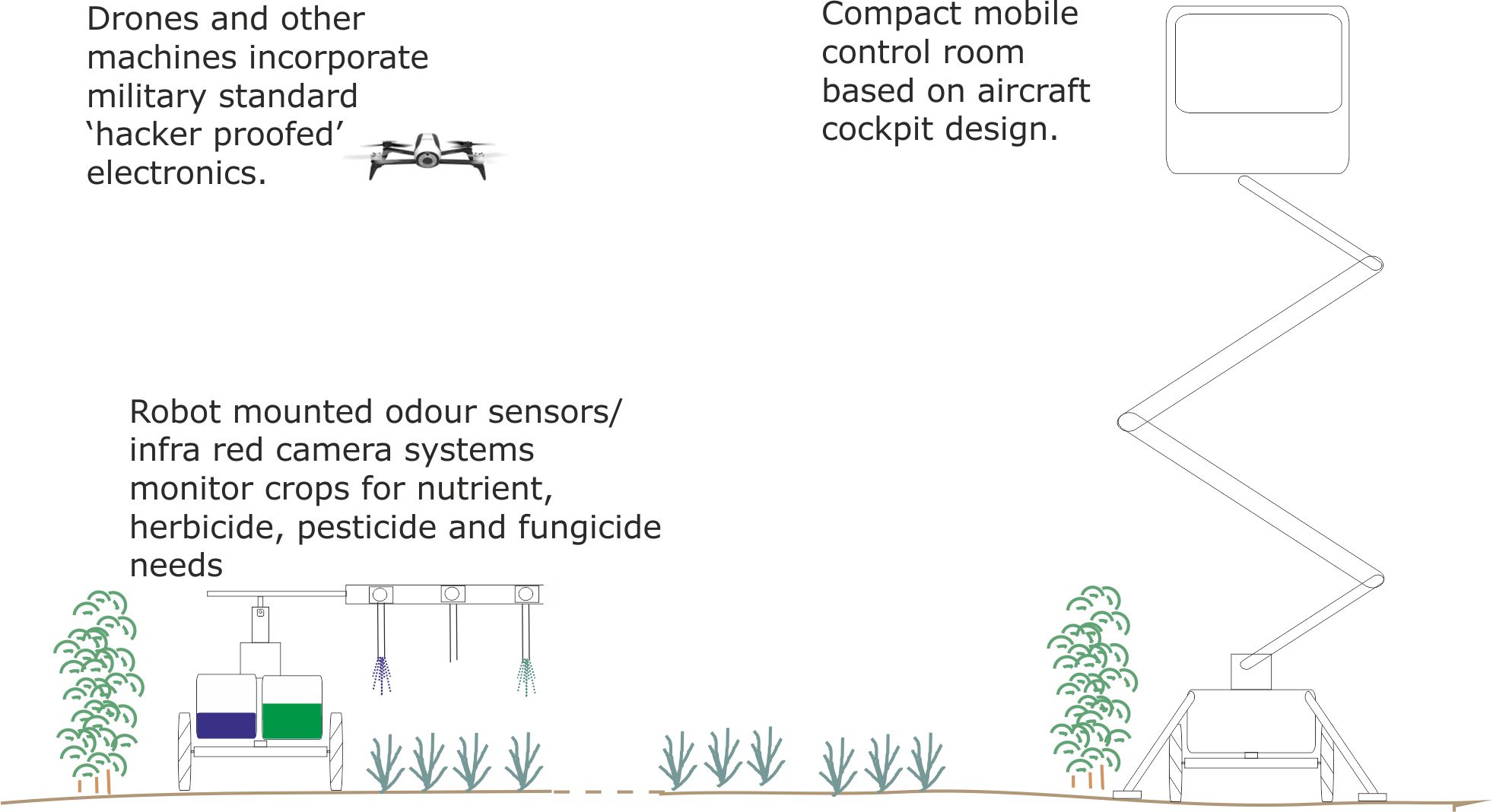 Figure 1. 'Horse sized' robot tractors would replace the muscle power of farm horses. Swarms of robots could be monitored from a mobile control room. British defence technology could be adapted to create this new type of farming.
Limitations: The outdoor farming environment is more vulnerable to the whims of fortune than an indoor factory. [e.g., baler twine or branches snagging up ploughs.] The first generation of robo tractors will probably require two operatives, one overseeing operations from the control room, with the other troubleshooting in the field.
The mobile control room allows the controller to be close at hand if an extra pair of hands is required to sort out a problem.
A more detailed discussion of the proposal
1 The environmental problem
Throughout the twentieth century, European arable farmers were forced to adopt North American prairie farming techniques, in order to remain commercially competitive.
The results are proving to be an environmental disaster. Wild life habitats have been lost and soils have been depleted by wind and rain erosion as hedges are removed.
Annual topsoil losses of between 0.1 and 20 tones per hectare are silting our rivers and clogging our drains. ["Century of neglect means the land can't take any more, Sunday Times News, page 12, 29 July 2007.]
Heavy farm machinery is also compacting and damaging the soil.
Water polluting agri-chemicals have to be used in large quantities to compensate for the reduced soil quality and loss of natural pest controls.
T he poor water holding capacity of large exposed fields combined with blocked drains is contributing to the devastating effects of flash floods as climate change becomes reality. Ironically, the rapid drainage is also causing drinking water shortages because the water has less time to trickle down into the aquifers.
2 A small field solution
We propose reverting to traditional Victorian small field farming, but use teams of small GPS/GNS guided robot-tractors to cultivate the land. Ploughs and other tractor attachments would be miniaturised to allow operations in small fields. 'Man-hour' productivity would be comparable with using prairie size farm machinery because one controller would supervise several tractors.
The controller would teach the robot-tractors the locations of the field boundaries, in a one-off human guided boundary touring exercise.
Subsequent robot-tractor team activities would be monitored by the controller using a screen display indicating the GPS located positions of the tractor team.
Guidance in GPS blind spots could be supported by local transmitters, dead reckoning or on-board CCTV systems.
3 The environmental benefits
GPS guided robot-tractors will be able to follow curved paths, allowing furrows to be ploughed and hedges to be planted parallel to the contours. This will reduce soil erosion and the rate of rain water runoff.

To maximise flood protection, crop rotations could be arranged so that at least one field in any direction of water runoff was always in an optimum condition for catching and retaining the rain water.

During our recent wet summers crops have suffered while slugs have thrived. Fortunately, slug eating beetles are also thriving, but they need sheltered field margins to bread.

Research demonstrates that leaving field margins increases bio-diversity.

http://www.sciencedirect.com/science/article/pii/S000632070100252X

The increased organic content of richer soils would lock in significant quantities of carbon dioxide.

Approximately 200,000 miles of British field hedges have been removed since Victorian times. Paradoxically, this works to our advantage because it provides land management experts with 'a clean sheet' for planning the optimum positions for the new hedges.

Many weeds are becoming resistant to herbicides, making the physical removal of weeds a commercially viable alternative. Swarms of small robot tractors could be adapted for this role. [https://www.researchgate.net/publication/304916339_Technology_for_Automation_of_Weed_Control_in_Specialty_Crops]

Robot-tractor movements and chemical usage could be logged against GPS verified coordinates. This will allow the collection of data on diseases/pests and agricultural trends.

This data could also be used for claiming agricultural grants.
4 Job creation benefits
Planting new hedges will slightly reduce the cropping area, but we propose turning this into an economic advantage.
Agricultural productivity will be low within a 1-2 meter shadow of the hedges. Some of these margins can be given an alternative use, creating new attractions for the rural tourism industry.

Figure 2. Rural tourism could exist in harmony with farming. The new generation of e-bikes would allow many disabled people to use the cycle routes.
· Tourism would reduce the vulnerability of farmers to the whims of nature, from bad weather to foot and mouth disease.
· Rural tourism generates approximately sixteen times as much income as farming.

[Data source: "Red squirrel could vanish in 20 years," page 13, Sunday Times News Section, 25 September 2011.]
Amplifying the appeal for wildlife and human visitors
There is a growing political awareness that we need to plant more trees to help absorb atmospheric carbon and create wildlife habitats. The areas assigned to the new woodlands should be chosen so that they are connected by the new hedgerow corridors and add to the overall aesthetic appeal to attract human visitors.
Additional benefits
On steep grazing hillsides, where conventional tractors would be unstable, small low centre of gravity robot-tractors could be used for thrashing bracken. This would increase grazing area without the use of chemicals. As a bonus, it would benefit tourists by reducing the risk of Lyme's disease from ticks that hide in bracken.
The increase in UK population is causing an urban expansion that is nibbling away at the green belts surrounding our cities. Our proposals will not halt this, but they will at least ensure that the remaining green land has a higher environmental and leisure value.

5 Creating European export opportunities for this new technology
(Assuming our Brexit related Galileo GNS satellite squabbles can be resolved.)
Mainland Europe has also been hit by the environmental disaster caused by big field farming. Here are some additional benefits that our fellow Europeans could enjoy.
A comprehensive network of hedges across lowland Europe would create migration corridors, assisting small animals, insects and some plants to move in response to climate change.
A network of green travel routes could unite Europe 'From Stettin in the Baltic to Trieste in the Adriatic.'
Creating new tourism jobs in the countryside would allow the Common Agricultural Policy subsidies to be reduced without damaging rural communities.
Robot-tractor movements logged against GNS verified coordinates will reduce the administration costs associated with claiming agricultural grants. Fraudulent claims for CAP subsidies will also be reduced.
6 Swards into ploughshares
Whenever there is a cut in UK government defence spending the British defence industry suffers. This results in many highly skilled engineers being laid off.
In order to retain its workforce, the defence industry could diversify by using its highly skilled workforce and intellectual property to service new farming markets.
Here are some examples:
(i) Robots used as weapons for fighting in restricted spaces or for bomb disposal could form the basis for a new breed of driverless tractors and other machines for use in small fields.
(ii) Infra red and odour sensors for detecting body heat and explosives could be adapted for detecting sick crop problems.
(iii) Simulation software used to train the military in using robotic weapons could be adapted to farming, to create engaging software that draws in the next generation of farmers.
7 Hydrogen powered robot-tractors
A disadvantage of using small diesel powered tractors is that they are less energy efficient than using large tractors for working the same area of land.
This disadvantage could be overcome if the tractors are designed to run on hydrogen fuel. But hydrogen is only a carbon free fuel if it can be manufactured and compressed cheaply, without burning fossil fuels. We propose doing this by using Latent Power Turbines to generate electricity, allowing hydrogen to be produced on the farm.
These hydrogen making kits and hydrogen powered vehicles could be adapted for sale into defence markets. [Shifting flammable fuel by tanker to military bases in hostile country invites attacks. In contrast, hydrogen production on site only requires water. ]