The PedSALi project was a collaboration between Dow Chemicals, Cheshire Innovation and Manchester University. The University work was funded by the Engineering and Physical Science Research Council (EPSRC).
The project ended in failure because, in spite of protests from Dow and Cheshire Innovation, the University researchers willfuly did the wrong experiments. But the EPSRC paid the University in full, rating the research as "Tending to internationally leading."
This suggested that the University had deceived the EPSRC when it submitted its PedSALi project report.
Bill Courtney (who traded as Cheshire Innovation) tried to get hold of a copy of the University report for the EPSRC, using the Freedom of Information (FoI Act.
But the University withheld the document.
He had a reasonable entitlement to see this report because he owned the intellectual property behind the PedSALi project and had been appointed as lead partner for the PedSALi project by The Department for Transport.
After making several FoI requests to th University, Bill eventualy overcame the secrecy at Manchester University by getting a copy of the report directl from the EPSRC.
What you see below is a copy of one one of the report pages as annotated by Bill.
As he had suspected, the EPSRC had been decived.
This annotated report page formed part of the evidence he submitted to the Formal Enquiry Panel.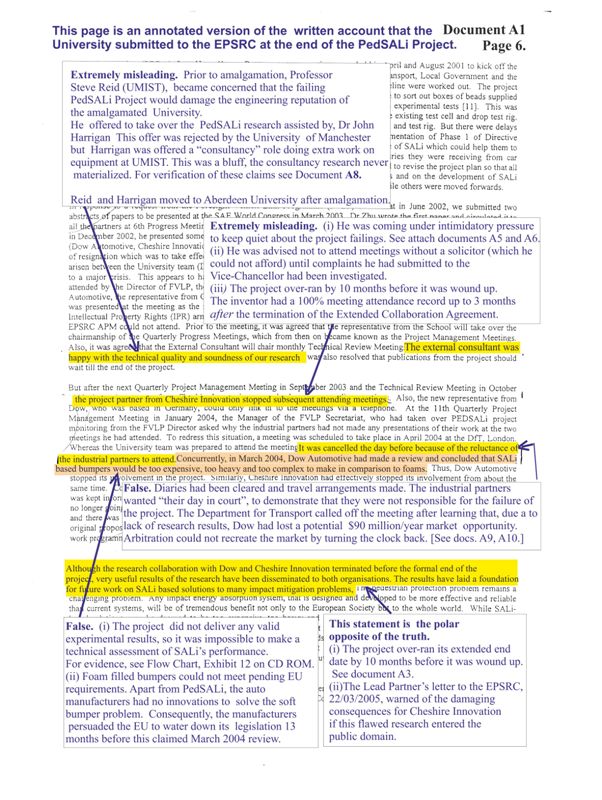 The named applicants for the University share of the PedSALi research funding were Dr Sunday Oyadiji and Professor Jan Wright.