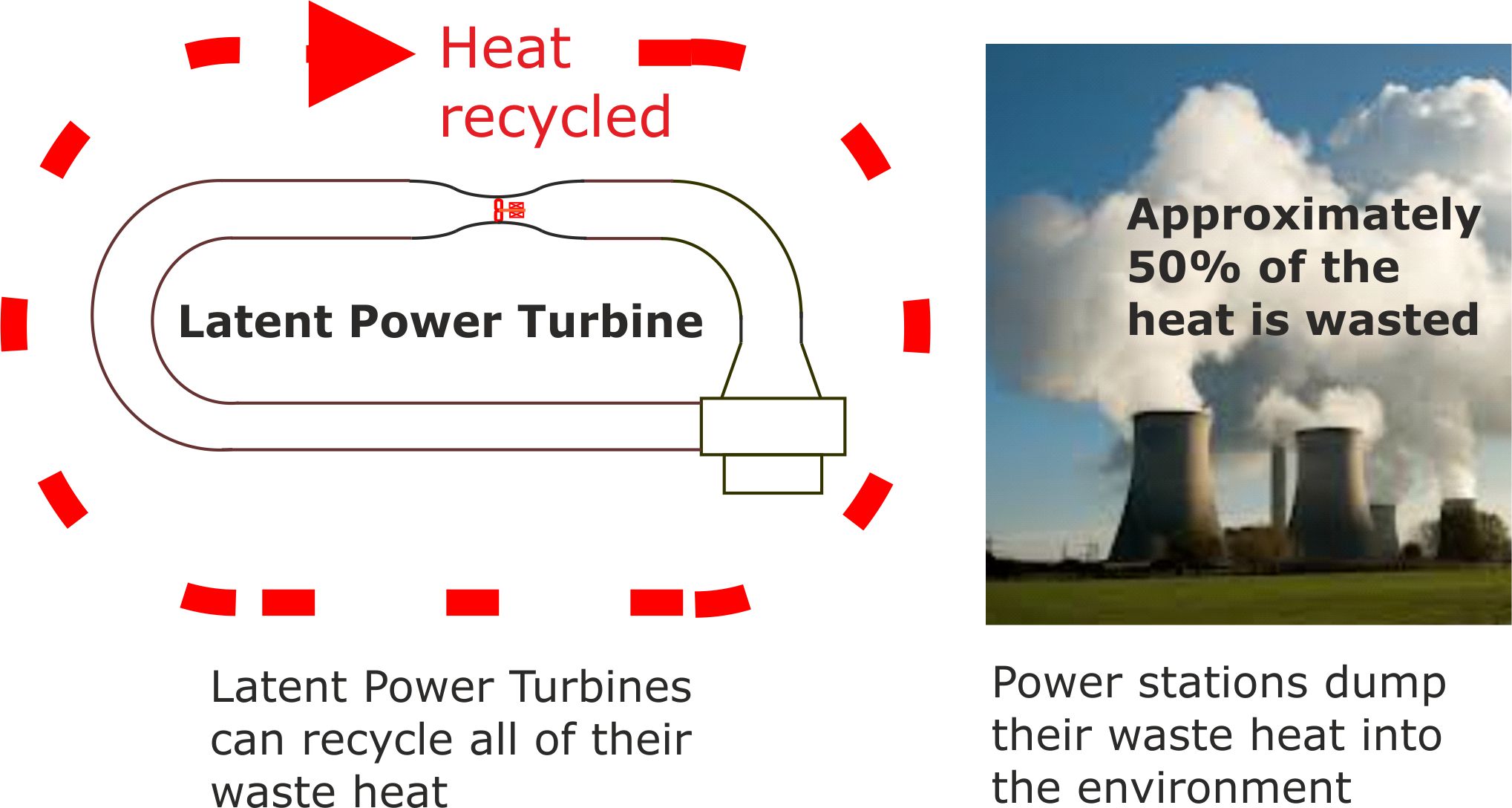 Figure 1.
Bizarrely, we have found that the best way of recycling the heat is to run the heat engine at a temperature cooler than the laboratory air.
[It took the guy in the photograph below 40 years to feel at ease with the strange concept of a cold heat engine. No wonder his hair is grey!]
When the Latent Power Turbine is switched on, his hands become chilled because the system cools when it generates electricity.
HEAT FROM HIS BODY is flowing into the Latent Power Turbine and converted into electricity.
In contrast, if he had been touching a car engine or power station turbine casing, he would have received a nasty burn as heat flowed into his hands.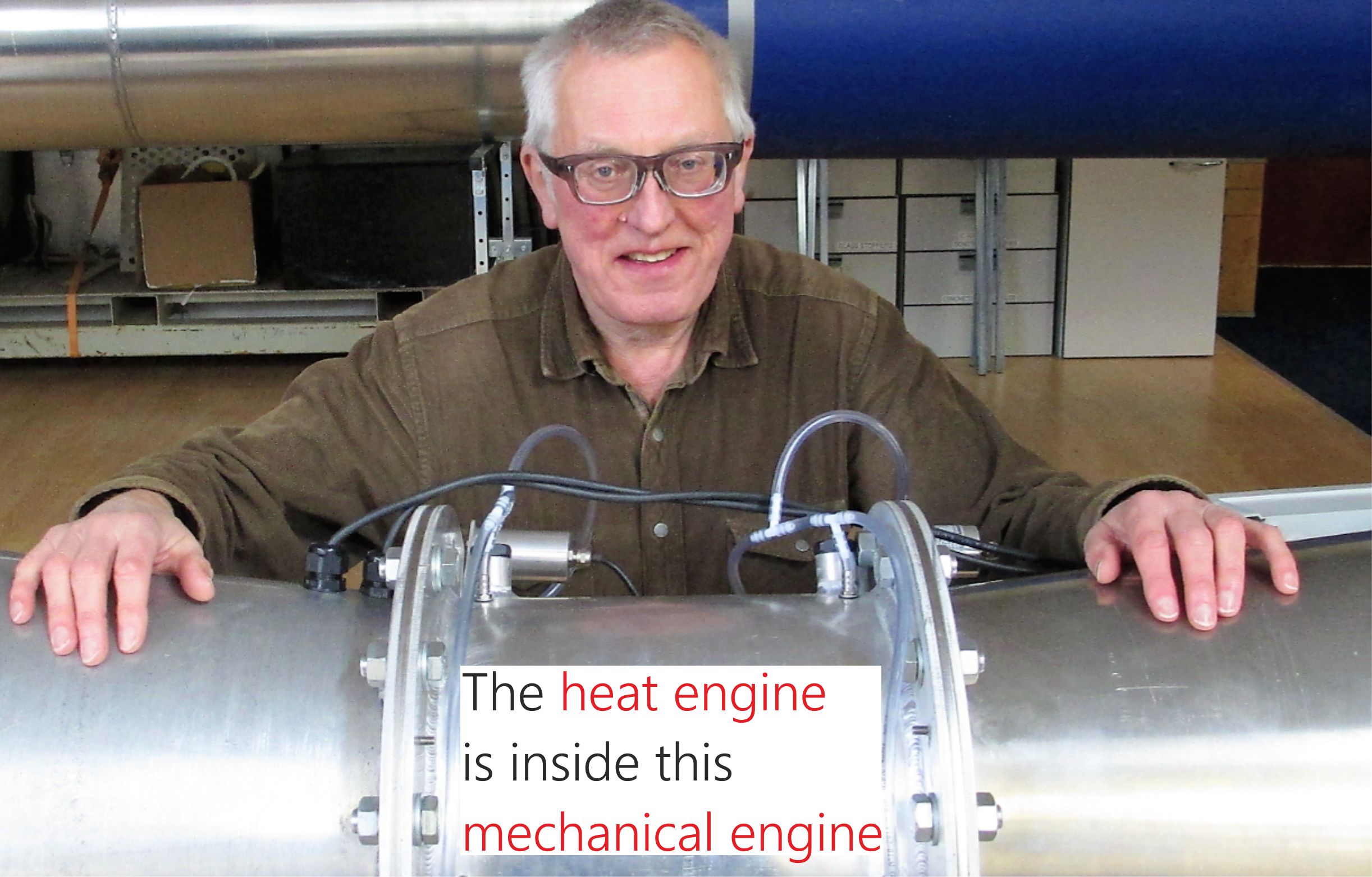 Figure 2.

Q. How do you make a heat engine run cold?
A. The working fluid for our heat engine is dry air at atmospheric pressure. We use a fan to keep the air moving through a wide pipe (conduit) at low speed. Then we taper the conduit so that the air is forced to move faster and gain kinetic energy.
Energy cannot be created or destroyed, but it can change from one form to another.
In this case, the air cools below laboratory air temperature to offset the gain in kinetic energy.
It then suffers a further drop in temperature to offset the energy output as electricity.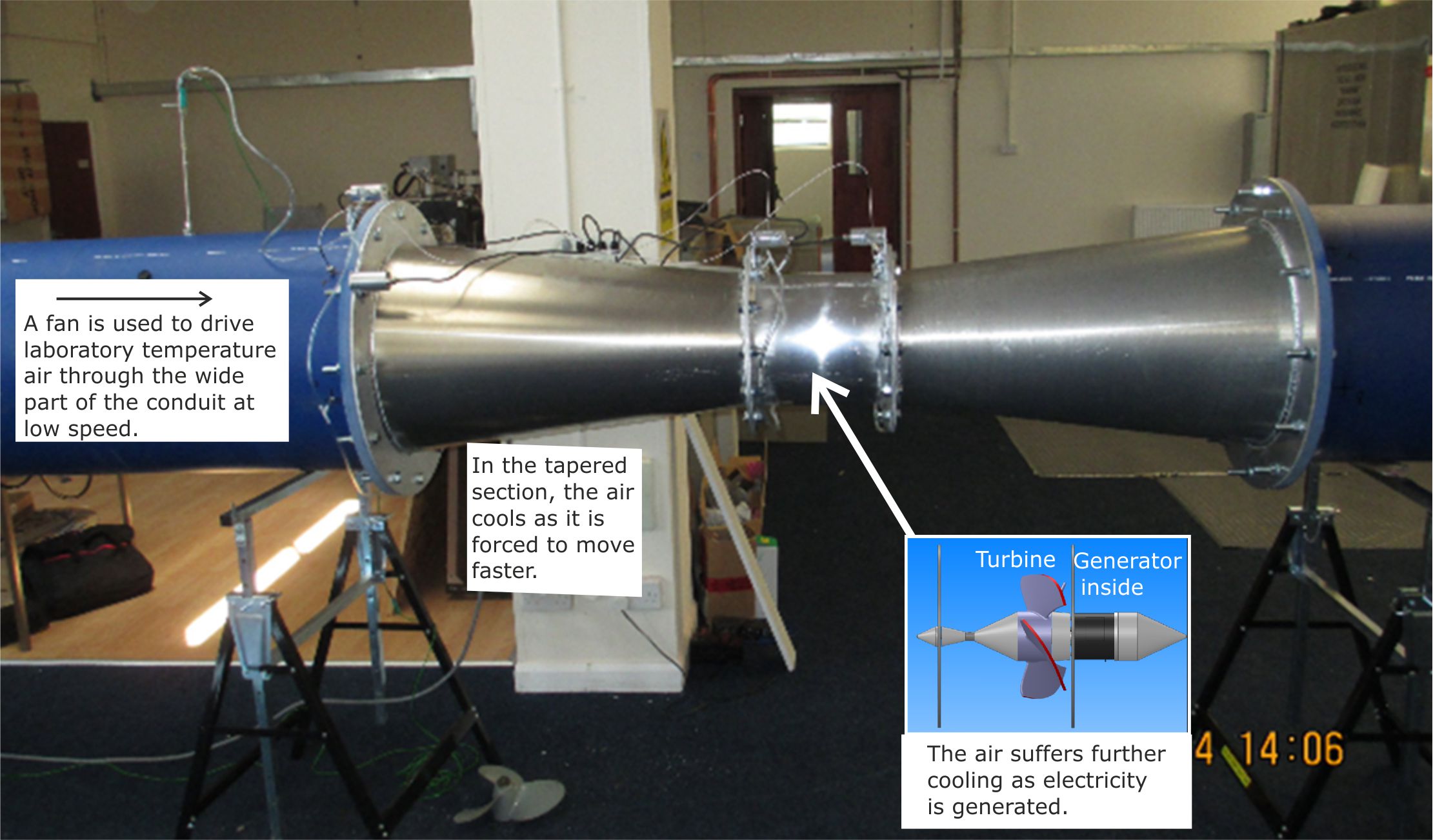 Figure 3.
The tapered section always forces the heat engine to run at a lower temperature than the surrounding environment. This means that LP Turbines have the potential to extract heat from their environment for use as fuel anywhere on the planet, from the equator to the poles. In cool damp environments such as the UK in winter, there could be icing problems. Fortunately, Queens University Belfast (and others) are are developing surface coatings that should prevent icing up.
Latent Power Turbines have to consume some electricity to operate the fan, but the commercial product will be capable of generating a net output of power by converting heat into electricity. The following diagram explains the principles involved.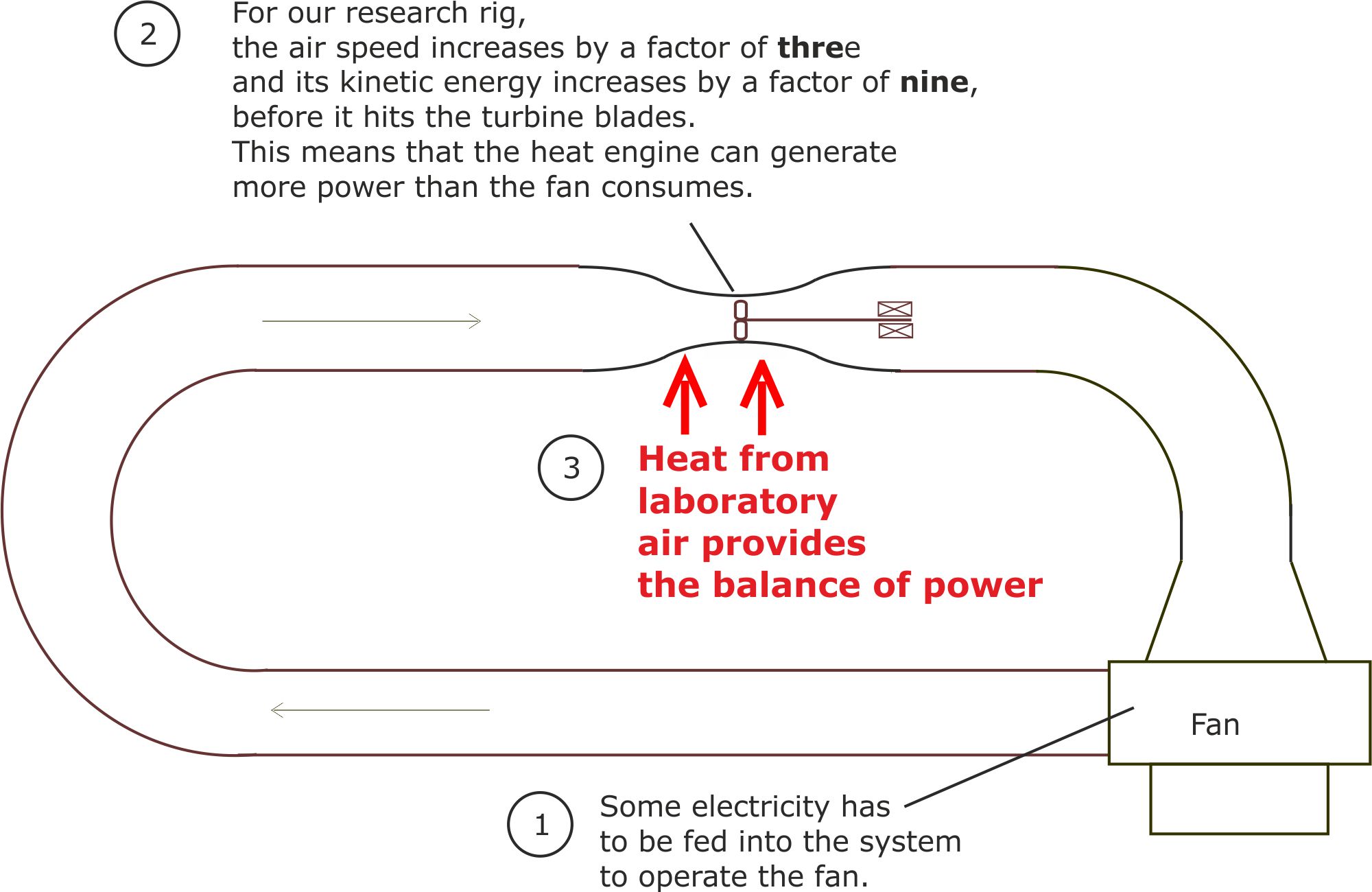 Figure 4.
The formula linking electric power input and output is discussed on our technical theory page.
Current state of research
All of our funding to date has been spent on building the test rig. This meant that the turbine rotor had to be improvised using a set of air conditioning fan blades working in reverse. This crude arrangement was adequate for demonstrating that the temperature and pressure changes around the system were in line with our expectations. But the blades were entirely the wrong shape to generate a useful power output.
The following sketches indicate the change in turbine rotor shape that we are likely to make: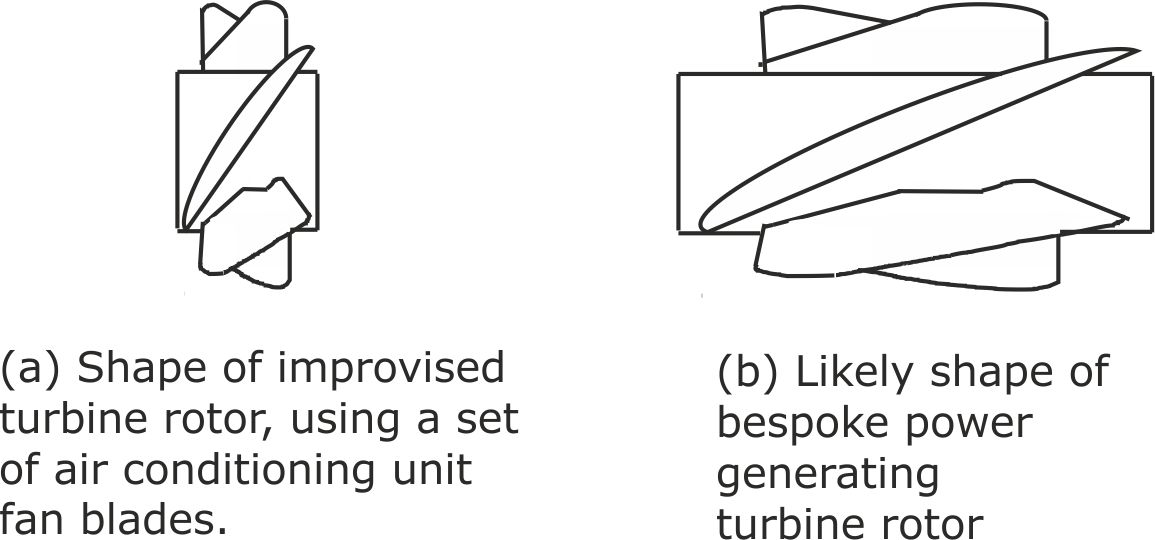 Figure 5.
We are currently seeking additional funding to design a bespoke set of turbine blades and install an improved turbo-generator inside our test rig.
Please contact us if you would like to become involved.
Likely commercial LP Turbine designs
(i) Large commercial LP Turbines could take the form of a daisy chain of alternate turbo-generators and fans.
The turbines will include two or more sets of counter-rotating rotors.
Plan view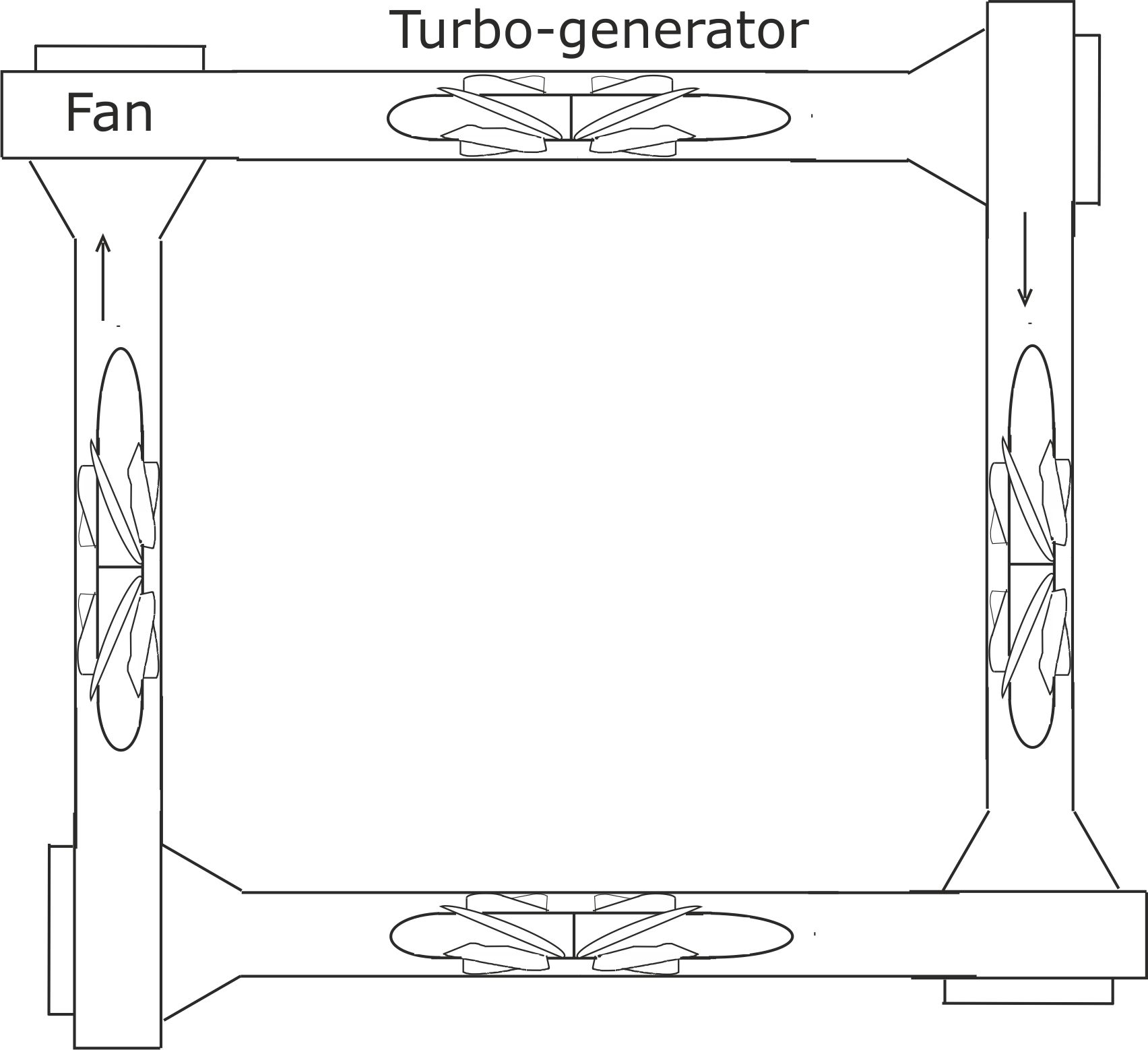 Figure 6.
This is one of the daisy chain loops described in our patent literature. Note the use of parallel sided conduits.
LP Turbines are self correcting. If insufficient heat flows in from the environment to offset the electricity generated, the working fluid will cool. This increases the temperature gradient between the interior and exterior of the conduit, increasing the rate of heat flow.
Small scale LP Turbines
For domestic and small business purposes, the following plenum chamber design will be more compact.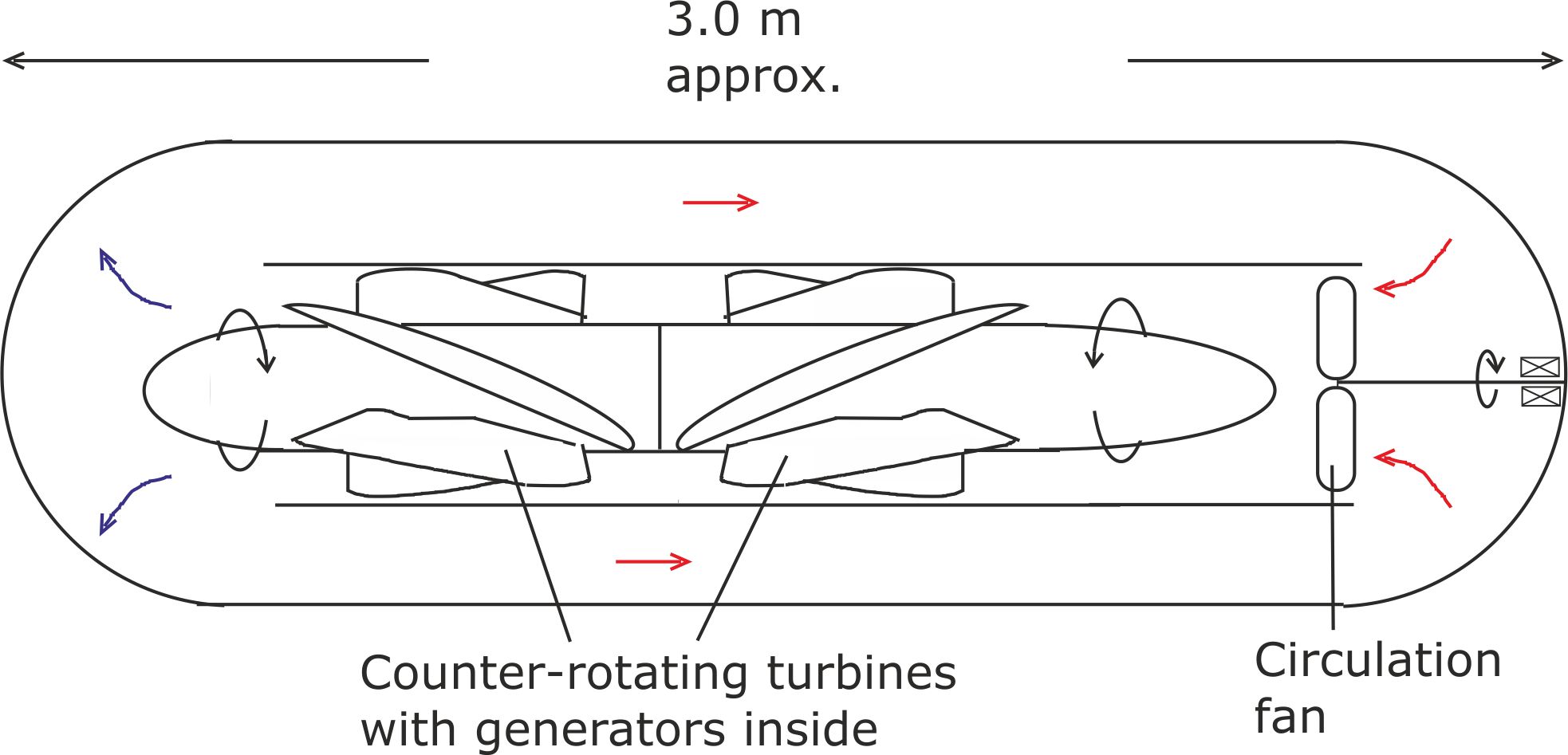 Figure 7.
We envisage that the small (approx. 12 kW) Latent Power Turbine for domestic and small business use will be completely different in shape to our research prototype. But the scientific principles that underpin the design will be the same.
Basic models would include a cranking handle or starter rope, similar to that used on outboard motors, to start the fan moving. Other options for getting the air flowing include installing a lead-acid battery and starter motor unit, as used for car engines.
Estimating a retail price
Mechanically and electrically, this design will be no more complex than a domestic washing machine.
The construction materials required will probably be equivalent to those required for two washing machines, suggesting an estimated retail price of about £600.
[For comparison, the average UK annual electricity bill is £592.]
A power unit for road vehicles?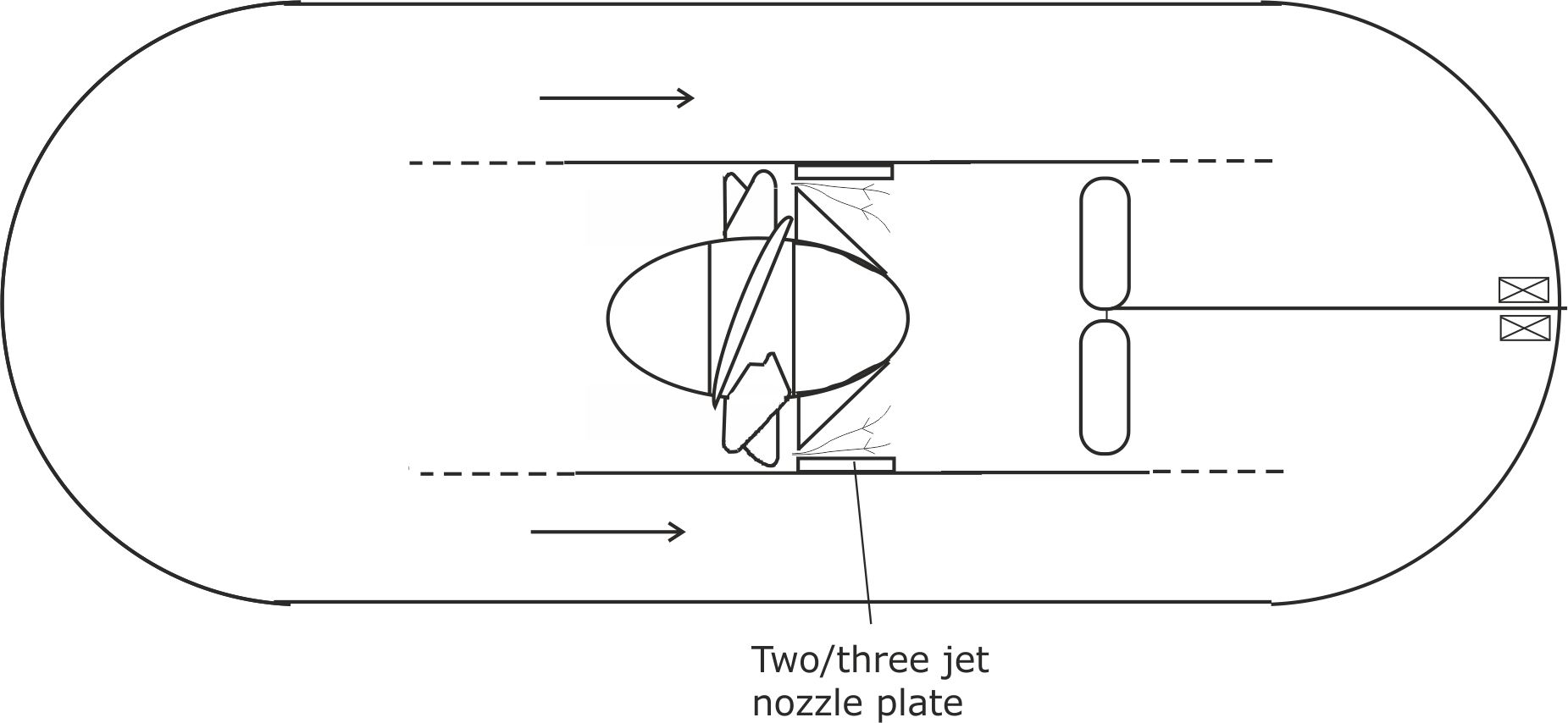 Figure 8. By using two or three nozzles to accelerate the working fluid flow before it hits the turbine rotor, its kinetic energy can be increased. Using this arrangement, it may be possible to shrink the design so that it can be used to provide drive power in road vehicles.
In hot climates, this unit could run off heat extracted from the atmosphere all year round. In cooler climates, where icing up could become a problem, the atmospheric air could be pre-heated to ensure that
the outer casing remains above 0oC. Onboard hydrogen could be burned to provide this heat.
A shift to LP Turbines for power generation would provide a great stimulus to the world economy, in addition to making a significant contribution to fighting global warming.
Do you want to help launch an LP Turbine based green revolution?
LP Turbine development is an open source project.
In order to help fight climate change, Latent Power Turbines Ltd has decided to abandon the profit motive and dedicate its invention to humanity.
With help, we will set up a charity that grants licences allowing any business or university worldwide to exploit our intellectual property for free. This means that there will be no licensing fees and businesses can keep all the profits they make without paying us a penny.
The only condition is that during the early years, when the basic design is still being refined, al licence holders agree to freely share any design improvements they make.
The principal shareholder and LP Turbine inventor, Bill Courtney has developed eyesight problems, so he will require assistance in setting up and running the charity.
The first step in the revolution is to create public awareness of LP Turbines and our free offer. In particular, we need open minded energy experts to become familiar with LP Turbine technology. With this in mind, Bill is keen to give seminars to academics and research groups, so they can debate his designs.
Please play your part in creating public awareness by spreading knowledge of LP Turbines and our offer using social media.
(It's a lot less painful than alternative ways of playing your part in the fight against climate change, such as gluing yourself to the road.)
Thank you
Finding out more
1 Details of the many ways in which LP Turbines could change our society
2 LP Turbines: Creating new opportunities for the victims of automation, globalisation and other threats
3 Using Latent Power Turbines to solve our water shortage problems
4 Using Latent Power Turbines to defeat terrorism
Our loss could be your gain. Thanks to the sluggishness in British innovation caused by Brexit, we have decided to make LP Turbine development into an open source project. We plan to set up a charity that will grant licences to companies and universities worldwide. Licence holders will be free to develop and sell LP Turbines without paying us a penny in royalties. But, on condition that they reciprocate by allowing other licence holders to copy their designs free of charge.
If you want to discuss this, please contact us.
Acknowledgements
Innovate UK (A British government agency) funded our early research at Lancaster University. We then went on to win £98,400 additional Innovate UK funding to test our deigns on a larger scale. The larger rig, as illustrated on this page, was built for us by C-Tech Innovation Ltd.