This is our Mk 2 research prototype. It converts heat into electricity.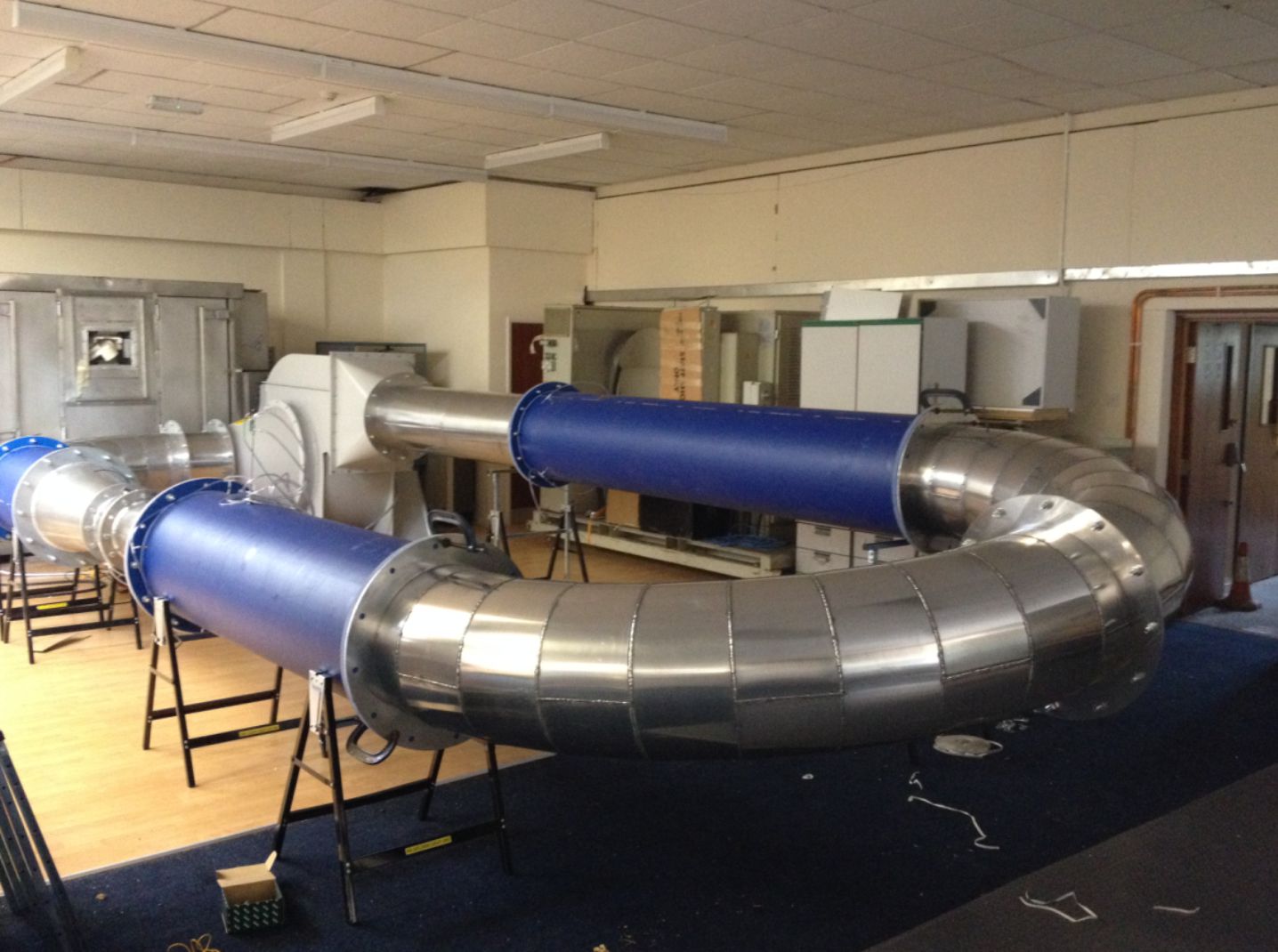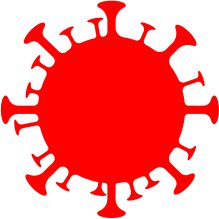 Covid-19 and Latent Power (LP) Turbines
LP Turbines will produce clean electricity at a lower price than fossil fuel burning power stations. Consequently, their widespread and rapid adoption could simultaneously kick-start the world economy and help to fight climate change.
The young and the poor will be the biggest economic victims of both COVID-19 and climate change. So, as a gesture of support for them we have decided to waive all of our design rights relating to LP Turbines. This means that anybody, anywhere in the world can develop and commercially exploit LP Turbines without paying us a penny in royalties. We hope that developers will respond in a similar spirit by freely sharing any improvements they make to the LP Turbine design.
Background:
How 200 years of developing heat engines that run on fossil fuels has lead engineers astray
A wide range of heat engines keep the modern world running. These range from car engines to jet engines and power station turbines. Most of them burn fossil fuels such as coal, natural gas and oil.
We have known for about 200 years that the higher the running temperature of a heat engine, the more efficient it becomes. But, in spite of this knowledge, we hit a barrier at just over 50% efficiency, because at higher temperatures the engines overheat and break down.
This means that all existing heat engines, from small car engines to giant power station turbines have to dump waste heat into the environment. It is impossible to recycle this waste heat because, although it is hot enough to give you a nasty burn, it is too cool to feed back into the engine.
We argue that conventional thinking has led engineers astray, because in their quest to develop hotter and hotter heat engines they have ignored the highly efficient cool running heat engines in nature. For example, tropical hurricanes are natural heat engines powered by heat extracted from pleasantly warm tropical seas at around 30oC. [The recommended temperature of a baby's bath water.] But they are far more efficient than any heat engines built by engineers.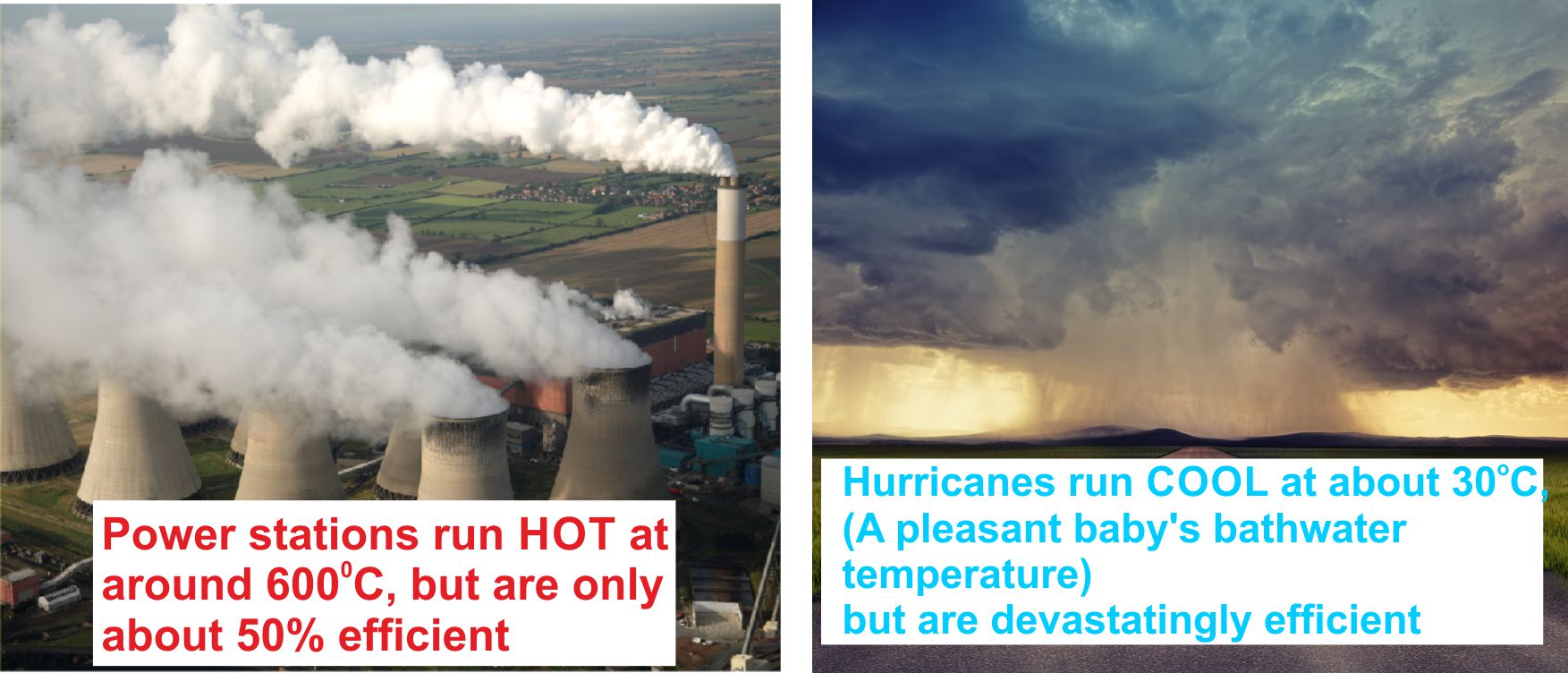 Figure 1. Hurricanes are far more efficient than any existing manufactured heat engines.
The key to their high efficiency is that they recycle waste heat instead of dumping it into the environment.
Latent Power Turbines are our proposal for a cool running heat engine that mimics nature
.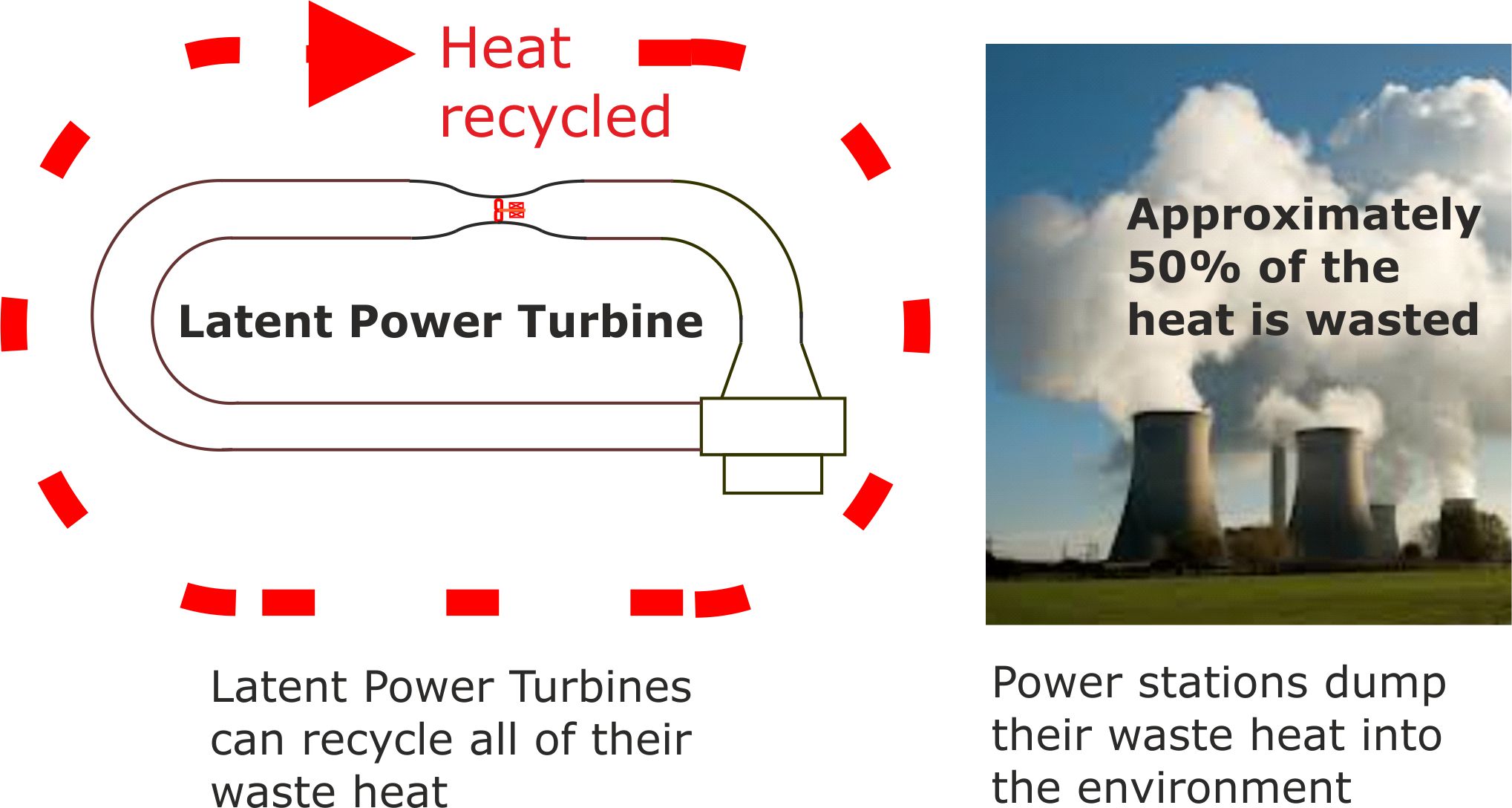 Figure 2.
Bizarrely, we have found that the best way of recycling the heat is to run the heat engine at a temperature cooler than the laboratory air.
This contradicts all the standard textbook teaching on heat engine design since Victorian times. Even the inventor Bill Courtney (pictured below) had to fight a powerful feeling that he was an imposter when he first advocated cool running heat engines. Finally, his sense of touch persuaded him that he was not an imposter.
When the Latent Power Turbine is switched on, his hands become chilled because the system cools when it generates electricity.
Heat from his body is flowing into the Latent Power Turbine and converted into electricity.
In contrast, if he had been touching a car engine or power station turbine casing, he would have received a nasty burn as heat flowed into his hands.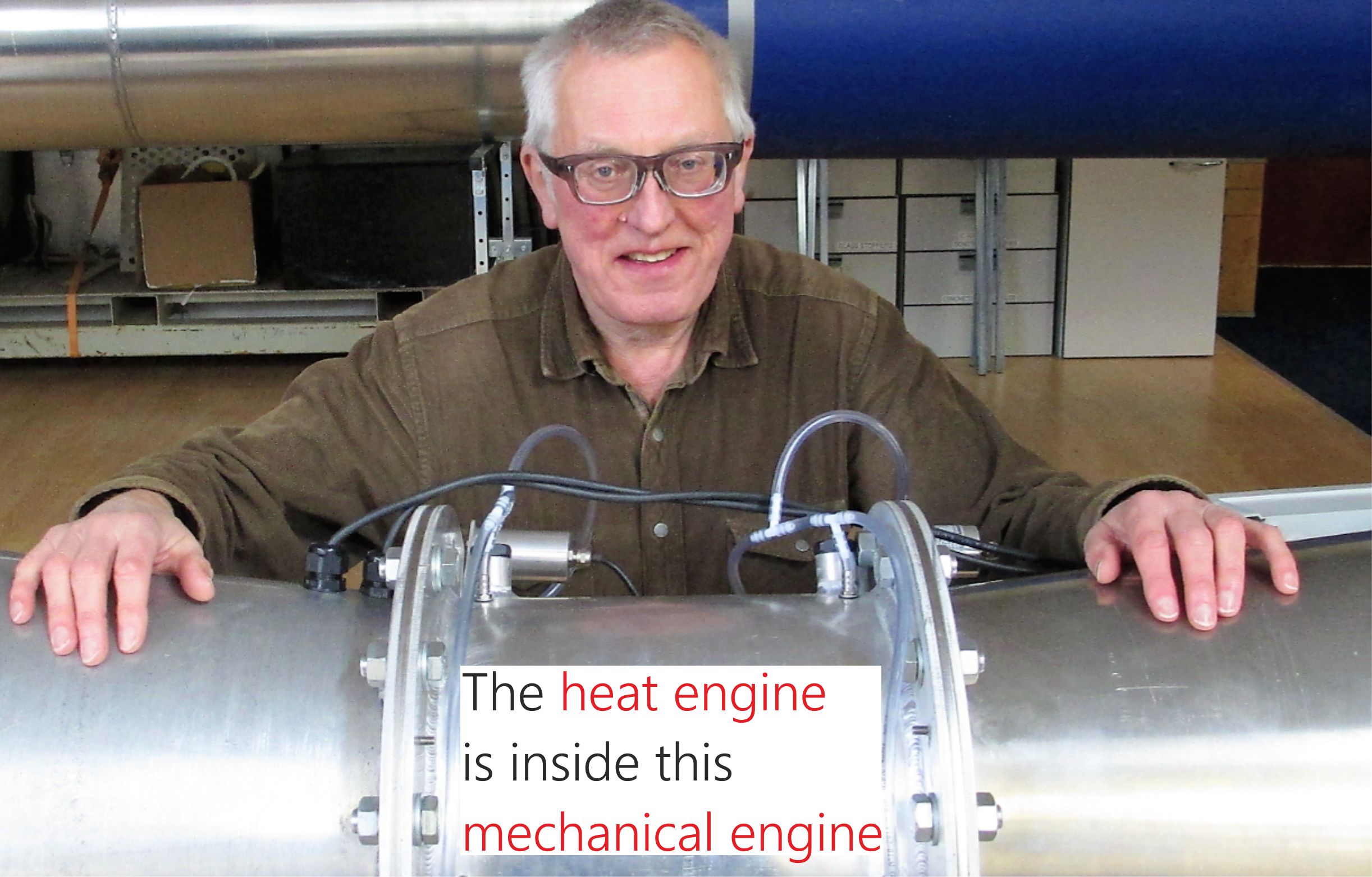 Figure 3.

Q. How do you make a heat engine run cold?
A. The working fluid for our heat engine is dry air at about atmospheric pressure. We use a fan to keep the air moving through a wide pipe (conduit) at low speed. Then we taper the conduit so that the air is forced to move faster and gain kinetic energy. As it gains kinetic energy it also has to cool so that the total energy of the system is maintained.
It then suffers a further drop in temperature to offset the energy output as electricity.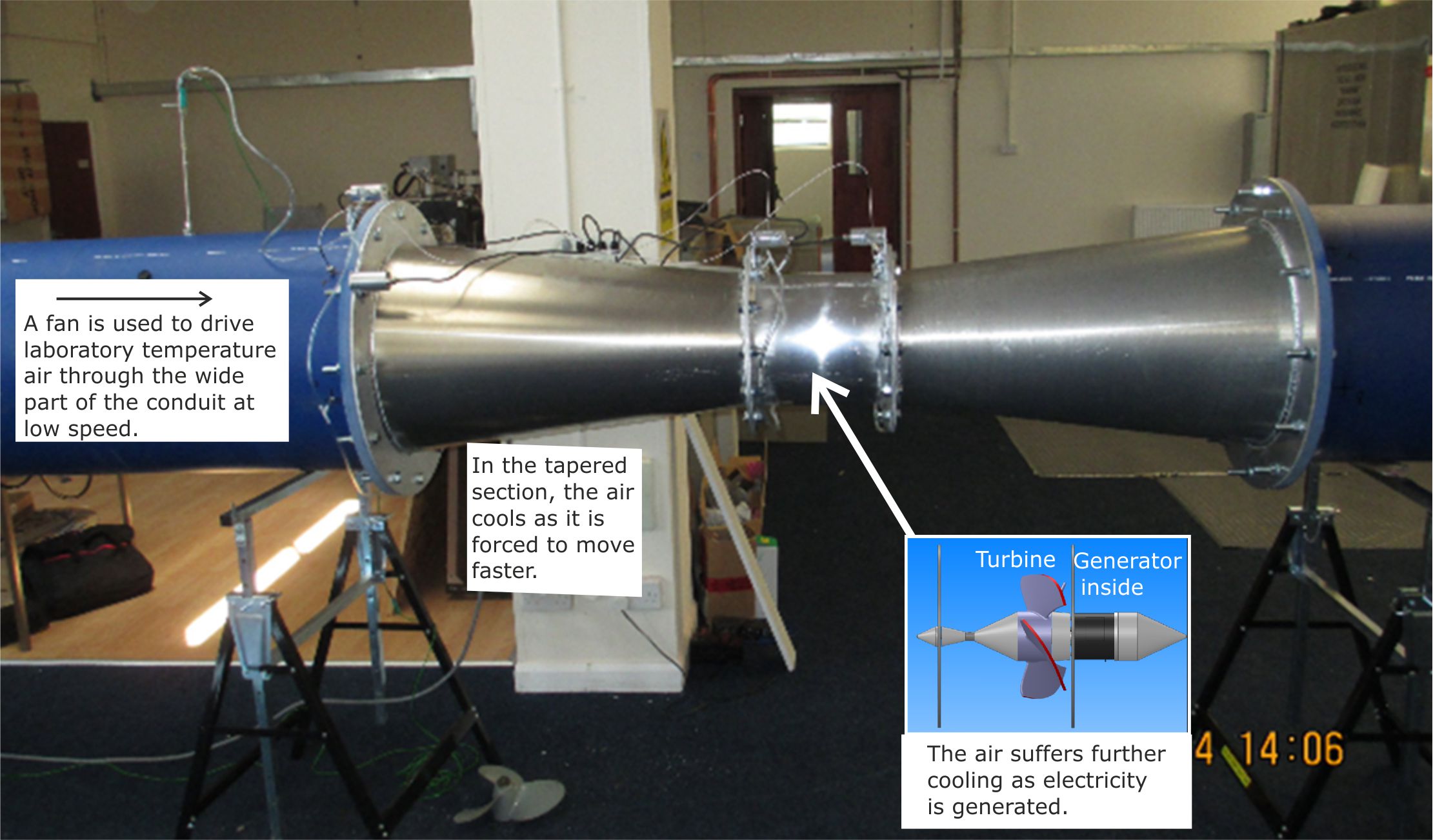 Figure 4.
The tapered section always forces the heat engine to run at a lower temperature than the surrounding environment. This means that LP Turbines have the potential to extract heat from their environment for use as fuel anywhere on the planet, from the equator to the poles. In cool damp environments such as the UK in winter, there could be icing problems.
There are several solutions to this problem including the use of defrosting cycles, as used in heat pump based central heating systems.
Latent Power Turbines have to consume some electricity to operate the fan, but the commercial product will be capable of generating a net output of power by converting heat into electricity.
For example, for the prototype shown above, the electrical power output is nine times the power input.
Choose Option 6 at the bottom of this page for a discussion of the relationship between power input and power output.
The following diagram explains the principles involved.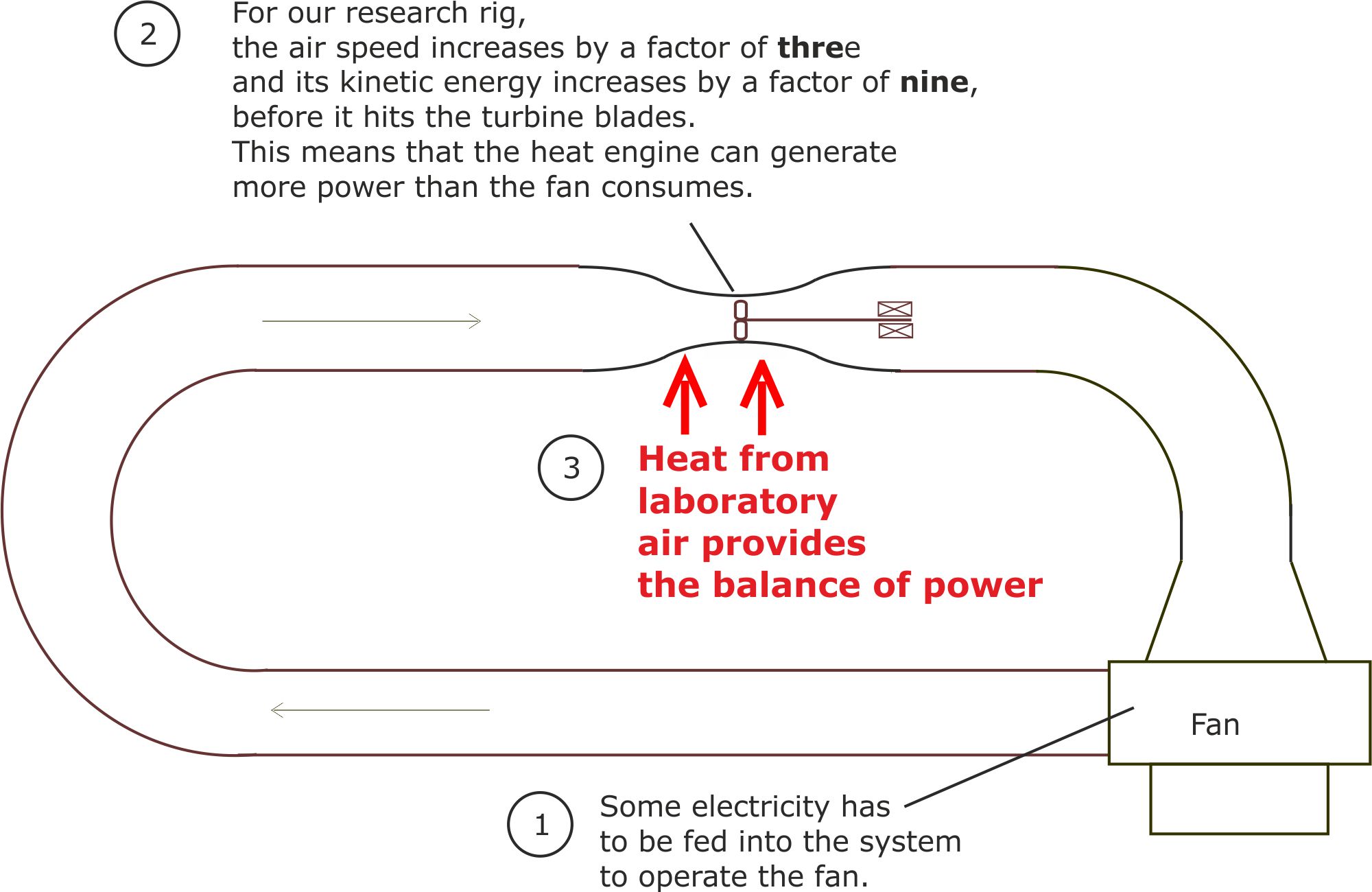 Figure 5. LP Turbines are self correcting. If insufficient heat flows in from the environment to offset the electricity generated, the working fluid will cool.
This increases the temperature gradient between the interior and exterior of the conduit, increasing the rate of heat flow.
The formula linking electric power input and output is discussed on our technical theory page..
Current state of research
To keep within budged we had to install an improvised turbine rotor based on a cannibalised set of air cooling fan blades. To complete the project it will be necessary to install a bespoke set of rotor blades.
Unfortunately the principal investigator and inventor, Bill Courtney is losing his eyesight and has had to abandon research work.
The following sketches indicate the change in turbine rotor shape that will need to be made by anyone who picks up on our work.: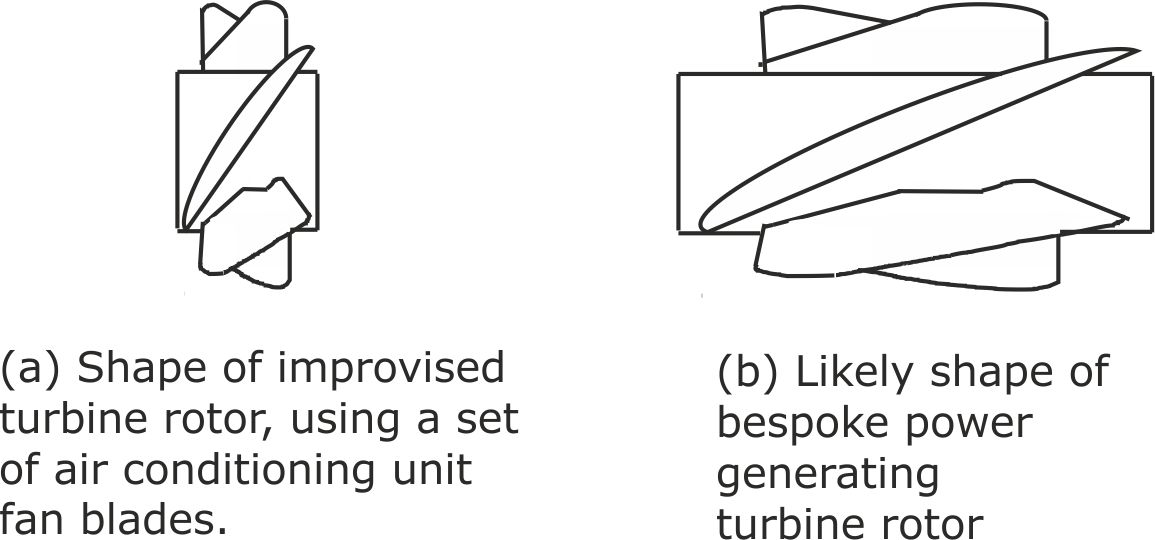 Figure 6.
Do you want to help launch an LP Turbine based green revolution?
LP Turbine development is now an open source project.
In order to help fight climate change, Latent Power Turbines Ltd has decided to abandon the profit motive and dedicate its invention to humanity.
With help, we will set up a charity that grants licences allowing any business or university worldwide to exploit our intellectual property for free. This means that there will be no licensing fees and businesses can keep all the profits they make without paying us a penny.
The only condition is that during the early years, when the basic design is still being refined, al licence holders agree to freely share any design improvements they make.
Due to his eyesight problems, the LP Turbine inventor, Bill Courtney will have to delegate the task of setting up and running the charity.
This is an invention for the whole of humanity. So although Bill is a patriotic Brit, he would be happy for any institute or university, anywhere in the free world to take on the role of collating and distributing LP Turbine information. Any university that decides to take on this task will be able to use the information to write high impact journal papers.
The first step in the revolution is to create public awareness of LP Turbines and our collaborative offer. In particular, we need open minded energy experts to become familiar with LP Turbine technology. Bill is keen to give seminars/video linked talks to academics and research groups, so they can debate his designs.
Opening up scientific minds to new thinking is difficult and academics will often come up with weak excuses to avoid having to think outside their comfort zone. Here some examples.
(i) We applied for £100,000 Innovate UK funding to help us commission a bespoke turbine and complete the project. We pointed out that this was excellent value for money because it was only 0.2% of the funding required to build the ITER (an international nuclear fusion project https://en.wikipedia.org/wiki/ITER), with LP Turbines delivering lower cost energy a generation earlier than nuclear fusion . Also, unlike expensive nuclear fusion reactors, LP Turbines could be rapidly installed in the poorest countries in the world. [See our article Eliminating extreme poverty within 10 years. ]
The funding assessors dismissed our request and comparison as 'irrelevant'. As a result, the £200,000 that Innovate UK had already invested in our work was wasted.
(ii) We wrote a research summary letter to the science journal Nature [A heat engine inside a mechanical engine, William Courtney, Latent Power Turbines Ltd, Richard West, Latent Power Turbines Ltd, Philip Leigh, University of Hull]. But this was promptly rejected without being peer reviewed.
(iii) At the other end of the promotional spectrum, we have written over 200 letters to environmental organisations and pressure groups. But, apart from requests for donations, we have not received any replies.
We hope that you dear reader are more open minded. Please play your part in creating public awareness by spreading knowledge of LP Turbines and our free exploitation offer using your social media apps.
Thank you
Please contact us if you would like to become involved.
Likely commercial LP Turbine designs
(i) Large commercial LP Turbines could take the form of a daisy chain of alternate turbo-generators and fans.
The turbines will include two or more sets of counter-rotating rotors.
Plan view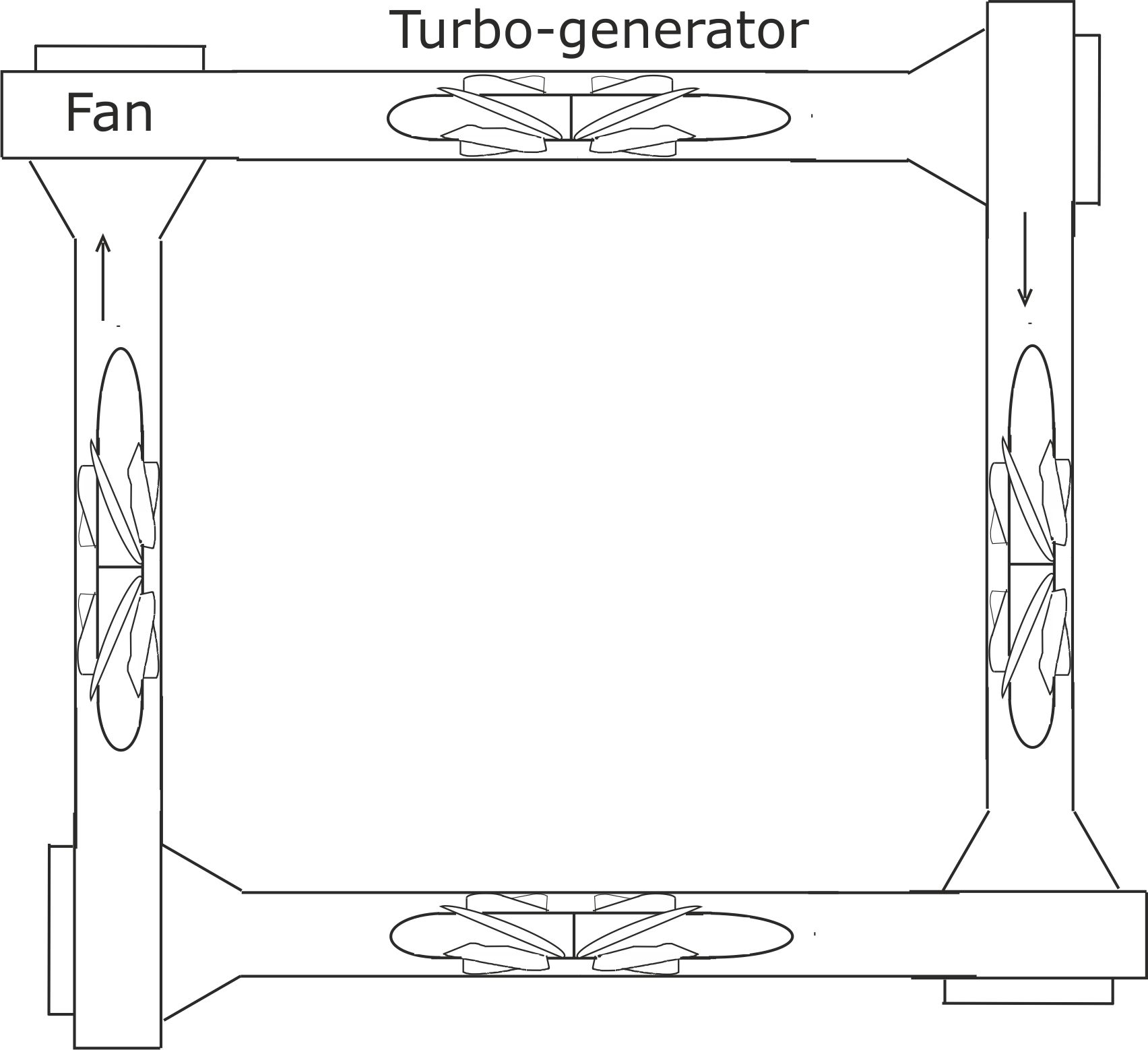 Figure 7.
This is one of the daisy chain loops described in our patent literature. Note the use of parallel sided conduits.
Small scale LP Turbines
For domestic and small business purposes, the following plenum chamber design will be more compact.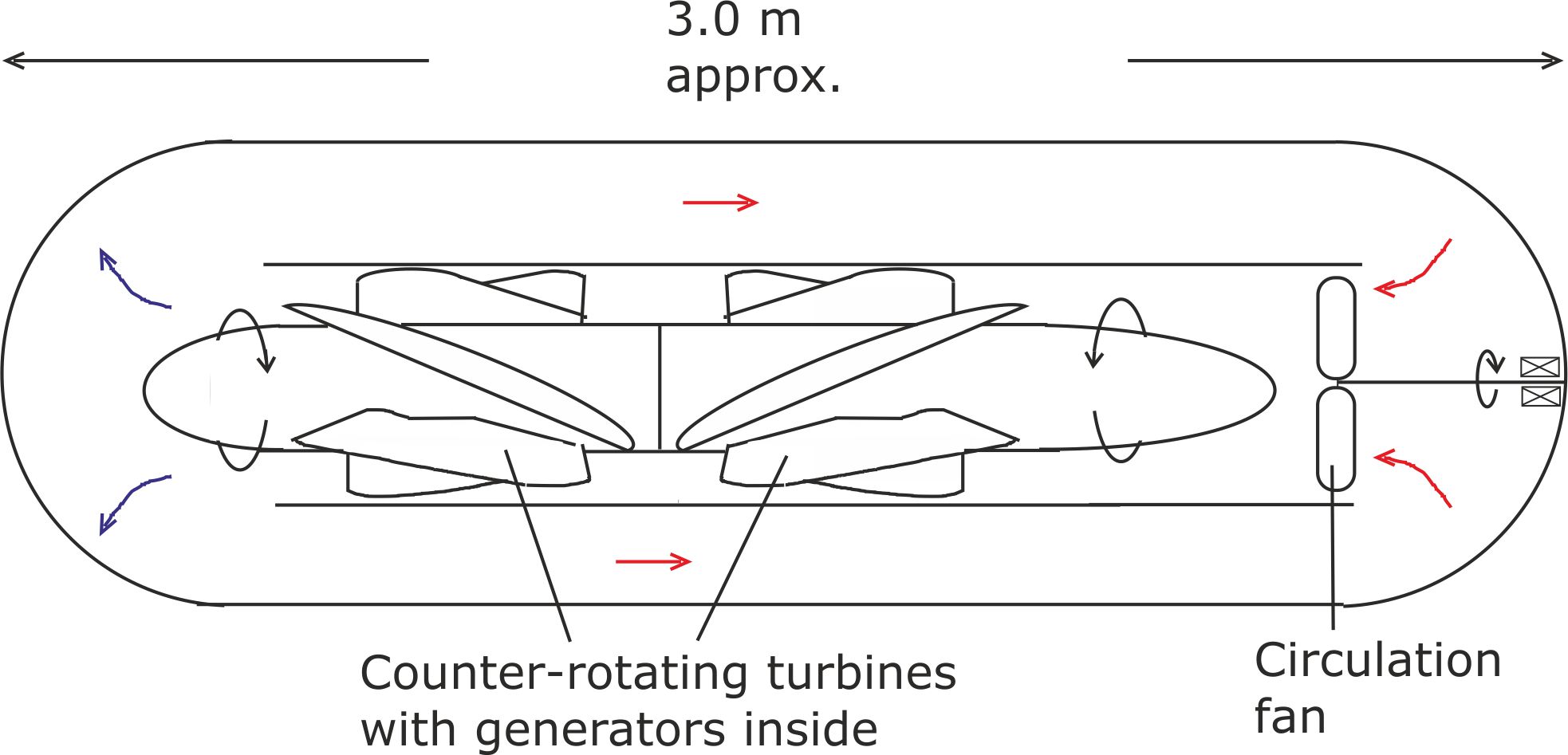 Figure 8.
We envisage that the small (approx. 12 kW) Latent Power Turbine for domestic and small business use will be completely different in shape to our research prototype. But the scientific principles that underpin the design will be the same.
Basic models would include a cranking handle or starter rope, similar to that used on outboard motors, to start the fan moving. Other options for starting up include installing a lead-acid battery and starter motor unit, as used for car engines.
In urban areas each building will probably have a wall or roof mounted LP Turbine, but clusters of LP Turbines will be connected to create a local grid.
Estimating purchasing and installation costs
Mechanically and electrically, this design will be no more complex than a domestic washing machine.
The construction materials required will probably be equivalent to those required for two washing machines, suggesting an estimated purchase price of about £600. The toal purchase and installation cost will be in the range £1,200 to £1,800.
[For comparison, the average UK annual electricity bill is £592.]
If governments or large power companies provide bulk installations for whole neighbourhoods, costs will be substantially lower.
A power unit for road vehicles?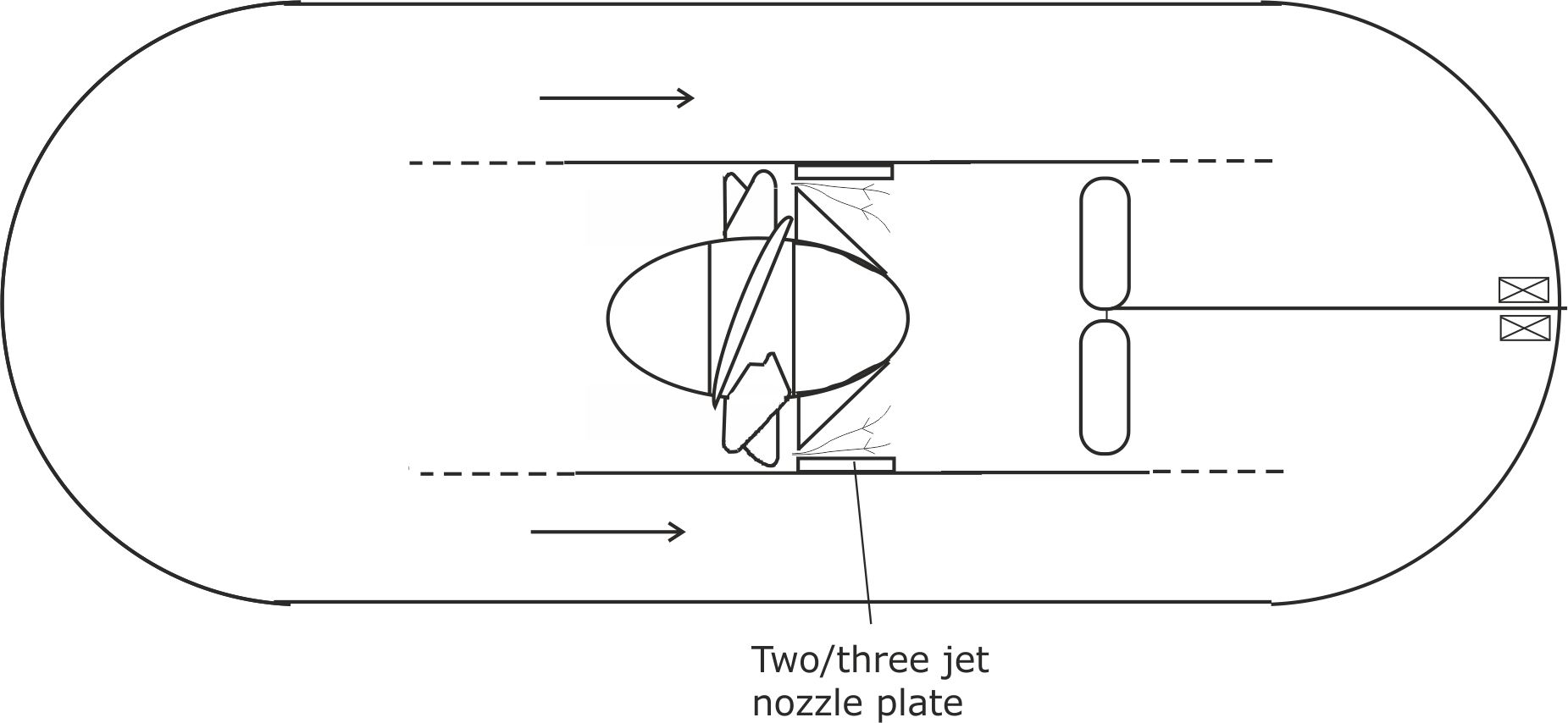 Figure 9. By using two or three nozzles to accelerate the working fluid flow before it hits the turbine rotor, its kinetic energy can be increased. Using this arrangement, it may be possible to shrink the design so that it can be used to provide drive power in road vehicles.
In hot climates, this unit could run off heat extracted from the atmosphere all year round. In cooler climates, where icing up could become a problem, a defrosting cycle will be necessary
A shift to LP Turbines for power generation would provide a great stimulus to the world economy, in addition to making a significant contribution to fighting global warming.
Finding out more
1 Details of the many ways in which LP Turbines could change our future future
2 LP Turbines: Creating new opportunities for the victims of automation, globalisation and other threats
3 Using Latent Power Turbines to solve our water shortage problems
4 Using Latent Power Turbines to defeat terrorism
5 Eliminating extreme poverty within 10 years
6 More detailed technical information is provided on this page
7 A philosophical 'Black swan' interpretation of Latent Power Turbines
Acknowledgements
Innovate UK (A British government agency) funded our early research at Lancaster University. We then went on to win £98,400 additional Innovate UK funding to test our deigns on a larger scale. The larger rig, as illustrated on this page, was built for us by C-Tech Innovation Ltd.